Rober Hunter Biden, a.k.a. Hunter Biden is an American lawyer best known as the son of Joe Biden, the former vice president of the U.S. At the moment, he serves as a partner for companies like Boies, Schiller & Flexner L.L.P., among others. Moreover, he also served as vice chairman for the National Railroad Passenger Corporation from 2006 to 2009 and is known to be very close with his father and brother.
Born on 4th Feb 1970, the 48-year-old has been in the news for quite some time now because of his divorce with ex-wife Kathleen Buhle. The lawyer is going through a rough patch in his life not only because of his divorce also because of the death of his brother Beau Biden. His brother died because of brain cancer back in 2015.
Here we are sharing some details about Hunter's relationship with ex-wife Kathleen Buhle, their divorce, and his recent love affair. Continue reading to find out more:
Hunter Biden married relationship with ex-wife Kathleen Buhle and their divorce
To begin; Hunter Biden met Kathleen during his membership with Jesuit Volunteer Corps Northwest. The couple got married in 1993 and shares three children together; three daughters; Maisy Biden, who is very close friends with Barack Obama's daughter Sasha Obama, Naomi Biden, and Finnegan Biden.
SEE: Joe Biden Recognizes Himself As "The Poorest Man In Congress", What Is His Net Worth? Income Source?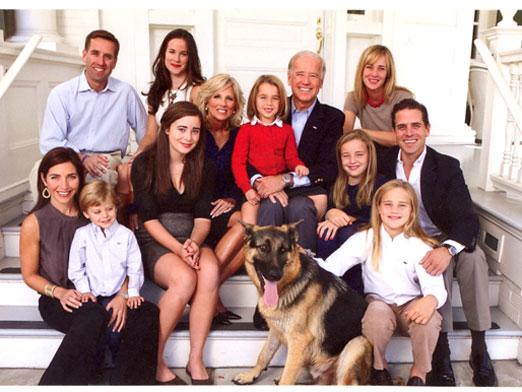 The Biden Family Source: Yall Know What!?
The couple was married for twenty-four years. However, they separated in 2015, just five months after Hunter's brother died, because of personal reasons and filed for divorce the following year in December.
While the couple filed for divorce, Kathleen claimed that Hunter's conducts created an unsafe environment for their children and was traumatizing them.
Hunter Biden and ex-wife Kathleen Buhle Source: NY Daily News
Moreover, she also stated that he was spending money on drinks, drugs, strip clubs, hookers, and had also bought gifts for his other lovers. However, she did not mention about Hunter's affair with another woman, whom we will talk about below.
The divorce became a long-running scene as every little detail about their private lives became headlines. Back in 2017, Kathleen broke down into tears as she shared with the judge about how they had been living separately for the past six months while Hunter spent time with another woman.
However, as of April of 2018, their divorce was finalized. Well, this time as well, she broke down into tears. The main reason behind their divorce was Biden' extra-marital affair.
Despite the rough patch, the pair went through, the couple still has respect for each other and are close friends for the sake of their three children. They are now trying to maintain a healthy relationship to make co-parenting easy and comfortable.
Hunter Biden' relationship with late brother Beau's widow
Hunter Biden's divorce and his brother's death because of brain cancer took place in a matter of a few months. Hunter and his brother's wife, Hallie Biden, became very close as they were together while taking Beau to the hospital for treatment.
The two grew closer by the day. They found support in each other and unexpectedly fell in love. It was not planned but it just happened without anyone knowing what was coming.
Hunter Biden girlfriend and late brother's widow wife Hallie Biden Source: Daily Mail
Hunter confirmed that he was romantically involved with his brother's widow wife back in March 2017, a month after his divorce was finalized.
'Hallie and I are incredibly lucky to have found the love and support we have for each other in such a difficult time, and that's been obvious to the people who love us most. We've been so lucky to have family and friends who have supported us every step of the way.'
YouTube: Beau Biden's Widow is Dating His Married Brother
Moreover, Hunter's father, Joe, also does not seem to have any problem with their relationship. He even said,
'We are all lucky that Hunter and Hallie found each other as they were putting their lives together again after such sadness. They have mine and Jill's full and complete support and we are happy for them.'
Hallie Biden's father is also very supportive of their relationship, and the family seems to be very proud of their decision. The pair has hit it off, and it is all that matter.