You cannot expect to find the right partner in your very first try, sometimes it takes a second, third or we don't know how much time to find a perfect match. Michelle Heaton has a similar story. She is a stunning pop singer as well as an actress with an attractive personality and glamorous looks. Besides, she is also a personal trainer who was also a member of the pop group Liberty X for 6 years.
After an unsuccessful two years long marriage with a Welsh singer Andy Scott-Lee, the 38-year-old gorgeous singer is currently living a happy married life with her second husband Hugh Hanley who is an Irish businessman. The couple is even blessed with two adorable children.
Let's get inside the personal life of Michelle Heaton and find all the details about their love affair and married life. Just stay with us.
Unsuccessful Married Life With First Husband Andy Scott-Lee: Divorced After Two Years of Wedding
Prior to her current husband Hugh Hanley, Michelle Heaton was married to a Welsh singer Andy Scott-Lee. Andy is the brother of Steps singer Lisa Scott-Lee. The pair took their wedding vows in October 2006, however, their marital relationship didn't last more than two years and they eventually finalized their divorce in June 2008.
Former husband and wife: Andy Scott-Lee and Michelle Heaton
Source: nowmagazine
After the divorce, Andy later married Lydia Louisa who was in the 13th series of Big Brother in the UK on Channel 5.
Michelle, meanwhile, went on to date Hugh Hanley.
Michelle Married Hugh After Two Years of Dating: Parents of Two Children
In the following year of her divorce with Andy, Michelle started dating her current husband Hugh Hanley. They shared a romantic love affair and relationship for about two years and finally decided to tie the knot. They married in July 2010.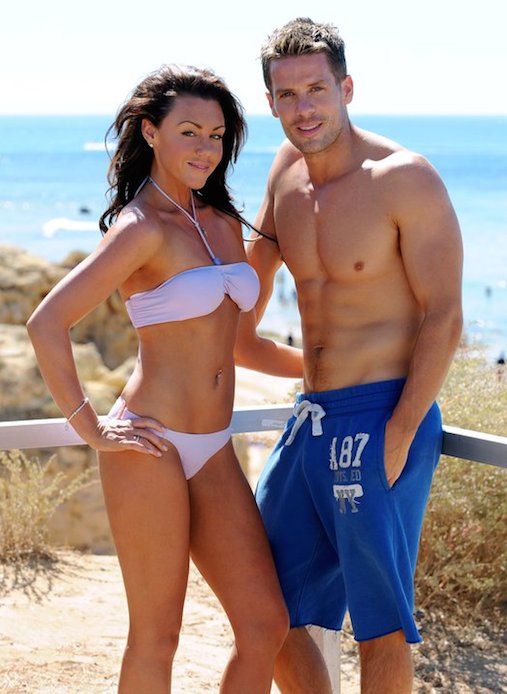 Hot and sexy wife Michelle Heaton with her topless husband Hugh Hanley
Source: healtyceleb
It was exactly a year of their wedding when the couple announced that Michelle was pregnant with their first child. She flaunted her baby bumps together with her husband.
Happily married husband and wife: Hugh Hanley and Michelle Heaton: pregnant Michelle showing her baby bumps
Source: metrouk
It was on 11 January 2012 when the couple welcomed their first child: a baby girl. They named their daughter Faith Michelle Hanley. After a couple of year of the birth of Faith, Michelle gave birth to a baby boy, a son Aaron Jay Hanley on 28 February 2014.
Happy family: wife Michelle Heaton, husband Hugh Hanley and their two children: a son and a daughter
Source: dailymail
This happy family of four are living happily together. We wish all the very best for their future.
For more updates, stay tuned with Frostsnow.