Tom Petty, is an American singer and songwriter. He went from being a hillbilly to a rock n roll icon. But success didn't come easy for him. Let's find out about his career.
Net worth
Tom Petty net worth is assumed to be around $75 million, which is no shock since he is a rock 'n roll sensation. Let's take a look at his sources of income and earnings which make up this astonishing net worth.
Petty's earning mostly comes from his music career. He has been pursuing music for more than 30 years now. In his career, he was involved in three bands which and created hit albums. As a solo artist too he released many songs among which many topped the chart. Overall Petty has sold about 60 million copies of his album.
Image: Petty's house in Encino, LA.
Source: Liast
Moving on to his property, this rocker owns many houses in different states. Petty owns a $3.6 million house in Encino, LA. It is a two-storey building and covers the area of 9,067 sq. ft.
Image: Inside view of Petty's house in Encino, LA
It is a cabin style house and has a fireplace, gym/yoga room, sauna, stone-domed pool and three car garage.
Petty's another home is located in Malibu, CA which he bought for $3.7 million. It is a beautiful house with all the facilities. Nearby to this house, he owns another smaller oceanfront house which he occasionally uses as a guest house or a recording studio.
Image: Tom's 1996 Jaguar SJ series.
Source: panhandlepost
When you are a Rockstar, you have to own some slick cars. Likewise, Petty also owns some cars that match his image. He was a proud owner of a classic 1996 Jaguar XJ series which cost around $50,000. But Petty sold this beauty for charity.
Tom Petty's Career
Tom is known for being the frontman for the band Tom and the Heartbreakers. But he is also the co-founder of the late 1980's supergroup The Traveling Wilburys and his early band Mudcrutch. He also has many solo hits such as 'Free Fallin' and 'Running Down a Dream.'
Source: thecuriousastronomer
Tom knew what he wanted to do from a very young age when he shook hands with the legend Elvis Presley, when the king came through the town of Ocala, Florida in the mid-fifties, where Tom lived. In the summer of 1961, his uncle was working on the set of Elvis' film 'Follow That Dream' in his hometown and invited Tom to come down to the shoot and watch it. He was mesmerized by the King and soon made him his aspiration. He also traded his Wham-O slingshot for a collection of Elvis 45s.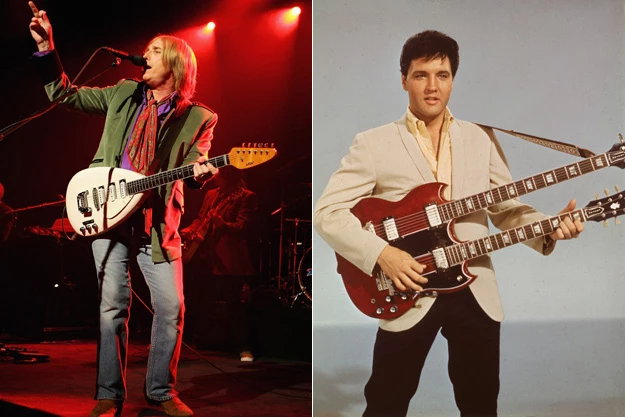 Source: ultimateclassicrock
Tom had a very rough childhood. His father was abusive and violent and used to beat Tom. He knew he wasn't going to survive much in his household, so to escape he entered the world of Television. In his biography Tom said that television was what saved him, raised and educated him. He found that none of the families he saw on T.V was like his. From being on Television, he realized that he wanted to be in California, where every good thing was coming from. He also wanted to escape from his father's shadow.
Tom formed a band as the Epics, later were called Mudcrutch. The band was quite popular in Gainesville but they couldn't quite get noticed from record labels. The band included future Heartbreakers Mike Campbell and Benmont Tench. But the band split shortly after reaching Los Angels and Petty decided to go solo, but nothing happened for him 1975 when Tench decided to form his own band and Petty liked the sound they created. And soon after Petty along with Campbell and Tench and fellow members Ron Blair and Stan Lynch formed Heartbreakers, which would lead them to fame and make them a rock 'n roll sensations. In September 1979, Tom and The Heartbreakers performed at a Musicians United For Safe Energy concert at Madison Square Garden in New York. By their fifth album, their bass player decided to quit the group and was replaced by Howie Epstein.
Source: playspotify
In 1988, To joined George Harrison's group, The Travelling Wilburys, which included Bob Dylan, Rob Orbison, and Jeff Lynne. In 1989, Petty released his first solo album Full Moon Fever and it included collaborations from his former band member Mike Campbell, Jeff Lynne, Roy Orbison and George Harrison.
Source: somethingelsereviews
Tom had some issues with his record company and before leaving it, he and The Heartbreakers recorded two new songs for a Greatest Hits Package. It would be the Stan Lynch's last recorded performance with the band.
Petty then signed to Warner Bros Record and released his first album with the label called Wildflowers. In 2005, Tom began hosting his own show 'Buried Treasure' on XM Radio, on which he shared selections from his personal record collection. In February 2006, Petty and The Heartbreakers agreed to be the headline act at the fifth annual Bonnaroo Music and Arts Festival. InJuly 2006, Petty released a solo album titled Highway Companion which debuted at number 4 on the Billboard 200. In 2006, the American Broadcasting Company hired Petty to do the music for its National Basketball Associations playoffs coverage.
Source: rollingstone
Petty is currently involved with Sirius satellite radio hosting his own program "Buried Treasure" on Channel 31, Deep Tracks, playing mostly oldies and roots rock with commentary. In mid-November 2015, Sirius/XM launched Tom Petty Radio on Channel 31. He has been managed by Tony Dimitriades since 1976.
Awards
Now moving on to the awards he has won for his music.In 1985 Tom Petty and The Heartbreakers won MTV Video Music Award for their song 'Don't Come Around Here No More' for best special effects. And in 19994, won best male video.
Image: Tom Petty and Jackson Browne recipients of ASCAP Founders Award 2014.
Source: americansongwriter
Petty has won three Grammy awards one with each of his band The Travelling Wilburys and The heartbreakers and one for his solo album. He won a Grammy for best male rock vocal performance. In 2005 petty won a Billboard Century Award. Petty also won the ASCAP Founders Award 2014.