Former basketball player Larry Bird is the current president of the Indiana Pacers in the National Basketball Association. This hardworking man has an amazing net worth of $45 million. However, his riches and assets aren't inherited. He is a legend in the NBL history. Today, we will talk more about his net worth, careers, and awards.
Larry Bird's Naples mansion is worth $4.5 million
Bird owns a beautiful waterfront mansion in Naples, Florida. He bought this house in 1998 for $875,000. Currently, he has listed its price $4.5 million. The Venetian Bay view from his mansion is breathtaking. It covers an area of 6,000 square feet and consists of four bedrooms and a gourmet kitchen, a saltwater aquarium, service bar, and best in a class home theater. Bird has kept his home on sale as he doesn't spend much time in Naples these days because of his job.
Image: Larry Bird's Naples mansion
Besides the Naples home, Bird also owns mansions in Indianapolis and French Lick, Indiana.
Larry Bird's prolific career
Bird's basketball career was amazing. He started playing since his college days. However, Bird began playing as power and small forward since 1978 after he was chosen as the 6th global pick by the Boston Celtics in the same year's NBA Draft. Bird never changed the team, he spent his entire career as a player with the Boston Celtics. After his career as a player, Bird worked as the Celtics' special assistant from 1992 to 1997. Later, Bird became the coach of Indiana Pacers. He left the job after the end of 2000 season. In 2003, he became the President of Basketball Operations of the Pacers. You might be amazed to know that Bird is the only NBA player who became the coach of the year, executive of the year and most Valuable Player of the Year.
Video: Watch Larry Bird's top ten best shot
This is how Bird has earned his net worth and there is much more to come. We presume.
Larry Bird's long list of awards
Bird has won many prestigious awards in his career. He won the NBA Most Valuable Player of the Year Award three times, NBA Finals MVP two times, NBA champion three times. Similarly, his other awards include NBA All-Star, NBA All-Star Game MVP, All-NBA First Team, All-NBA Second Team, NBA Rookie of the Year, Three-point Shootout champion, John R. Wooden Awards, AP National Player of the year, etc. as a player. Similarly, he won NBA All-Star Game head coach and NBA Coach of the year Award as a coach. Lastly, as an executive, he won NBA Executive of the year in 2012.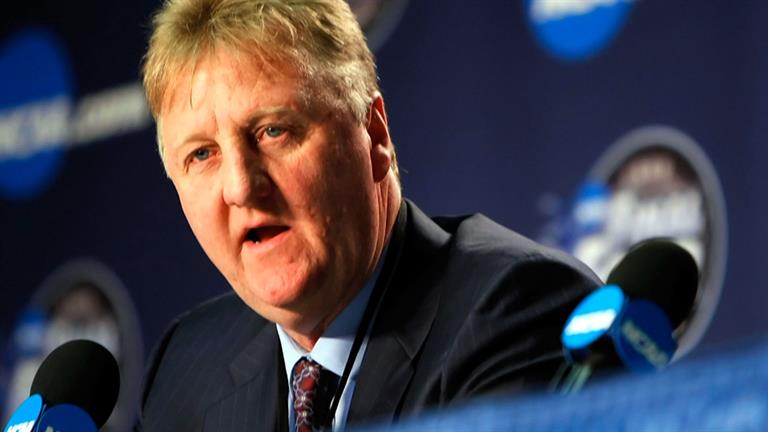 Image: Larry Bird
This is how amazing Bird's sports life and career has been. Please leave a comment about what you guys think of him.