Country singer Jason Aldean has been blessed with incredible vocals and talent. Currently, he works with Broken Bow Records and has released a lot of albums till date and most of it has been a super success.
Jason has a huge net worth that will make your jaw drop. But we suggest you not to take the money lightly. You will know why we said that when we talk about his source of income and amazing career. Keep reading:
Jason Aldean net worth and income 2017
Singer Jason Aldean's estimated net worth is $110 million. You might have a hard time to believe when we tell you that his annual income is said $32.5M. This record is as of June 2017 records of Forbes. The credit of the huge part of his total money goes to his seventh album 'They Don't Know' and its tour.
Jason Aldea Source: Amazon
During the scoring phase, he performed in 55 shows where he made an average of more than $1 million in each city.
Jason Aldean career in brief
Jason got the support of his father from a very young age. His father wasn't just his guitar teacher, but he also assisted Jason and his band to perform at Truman State University. The local VFW hall enjoyed a lot of Jason's performance. In fact, he was signed by Warner-Chappell, a song publishing company, at a very young age of 21.
In 2005, he released his debut studio album named 'Jason Aldean'. In the same year, he signed a contract with Broken Bow Records and he still works with it at present. Till date, he has produced five studio albums with Broken Bow Records. Moreover, his 4 albums are platinum certified. In case you didn't know, Jason's 'My Kinda Party' is triple-platinum.
Jason Aldean Source: iheart radio
As of now, Jason is busy on his 8th Album which is said to be released in late 2018 or in beginning of 2018. We bet you are as excited as we are.
Jason Aldean accolades
There's no doubt about the fact that Jason is an incredible singer. His songs such as 'Why', 'Big Green Tractor', 'She's Country', 'Night Train', 'Don't You Wanna Stay', and so one has helped him secure the #1 position on the Country charts 11 times.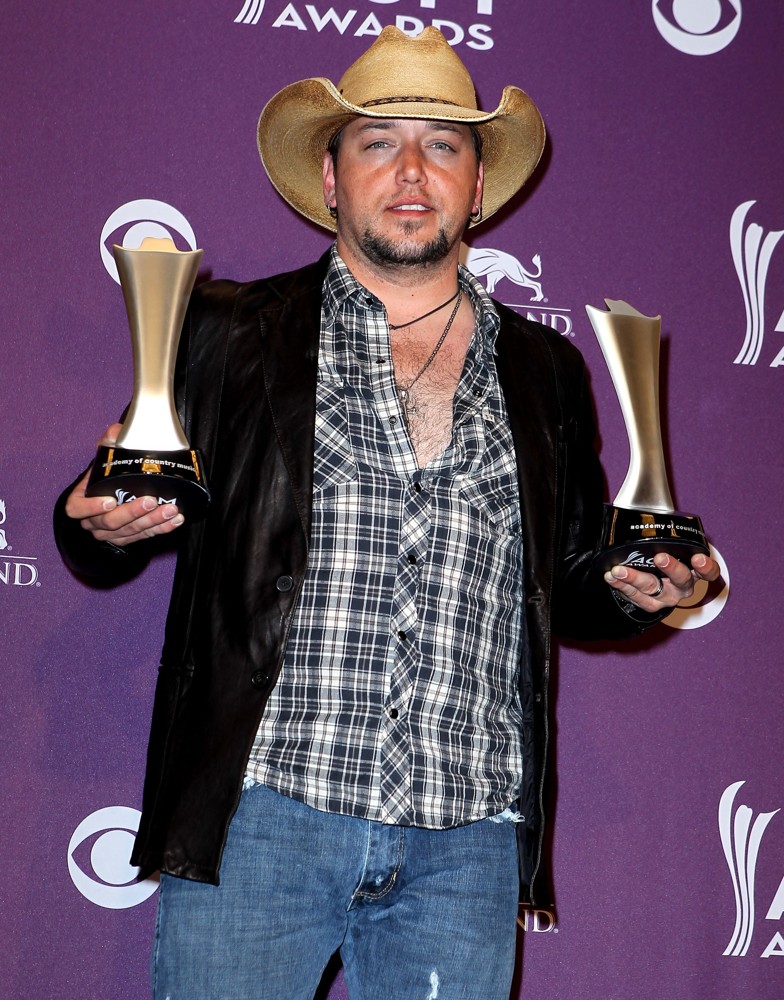 Jason Aldean with his ACM awards in 2012 Source: Ace show biz
Jason Aldean became the winner of the ACM Award for Top New Male Vocalist in 2005. He also won 6 American Country Awards in 2011, and in 2012, he bagged home 2 Billboard Music Awards. In 2016 and 2017, he won Academy of Country Music Award for Entertainer of the Year.
Jason Aldean house and car
Jason lives in a gorgeous mansion in Thompson's Station, Tennessee which he bought 2 years ago for $5.35 million. His beautiful house stands tall in a 120-acre estate just about 10 miles southeast of Spring Hill.
He also owns a hunting estate in Tennessee near Centerville which is on sale for $4.6 million. It is said to cover an area of 1,400 acres that has dense woods.
Also read American Singer Jason Aldean Wife Brittany Kerr Pregnant, Expecting First Child Very Soon.
We can truly say that singer Jason Aldean's career and hard work has inspired us. We bet he has more amazing plans in his mind right now. Let's just wait and listen to his masterpiece.