Guy Fieri is a celebrity chef in America who is also known as America's wacky dad. People have mixed opinions about Fieri such as Guy Fieri of Diners, Drive-Ins, and Dives. Some term him as mom and pop businesses champ while other call him he's the Nickleback of food. Fieri lives the life that the food lovers dream to have. He travels across the US in a red convertible and tastes the finest food on his Diners, Drive-Ins and Dives show.
This amazing guy isn't just tasting the food and having fun, but also making a lot of money. You might not believe if we tell you that Guy Fieri has a net worth of $8.5 million, but that's totally right. Have a look at his career and awards.
Guy Fieri restaurants and businesses
Fieri has diverse professions. He is not just a restaurateur, but also an author, TV personality and game show host. 1968 born Fieri earned such huge net worth as he is the co-owner of five successful restaurants in California.
Guy Fieri
Source: Salon
He has his own TV series on the Food Network making him a household name in the media. During his early days, he worked for Stouffer's, developing restaurant concepts located in Southern California.
Guy Fieri Food Network shows
Fieri's first show, 'Guy's Big Bite,' in the Food Network premiered in June 2006. It found massive success soon after its launch resulting in 13 seasons with 150 episodes.
Guy Fieri
Source: Trb
In 2007, Fieri's another show named 'Diners, Drive-Ins and Dives' came out which is one of the most popular and successful shows on the Food Network channel. It consists of 19 seasons and more than 230 episodes.
Guy Fieri best seller books
Fieri is the co-author of New York Times bestseller books; 'Diners, Drive-ins, and Dives: An All-American Road Trip … with Recipes!', 'More Diners, Drive-ins, and Dives: Another Drop-Top Culinary Cruise Through America's Finest and Funkiest.'
Additional to these books are Guy Fieri Food: Cookin' It, Livin' It, Lovin' It', 'Diners, Drive-Ins, and Dives: The Funky Finds in Flavortown: America's Classic Joints and Killer Comfort Food,' and 'Guy on Fire: 130 Recipes for Adventures in Outdoor Cooking'.
Apart from his shows, restaurants, and books, some credit of his massive net worth goes to the advertisements and brand promotion that he does. He also takes part in various roadshows and regional food network events.
Guy Fieri house and cars
Fieri owns a huge mansion in Santa Rosa, California, US. He lives with his wife and two children there. Have a look at his huge property:
Guy Fieri mansion
Source: Virtual Globe
Read more about Guy Fieri's married life.
Fieri is a lover of classic cars, and he has a beautiful collection of them.
Watch Guy Fieri talking about one of his cars:
Guy Fieri awards and achievement
Although Fieri hasn't been the recipient of any awards till date, he won the second season of 'The Next Food Network Star' on 23rd April 2006 because of which he got his very first own cooking show, 'Guy's Big Bite' back in 2006.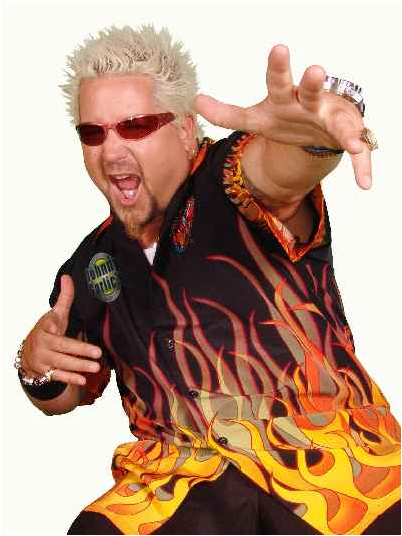 Guy Fieri
Source: Eater Vegas
Also, read about Guy Fieri's relationship with his wife and kids.
Guy Fieri's has enjoyed a successful career. Considering all the works he has done till date; there's not a slight reason not to believe in his $8.5 million net worth. Fieri is a perfect example of dreaming and accomplishing it.
We believe that if someone has a strong passion for doing something, hard-work and dedication makes it successful. For more updates keep in touch with Frostsnow.