Giorgio Armani is an Italian fashion designer particularly known for menswear. He has his own company under name Armani, which he established in 1975. He has been acclaimed as the most successful fashion designer that Italy has ever produced. He is also credited with pioneering red-carpet fashion.
If I have to say about his net worth in one sentence, then I would say he is a billionaire. As of January 2017, he is ranked in the 196th position by Forbes with $6.2 billion net worth. He is the most successful fashion designer of this era.
Want to know more about Giorgio's net worth, his source of income, career, and awards? Stay with us.
Giorgio Armani Net Worth
Giorgio Armani is one of the successful fashion designers of the world. His success is due to his devotion and passion for his field. He is so much devoted to his work that he has not even thought about marriage. He is so much prosperous that his net worth counts in billions. He has earned most of his net worth from his company Armani, which is in Milan, Italy. He also has a hotel in Dubai and Milan that helps him add up to his net worth.
Caption: Hotel Armani in Dubai
Source: armanihotel.com
Giorgio Armani's net worth includes two linked villas on the scenic island of Antigua. The two beautiful villas are named as Villa Serene and Villa Flower. The Villa Serene is equipped with various comforting elements which characterize the personal style of Armani himself and the Villa Flower is characterized by gray palette.
Caption: Armani's Villas in Antigua
Source: bornrich.com
Giorgio Armani also owns a yacht named "Main". The 150-foot yacht is designed by Milan-based architect Giancarlo Ortelli. The Yacht "Main" also features a matt black mooring rope and a classy exterior design. Have a look at the picture of the yacht.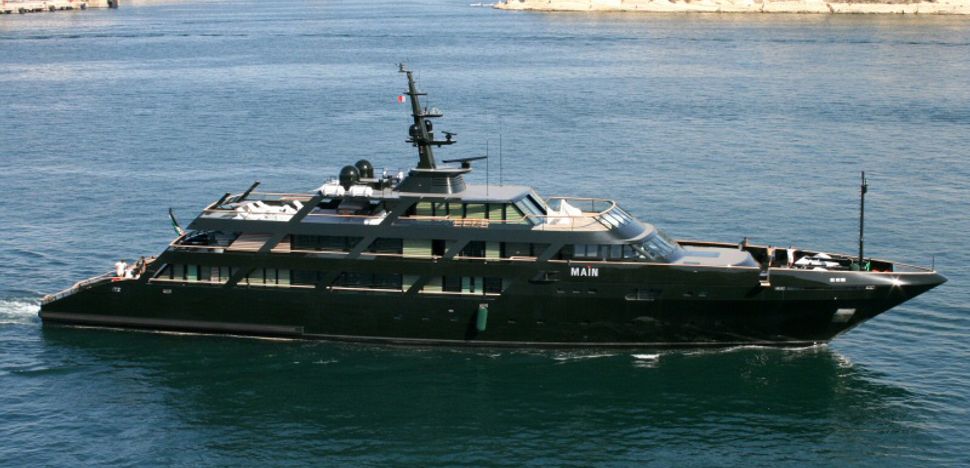 Caption: Giorgio Armani's Yacht
Source: yachtcharterfleet.com
Giorgio Armani Career
Before Armani began his career in fashion designing, he worked in the Military hospital in Verona. After that, he found a job as a window dresser at La Rinascente, a departmental store in Milan. In the mid-1960s, he worked in the Nino Cerruti company as a designer where he designed menswear. He worked for other companies as a designer for over a decade. That experience motivated him to found Giorgio Armani S.p.A. in Milan which he established with his friend Galeotti.
Video: Documentary on Giorgio Armani
Since then, he has spread his company network in a wide range. As of 2009, he has a retail network of 60 Giorgio Armani boutiques, 11 Collezioni, 122 Emporio Armani and more, which he has spread over 37 different countries.
Giorgio Armani Awards and Honors
During his career in fashion designing, he has achieved various awards and honors. Most notably, he was honored with CFDA International Award in 1987. Similarly, in 1991 he has presented an honorary doctorate from the Royal College of Art. He got the Bambi Award in 1998, while he got the same award in 2009 for his creativity.
In 2003, he was inducted into the 'Walk of Style', and in 2006, he was honored with Gentleman's Quarterly Man of The Year. There is a model contest, which is organized under the name Giorgio Armani where the famous models like Eric Brady, Helen Svedin, and Angie Harmon have participated.
What do you think of Giorgio Armani? Please, leave your opinions in the comment box below.