He is one the richest Filipino Celebrities. The 42-year old Jose Maire Borja famous for his on-stage persona Vice Ganda is a Filipino comedian/TV presenter, author, actor, and recording artist and a regular host/judge on ABS-CBN's show, It's Showtime. With his comic timing and alluring personality, the Filipino star has won millions of hearts and in return has bagged lots of dollars all along.
The talent house, Vice started his career in the late 1990s, and with nearly two decades of successful career, now he owns a lavish lifestyle and millions of fortune to his name.
Vice Ganda Net Worth
The, It's Showtime star is a living example who has proved the phrase "never give up." Vice had a significant share of misfortune in his life after his dad was murdered and his mother left the house living the responsibility of other five siblings over him.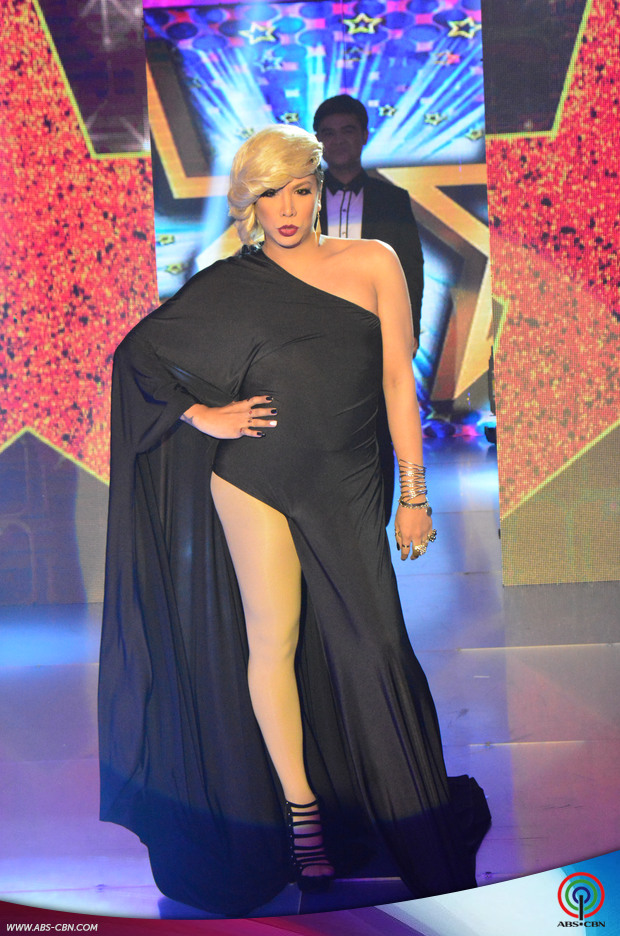 CAPTION: The host/judge on ABS-CBN's show "It's Showtime", Vice Grand
SOURCE: Enchos
With years of dedication and hard work paying off eventually, Vince owns a net worth around 75 milllion Philippine Pisco ($1.43 million). The comedian/actor/singer makes most of his fortune with his show on ABS-CBN.
Besides, Vice makes a lot of money through his career as singer, author, and actor. He has featured in several films such as Condo, In My Life, This Guy's In Love With U Mare!, Praybeyt Benjamin- few among the list are one of the highest-grossing films in the Philippine cinema.
CAPTION: Vice Gand in This Guy's In Love With U Mare! (2012)
SOURCE: ABS-CBN
His movie, Praybeyt Benjamin earned $6.41 million by ticket sales becoming the highest-grossing Filipino film of all time.
Vice Ganda Endorsements
Vice endorses a major product in the Philippines (Globe Telecom) as the first openly gay endorser. He indeed is leading a successful career all these years.
Vice Ganda comes out as a "GAY"
During an episode of "It's Showtime" in early 2018, Vice Ganda went candid about his sexuality. The Phillipian box-office star opened up about the topic during the Miss Q&A segment. He said,
I'm a bakla!"
Which translates into "I'm a gay".
He further added,
"Hindi ko naman dama na babae ako.
Which means "I do not feel like I'm a girl".
Vice Ganda Career Highlights
Vice started his career as a stand-up comedian for Punchline and The Library, where he was given his stage name "Vice Ganda" by Andrew de Real, the owner of the two production house. During his career as a comedian, Vice worked with few well-known faces in the comedy such as Chokoleit, John Lapus, and Rey Kilay.
Television
Vince has appeared in several TV series and sitcoms such as Dyosa.
CAPTION: Vince appeared in a sitcom Dyosa earlier in 2009
SOURCE: Pinterest
He also has performed in a supporting role in the drama series Maging Sino Ka Man: Ang Pagbabalik. Currently, Vice is working with ABS-CBN where he hosts Sunday Talk Show, Gandang Gabi, Vice!.
Film
In 2009, Vice appeared in a supporting role in an independent film Condo with Coco Martin. Later in 2010, he appeared in the remake of the comedy film Petrang Kabayo.
CAPTION: In 2010, Vice appeared in the remake of the comedy film Petrang Kabayo
SOURCE: Covers Hut
To this date, he has appeared in several movies including Praybeyt Benjamin (2010), This Guy's In Love With U Mare! (2012), Bromance: My Brother's Romance (2013), The Amazing Praybeyt Benjamin, and so on.
Music
Vice released his first studio album on June 15, 2011, Lakas Tama under the music label Vicor Music. The album includes Palong Palo, a pop song written by Callalily. On April 30, 2013, Vice released his second solo album under his name with Star Records. and the third one in 2014, Trending.
Vice Awards
The years of dedication and devotion towards the profession, he has been awarded many awards.
Vice Ganda Awards

| | | |
| --- | --- | --- |
| 2017 | 48th GMMSF Box-Office Entertainment Awards | The Super Parental Guardians |