David Harbour is an American actor best recognized for his portrayal of Police Chief Jim Hopper in a popular Netflix series, Stranger Things. Born on 10th April 1975 in New York City, the 42-year-old performs on stage, films, and theater and rose to stardom after his performance as Nick in 2005 play Who's Afraid of Virginia Woolf?
The actor is linked to people like Maria Thayer as he was engaged to her back in 2011. Moving on to his net worth, his estimated worth as of 2016-2017 was $3 million and as of 2017-2018, his net worth is $4 million.
Actor David Harbour
Source: YouTube
Know more about his current relationship status
Today we are going to share with you some information about David Harbour's net worth, salary, career, and awards.
David Harbour's earnings, salary, and net worth
As mentioned above, the estimated net worth of actor David Harbour as of 2017-2018 is $4 million. The major source of his income is his career as an actor. Moreover, in an article by Vogue, it was revealed that the child actors in Stranger Things, Millie Bobby Brown, Finn Wolfhard, Caleb McLaughlin and other earn $30 thousand per episode. We assume that David also earns a similar amount or even more for his role as a Police Chief, Jim Hopper in the series.
Watch David in Stranger Things
Apart from this, there is no information available regarding the actor's earnings and salary. Having such a high net worth that is in millions, we are sure that he has many sources of income. He is currently working on numerous other films and TV shows and also is also very active in theater.
David Harbour's career and awards
David made his debut as a professional actor back in 1999 through a Broadway play The Rainmaker. In the same year, he also appeared in an episode of TV series Law & Order as a waiter. This marked his debut on TV and through the years, he has appeared as a minor character in numerous TV shows like Hack, Law &Order: Special Victims Unit.
Later in 2004, he made his debut on the big screen through the role of Robert Kinsey in film Kinsey. However, he rose to stardom through 2005 play Who's Afraid of Virginia Woolf?. For the role, he was even nominated for a Tony Award.
Throughout the mid and late 2000's, he contributed to numerous films and TV shows like Awake, State of Play, Quantum of Solace, The Book of Daniel, Lie to Me, Royal Pains and others.
The actor was getting many roles. But later in 2015, the actor was done with acting and planned to quit acting as his show State of Affairs in which played the role of one of the lead character was canceled, and he had a tough time getting good roles.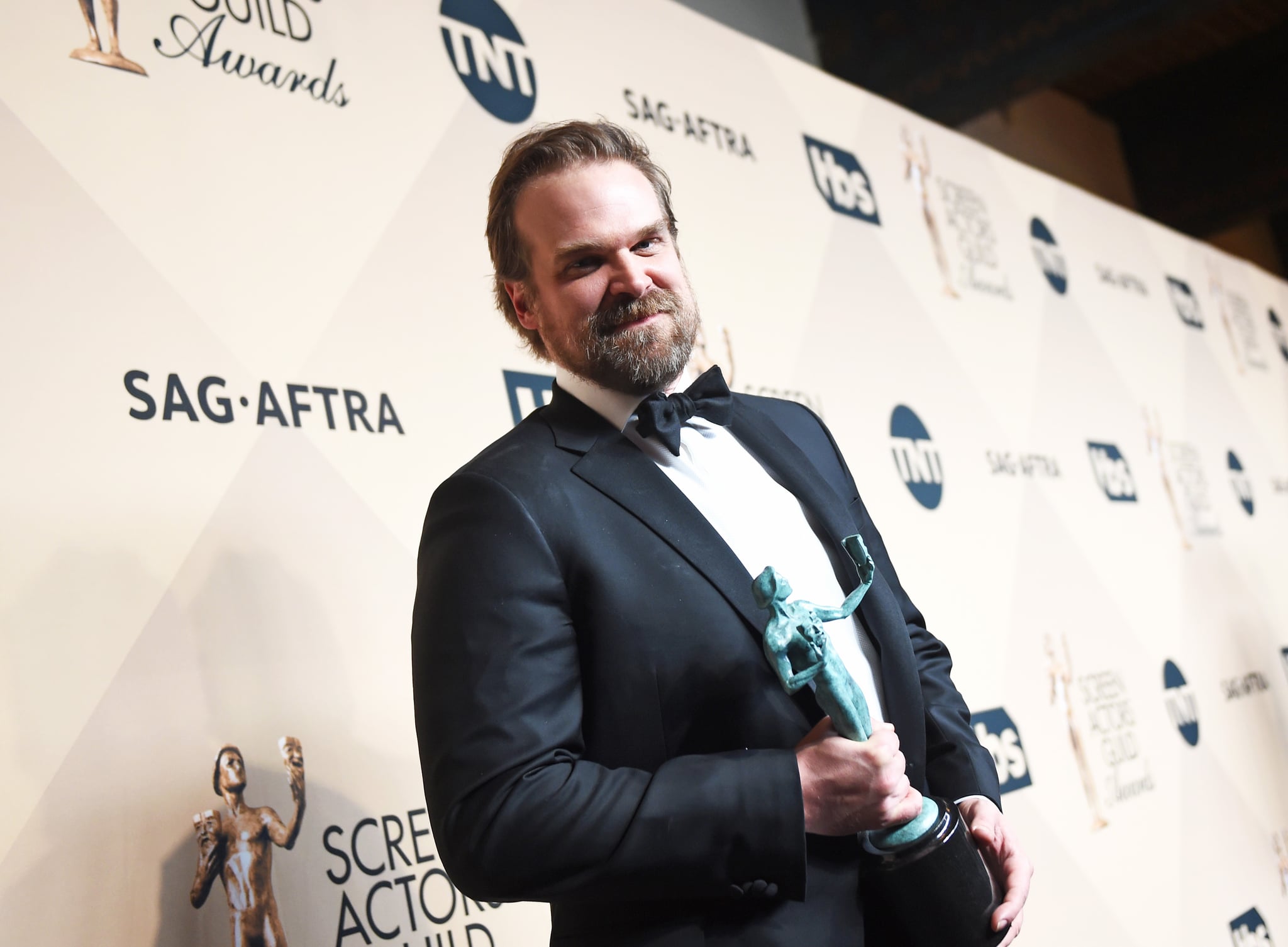 David Harbour SAG Awards
Source: Pop Sugar
However, everything changed for him after he was offered the role of Police Chief Jim Hopper in Netflix series Stranger Things. It was a very important role for him, and he had never expected that he would get it. For his role in the series, he has won numerous awards including Critics' Choice Television Award in 2018. He along with other casts of the series also won a Screen Actors Guild Awards back in 2017, and they have also been nominated for other two awards in 2018 and the results are still pending.
Watch David give a speech after winning a SAG Award
Know more about how his cast reacted to his speech
Moreover, his most recent works apart from Stranger Things include 2016 Suicide Squad featuring Margot Robbie, Will Smith, Cara Delevingne as Dexter Tolliver, 2017's Sleepless as Doug Dennison. He is currently working on Hellboy as the lead character. The movie will release in 2019.