Melky Cabrera is a Dominican professional baseball player who is the outfielder for the Kansas City Royals of Major League Baseball (MLB). With his talent, hard work, and baseball skills he has successfully marked himself as one of the greatest players in the history.
People these days are wondering about the salary, net worth and the source of income of this baseball legend. And we know you are one of them. So, today in this session we have brought to you all the information about him.
To some extent, we will also discuss his journey as a baseball player. so, let's get started.
Must Read - Kansas City receives Melky Cabrera from White Sox on trading deal
Baseball Legend Melky Cabrera's Career And Awards In Bref
Melky Cabrera is the current outfielder for the Kansas City Royals of MLB. He previously played for many renowned teams such as the New York Yankees, Atlanta Braves, Toronto Blue Jays, San Francisco Giants and Chicago White Sox.
Though Melky played primarily a left fielder throughout his career, he spent a significant amount of time with the Royals and Yankees as a center fielder.
Professional baseball player Melky Cabrera
Source: zimbio
In the beginning of his career, the 32-year-old professional baseball player, Melky Cabrera was signed as an amateur free agent by the New York Yankees. In 2005, Melky made his MLB debut for the Yankees.
After playing as a fourth outfielder, the New York Yankees included him in a trade to the Atlanta Braves after the 2009 season.
New York Yankees' baseball legend Melky Cabrera
Source: Zimbio
Later, in 2011, he was signed by the Royals. Recommitting himself to the game, Melky had a strong year with the Royals and then he was traded to the Giants for the 2012 season.
Professional baseball player Melky Cabrera for Yankees awarded the All-Star Game MVP Award
Source: straightouttawestwood
In 2012, Melky finally made his first All-Star Game appearance by winning the All-Star Game MVP Award. One month later, he received a 50-game suspension as he tested positive for high levels of testosterone.
Melky Cabrera's Salary And Net Worth
Talent and hard work are always said to pay a lot in terms of money. Moreover, if we are associated with the sports, we'll definitely be paid a lot more. Similarly, the father of three children, Melky Cabrera has earned himself a lavish life with his extraordinary baseball skills.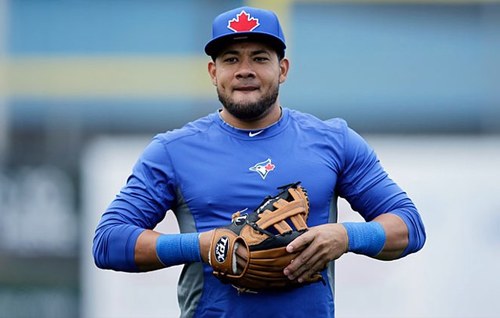 Baseball legend Melky Cabrera
Source: twitter
In July 2012, Melky Cabrera for his performance was rewarded a $54,995 muscle dark red car with a 6.2-liter supercharged V8, Chevrolet Camaro ZL1.
Melky Cabrera won a car Chevrolet Camaro ZL1
Source: autoguide
Through his career, Melky earns a massive salary that adds up to his net worth of $13 Million. We wish him to get more achievements from his career.
Best of luck Melky Cabrera.
For more updates, stay connected with Frostsnow.