The multi-talented American singer Aaron Charles Charter is not a new name in Hollywood if you love listening pop songs. Charter hit the fame as a pop and hip-hop singer in the late 1990s and ruled the industry with just four of his studio albums during early 2000s as a star among pre-teen and teenage audiences.
Charter, also defined by his dancing and acting career has made millions of fans across the globe and is quite popular among teenagers and not to mention his female fans. The 29-year old singer rose to prominence at an early age and is still going well. So it's no wonder to think how much he has made so far? Know how much could be his net worth? And more on the star's career and awards.
Find more on the star's wealthy life, career, and awards here in Frostsnow.
Aaron Charles Carter; a singer, a dancer, and an actor
Carter born on December 7, 1987, in Tampa, Florida, United States is a talent-house, a gift for Hollywood. Well, indeed he is. You will believe us, just stay a little longer.
Aaron Carter; a singer, a dancer, and an actor
Source: Billboard
Carter hit the floor at an early age of seven, as the lead singer of Dead End, a local band of Tampa. But within two years the pop-singer left the band and later at the end of 1997, he released his first solo album, "Crush on You." The solo album achieved gold status in many countries including Norway, Spain, Denmark, Canada, and Germany.
Check out his first song on the video below.
Thereby a star was about to shine in the pop-music industry.
Carter's next album came on September 26, 2000, Aaron's Party (Come Get It) released under the Jive label and was certified 3x platinum by Recording Industry Association of America (RIAA). The album became the biggest hit of his career selling more than three million copies only in the United States.
The album included single hits like I Want Candy, Aaron's Party (Come Get It), That's How I Beat Shaq. Then what was to be expected of the young star, media focus, industrial recognization, and accolades all were on the singer's footstep. He just grabbed a prominent foot-stand in the world of name and fame.
Come Get It: The Very Best of Aaron Carter
Source:
And the star was just 13-year old by then, so it's obvious as per his track record there's a lot more to come for Carter. He gave back to back to hit albums inclusively, Oh Aaron on August 7, 2001, along with his brother Nick Carter, Another Earthquake on September 3, 2002, and Saturday Night on March 22, 2005. The album was released under Trans Continental label, with Lou Pearlman (Carter's former manager) as executive producer.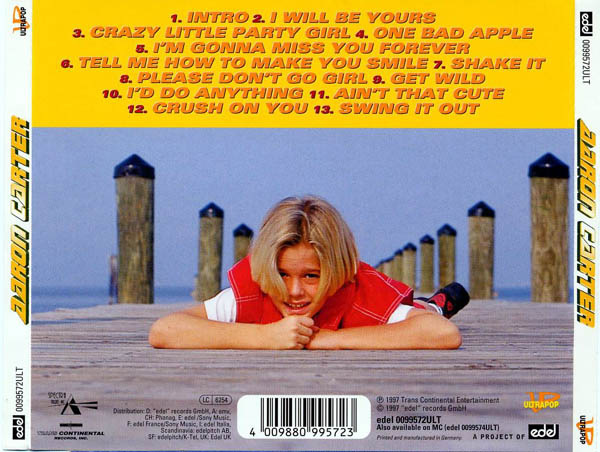 Aaron Carter's other releases
Source: Pinterest
After a long gap, Carter released his fifth album, Love in the April of 2016.
Check out the glimpse of the album in the video below.
The second chapter of Aaron Carter's career
The singer made his acting debut in March 2001 with a guest appearance on an episode of the Disney Channel series Lizzie McGuire. The singer/actor starred in 2 episodes of TV drama series 7th Heaven in 2003 produced by Brenda Hampton, portraying the role of Harry. The show was aired on the network on September 25, 2006.
In the same year, Carter starred in an episode of Family Affair, in the role of Liam Curtis produced by Edmund Hartmann and Don Fedderson.
In 2006, Carter and his siblings starred in a reality show, House of Carters, which ran between October- November on E!. The show featured all five Carter siblings reuniting to live in the same house.
I am going to be all over E!'s new reality show called House of Carters starring that Backstreet Boy Nick Carter and his family
Source: Tabloid Whore- blogger
The third chapter of Aaron Carter's career
From 2008- 2013, Carter appeared on the TV reality dancing show Dancing with the Stars. There the talent house partnered with Karina Smirnoff. The dancing couple made it to the fifth position on the show.
Check out the couple making it the 8th episode of the show on the video below.
The star undoubtedly showed the industry that he is indeed a talent house. He has gained name and fame all along the journey, and it's obvious that the star is well paid and well accoladed. So let's find out about his net worth and his awards here.
Aaron Carter's Net Worth and Awards
The singer/actor/dancer started his career at a young age and still is going on. He makes most of his fortune with his singing profession and in addition comes his acting and dancing career.
Though Carter's net worth hasn't been revealed yet, he is reported to have $2 million in the name of net worth. Well, you guys may not believe us, and it's obvious, though the star has had an incredible career. But don't worry there's more to come yet.
Also, check out a video below on Carter's net worth.
In 2013, the singer claimed that he made $200 million from the age of seven to eighteen, but unfortunately his parents only gave him $2 million on his 18th birthday. And later Carter filed a case for bankruptcy after owing $4 million in taxes. Though Carter stated that his parent mishandled his money and neglected his finances, he never blamed his parents for their mistakes on his money.
Well, money doesn't always reflect a successful career. The teenage pop star has won million of hearts and is doing till the date, and that's what we, his fans care, isn't it?
Aaron Carter's Awards
The youngest male solo artist has won many nominations and award with his outstanding career and has a record breaking four songs in the Top 40 singles. Let's have a look at some of his achievements in the table below.
Aaron Carter's Awards

| | | |
| --- | --- | --- |
| 2001 | Nickelodeon Kids Choice Award | Favorite Rising Star |
| 2001 | Teen Choice Award | Male Artist of the Year |
| 2002 | Radio Disney Music Award | Best Male Singer |
Though Carter is addressed to conflicting net worth, there's no doubt that the singer/actor/dancer has had an incredible career and is still going well. So there's addition with each passing day in his bank balance, and there's still a long way for the star.
For more updates stay connected with Frostsnow.