Jose Carlos Altuve, also known as Jose Altuve, is a Venezuelan professional baseball player. He is the second baseman for the Houston Astros of the Major League Baseball. He is a 5-time MLB All-Star and is the recipient of several awards. Without a doubt, he is a prominent luminary in baseball.
The baseball legend is now married to the stunning brunette Nina Altuve and shares a daughter with her. Let us be the ones to give you some fresh information in regards to that.
Jose Altuve's Beautiful Wife Nina Altuve
Jose Altuve and his wife Nina Altuve started dating at the age of 16. They got to know each other in high school.
Fast forward to the present, the couple celebrated their 11th anniversary last November and is on the way to the 12th. The couple married since 2006 is reportedly free from the mishaps of divorce and separation.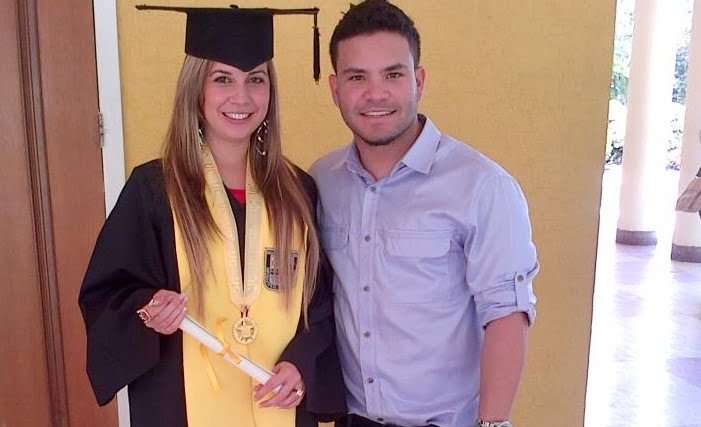 A Graduated Nina Altuve and Jose Altuve
Source: Fabwags
While Jose was practicing hard in baseball, his wife went to the University of Carabobo in Venezuela. Now, she is a certified bio-analyst.
Also Read: American Actor Jay Hernandez's Married Life With Wife Daniella Deutscher, Do They Have Children Together?
Nina got pregnant in 2016. In October of the same year, she gave birth to their daughter, Melanie A. Altuve 3 days ahead of her due date on November 1, 2016.
She is the only child and they don't have any other children. After she was born, both Jose and Nina referred to their newborn daughter Melanie, now one year old, as 'Little Princess'. Awwww
Jose Altuve and Nina Altuve's Family Life
Jose and his wife Nina love taking vacations. We mean, who doesn't? The couple flew to Punta Cana in the Dominican Republic, one of the most breathtaking locations in the world.
You May Be Interested In: Actor Misha Collins' Married Relationship With Wife Victoria Vantoch & Their Children
A few months later, the couple went to Disneyland. Nina and her daughter also go watch Jose's game from time to time.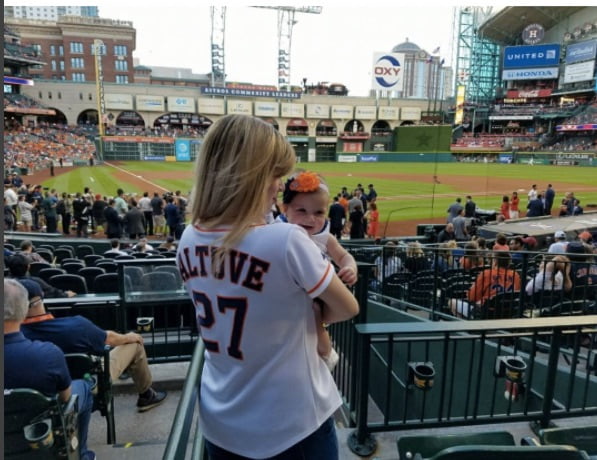 Nina Altuve and Her Daughter Watching Jose's Game
Source: Fabwags
The couple adores hanging out at the pool. Whenever Jose has a day off from their busy schedule, the family goes outside and they do fun stuff.
Recap of Jose Altuve's Career
The Houston Astros promoted Jose Altuve to the major leagues in 2011. He represented them at the All-Star Futures Game. On July of the same year, he tied Russ Johnson for the Astros record for most consecutive games.
Jose also played in the Venezuelan Winter League. In 2012, he came face-to-face with the tallest player in major league history, Jon Rauch.
In 2014, he signed a four-year $12.5 million extension. 2014 was the year when he became the first player to have 130 hits and 40 stolen bases before All-Star Break.


In the consecutive years, he was voted as AL's second baseman for the MLB All-Star game, made his 800th career hit, won the Rawlings Gold Glove Award, selected as the 2017 Associated Press Male Athlete of The Year, and recently, he ranked #2 baseball player in Sports Illustrated.
Despite being in baseball for a while now, something tells us that Jose Altuve has his best performances up his sleeve, waiting to astonish the world at the opportune moment.
You May Also Like: Australian Golfer Marc Leishman is Married to Wife Audrey Hills Since 2010; Know If They Share Children
Quick Facts about Jose Altuve:
Who is Jose Altuve's wife?
Nina Altuve is Jose Altuve's wife.
When did Jose Altuve and Nina Altuve get married?
Jose Altuve and Nina Altuve got married in 2006.
When did Jose and Nina Altuve welcome their first daughter?
Jose and Nina Altuve welcomed their first daughter Melanie Altuve on November 1, 2016.