Frostsnow
https://frostsnow.com/
Hip Hop Group Die Antwoord's Journey So Far: Their Income From Shows And Tours
Updated on

01.Jan.1970
01.Jan.1970
The South African hip-hop trio Die Antwoord's influential bars have oscillated the Rap industry for almost a decade. The group, consisting of rappers Ninja and Yolandi Visser and producer god (Previously DJ Hi-Tek), have released four albums and have performed on numerous music tours. Their career is built by inspiration from the counter-culture movement 'Zef' with songs in Afrikaans, Xhosa, and English language.
A dominant and revolutionary presence in the music industry, their recent tours have gotten their fans screaming at the top of their lungs. So, how much has their dominance in the music industry, or let's say their career, has paid him in terms of money?
Brace yourself as in this section, we are going to reveal the detailed history of the group and their professional accomplishments. Further, we will also find out the net worth the group has amassed so far.
Die Antwoord's Career Success And Fame
Die Antwoord came into existence in 2008. Their first album $O$ featured artists like Garlic Brown, Scallywag, Jack Parow and so on. The group was initially signed to Interscope Records. However, after a brief period of time, they launched their own record label known as Zef Recordz.
$O$'s Interscope version consisted of the Diplo-produced version of 'Evil Boy,' with a verse by an Xhosa rapper Wanga. Their first international performance took place at Coachella Music Festival.
Die Antwoord Performing
Source: fuse.tv
Sean Wilson-Smith, a close friend to Die Antwoord, has also made a documentary about the group which you can find more about here.
Their Career At Present
Starting off with a massive success in 2008, the rapper is alive and kicking at present as well.
Known for their cult following, Die Antwoord in recent years has released three albums namely Made By God (Chapter I, II and III) which made their fans' minds melt like cheese.
Likewise, they have performed at Ultra Miami, Dour Festival, and many more venues worldwide. In 2016, they were pulled out of HongKong's Clockenflap Music Festival due to 'unforeseen circumstances'.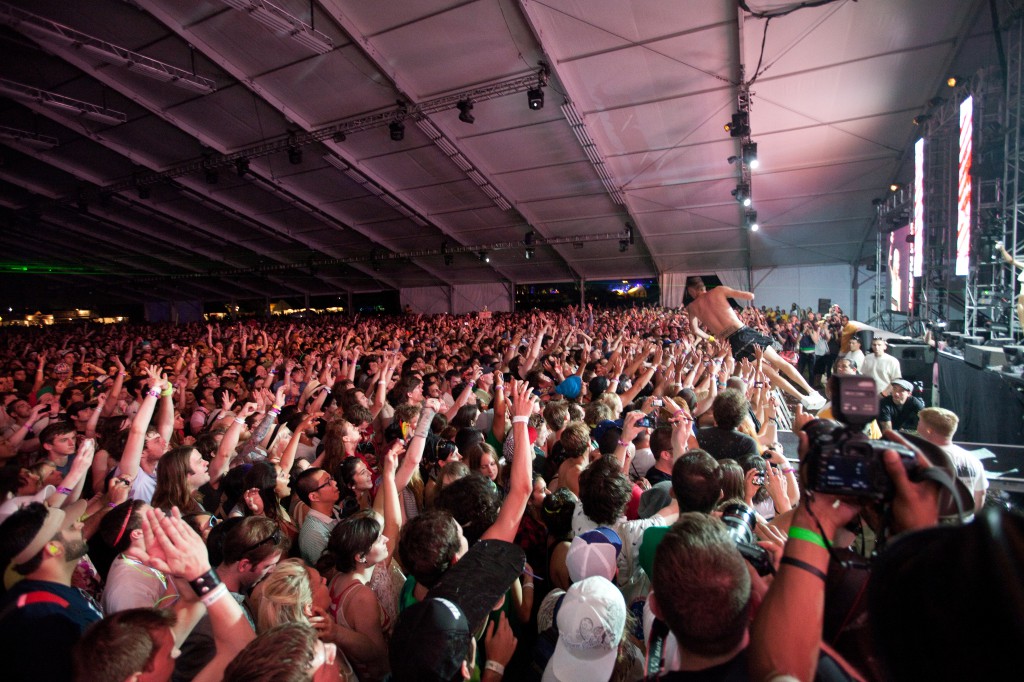 Ninja of Die Antwoord Stage Diving
Source: Dave Bullock/eecue
Die Antwoord is currently booked for their Europe tour in August 2018. They will be performing at locations in France, Russia, Austria, and Germany.
Rumors of Die Antwoord's Split From The Band
In 2016, there were rumors about the group splitting after a long run. Many fans worldwide were heart-broken to hear this news. Visser completely debunked this myth when she posted a picture on Instagram in which she took shots at a journalist who 'twisted their words'.
This post speaks the absolute truth. And besides, why would Die Antwoord, the group who combined rap with rave music ever break up?
Die Antwoord's Net Worth And Salary
After learning about their career, do you want to know about their income? According to Celebrityglad.com, their yearly income is $500 thousand. Their highest-earning album 'Ekstra' made $550 thousand. Donker Mag and Ten$sion earned an estimated $465 thousand and $297 thousand respectively.
Album Cover of EKSTRA
Source: Rate Your Music
Ninja's and Yolandi's combined net worth is estimated to be over $10 million whereas their group, Die Antwoord, has a net worth of $5 million. This is a major increment from their 2015 net worth of $3.5 million.