Golden Globe-nominated American actress Heather Locklear apparently got arrested following suspected domestic violence at her home that took place between Heather and her boyfriend Chris Heisser recently on Sunday night. The police reached the scene around 9:30 p.m. and took custody of Locklear. She was then charged with three counts of battery against a Sheriff's deputy.
As mentioned by the Sgt. Buschow, Locklear was extremely hostile and physically combative with the responding personnel. Locklear, 56, was taken to Ventura County jail following a brief visit to the hospital as she suffered some injuries that evening.
Heather Locklear
Source: Pinterest
Heather Locklear's Domestic Violence Case
The Police personnel arrested Locklear after they found the evidence to support the claim of violence. Her boyfriend was physically injured in the attack.
Moreover, she was also uncooperative with the police officers while deputies mentioned that they had to struggle to get her into the patrol car.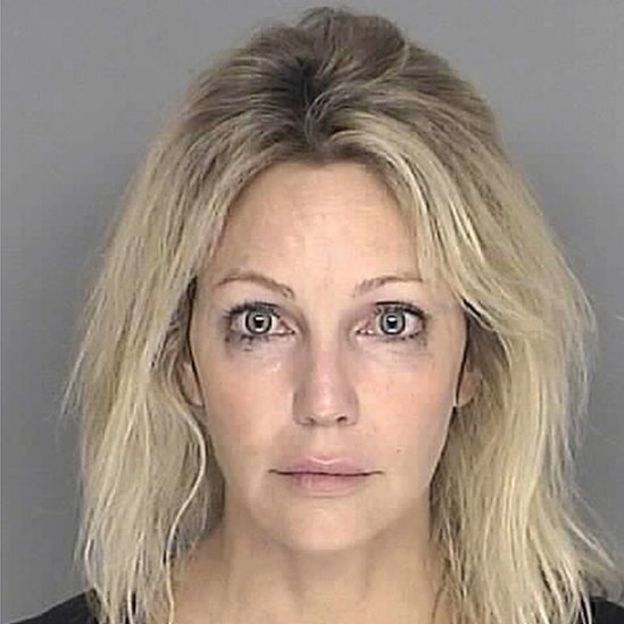 Heather Locklear's Mug Shot
Source: BBC
Locklear's brother was the one who informed the police after the incident took place at her home in Thousand Oaks. The ex-wife of the drummer Tommy Lee was checked in early Monday and was bailed around 6.00 a.m. after posting $20,000. Following the incident, Heather is bound to appear in court on March 13.
For her crime, Locklear was indicted on three charges of battery against the deputy and a felony count of domestic violence.
At the same time, Chris Heisser was arrested for DUI at 12:43 a.m., a couple of hours of his girlfriend's arrest. He was spotted on 101 freeway by the California State Highway Patrol, as reported by TMZ. He was released shortly after his field sobriety test was conducted by the highway officials.
Video: Heather Locklear's History of Problems With Police
Back in 2008, Heather was arrested on suspicion of driving under the influence of prescribed medication and was fined $900. She pleaded guilty to reckless driving and was condemned to three years of informal probation. Last September, she was she suffered a vehicle crash in Thousands Oaks and was injured.
Heather Locklear: Relationships, Affairs, Marriages, Dating History
Locklear and her current boyfriend, Chris, were previously high school sweethearts whom she met and started dating after 40 years. Besides, she has been in multiple relationships and has divorced several times. Her first marriage was with her ex-husband, Tommy Lee, a drummer of the band Mötley Crüe.
Heather Locklear and her ex-husband Tommy Lee
Source: Pinterest
The former couple got married back in 1986 and divorced after almost seven years. A year later, she married the guitarist of Bon Jovi, Richie Sambora, with whom she has a daughter, Ava Elizabeth.
Heather Locklear and her ex Jack Wagner
Source: DailyMail
Locklear and her ex-husband Richie filed for a divorce in 2006 and also applied for the joint custody of their daughter. Later after her divorce, she had an affair with the singer Jack Wagner with whom she got engaged in 2011. Later, the couple called off their engagement.
With Heather's life in a downward spiral with no end in sight, plus the infamy and incrimination that the recent incident has brought, it is yet to be revealed if Heather Locklear and her current boyfriend Chris Heisser will stay together after the domestic violence incident or if they will part ways.