Joe Francis became the hero for teenage boys in the late 1990s when he started his company Girls Gone Wild. Francis became famous for his notoriety with his passing years when his GGW brand was gaining considerable fame. Spending most of his time with almost naked beautiful girls, it must have been difficult for him to stay in a serious relationship. That must be the reason why he was married for the first time at the age of 37.
Image: Joe Francis
JOE WAS FIRST MARRIED TO CHRISTINA MCLARTY
In November 2010, Girls Gone Wild founder Joe Francis married Christina McLarty in a civil ceremony in Punta Mita, Mexico. Well, technically, it was a "domestic partnership" and was a civil ceremony. That is why a divorce was not necessary to file when the couple split after just a month.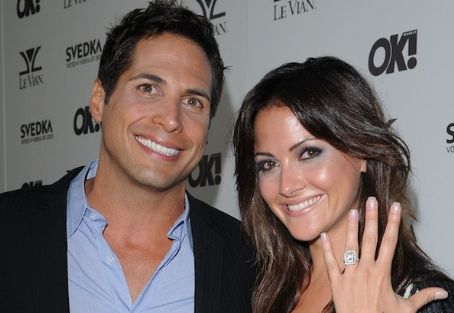 Image: Joe and Christina, his first wife
Married in November, Christina moved out of the couple's house and started living with her mother shortly after Thanksgiving.
The reason for that particular split was never made public. But it has been revealed several times that Joe Francis is verbally abusive in his relationships. And with his entrepreneurship, he has been infamous for being "a douche bag who has no respect for girls".
These have been rumored to be the reasons behind his first unsuccessful marriage.
JOE DOESN'T WANT TO REPEAT HIS PAST BLUNDER
As of 2016, Joe Francis is in a relationship with his girlfriend Abbey Wilson. They seem to be pretty serious about their relationship and Joe Francis seems intent on making Abby his lawfully wedded wife. And Abbey seems to share his thoughts.
Image: Joe and Abbey Wilson, his girlfriend
They have been seen putting an effort to reconcile their differences in their relationship. They appeared on a reality TV series. They were one of the few celebrity couples participating in the Season 3 of the series Couples Therapy. The series is all about making amends of relationships and finding out about their shortcomings to overcome them. Joe and Abbey revealed a lot of their own baggage in the TV series and learned to surpass their differences.
Joe was seen trying to be less abusive towards his girlfriend and Abbey was trying not to let her past come in between them (she used to have eating disorders).
And Joe is also continuously trying to rebuild his image. Joe and Abbey planned on an IVF pregnancy to have twin daughters. Joe specifically said he wanted daughters so as to show the world that he admires women. He said "I believe people will finally understand my love, respect, and admiration for women. I love girls."
WILSON AND FRANCIS TOGETHER HAVE GIVEN BIRTH TO TWIN DAUGHTERS BACK IN 2014.
Image: Joe and Abbey with their Twin children at the beach
According to the birth announcement from the couple, the little ones were born in Puerto Vallarta, Mexico. The announcement read: "Proud first time parents Joe Francis and Abbey Wilson are delighted to announce the birth of their two daughters, Alexandria Claire Francis and Athena Olivia Francis."
Joe, 43, and his soon-to-be wife, 28, first announced they were expecting back in April 2014. Joe seems to be very happy with his partner and two daughters. He seems to be taking time in proposing to his girlfriend because he looks like he is trying to avoid having a divorce again.