The 23 years old hunk, Harry Styles is secretly dating Tess Ward who is a food blogger as well as a model. Tess is famed for her The Naked Diet cookbook. The former One Direction star fell in the charm of the London-based chef shortly after being introduced by their mutual friends as stated by The Sun.
They have also been to a series of romantic dates and seems like the couple is planning to set for a long term relationship.
Harry is not only the good looking guy but also is a talented singer. His band, One Direction received worldwide fame, and now he is on his way to release his solo album. The young and charming singer has a history of flings with a couple of beautiful ladies. He had an affair with Taylor Swift and was also in a relationship with the supermodel Kendall Jenner which didn't last long.
Image: Harry Styles and his new girlfriend, Tess Ward
Source: Yahoo
Harry revealed that he hadn't been in a relationship and hadn't had any affair for a very long time. And according to The Sun " as soon as Harry met Tess there was an instant spark between them." Yes, we can see the spark from the picture as his girlfriend, Tess is wearing Harry's shirt. We must say that both of them look equally good on that shirt.
Harry Styles Affair with Tess Ward: Details about their Relationship
The present relationship of Harry with Tess, 27, is not like the flings and affairs Harry had in the past. The couple is having a romantic affair and is planning for a long-term relationship.
A source said that,
" They really bonded over their mutual love of quirky fashion and food – and things turned romantic quickly."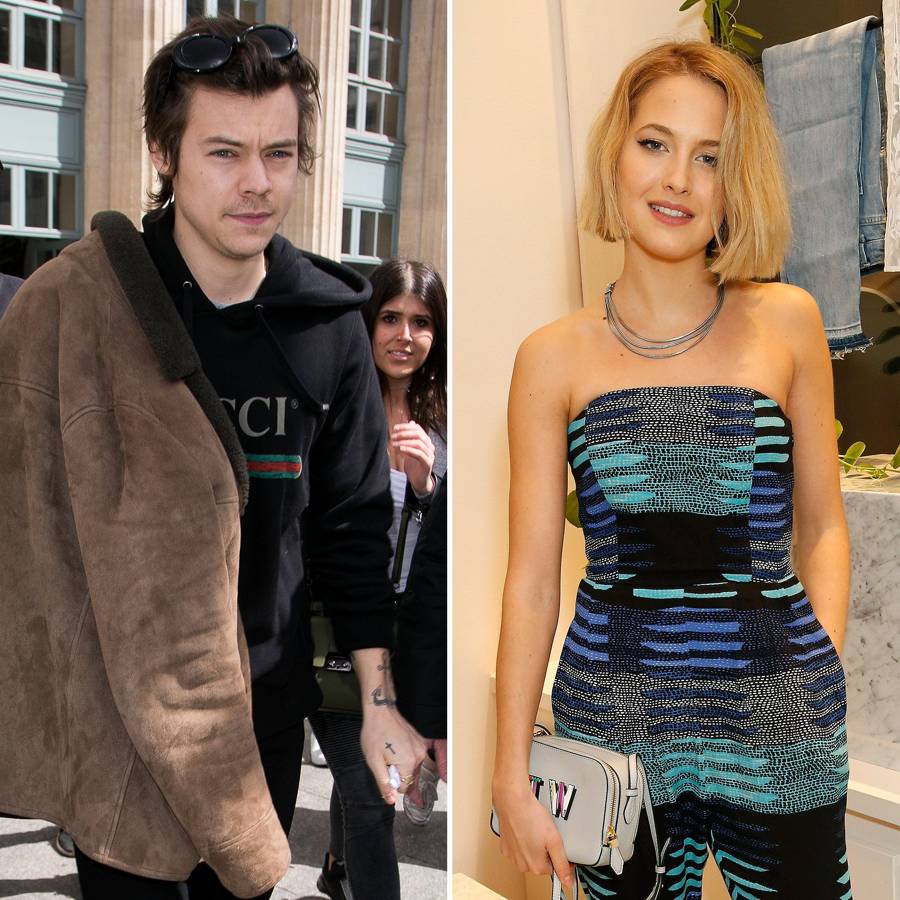 Image: Harry Styles and his girlfriend, Tess Ward
Source: Glamour
And also Harry introduced his new girlfriend to some of his close friends and also to his personal stylist Lou Teasdale. While Harry was in London, he spent a lot of romantic time with his new girlfriend.
Harry and his girlfriend, Tess were spotted together in Harry's Audi while they were driving through London last week.
Harry was using his phone while he was driving. He would have got six penalty points on his license and a 200 pounds fine if pulled over by a police office.
Image: Harry Styles spotted with his girlfriend, Tess Ward
Source: The Sun
Tess Ward is a food blogger and was spotted into the limelight after she released her cookbook, The Naked Diet in 2015. She gained huge online followings after her cookbook became a hit and of course for her charm.
Also Read: Actress Alice Braga Single or Married? Who is she Dating Currently? Know about her Current Affairs
She got her training from the top chefs at The Ritz, and now she focuses on her own simple, healthy cuisine. She is also a model and is a regular on the London social scene.
Before his girlfriend Tess, Harry was single. And Harry explained that he hadn't dated for a long time. He mentioned that he was working on his debut solo album.
Image: Harry Styles in studio
Source: Tumblr
Harry is making his movie debut with Dunkirk and was busy in it's shooting. He admitted that due to his busy life for some time he was unable to focus on other activities. And for now, he must be planning to enjoy his love life to fullest.
Video: Dunkirk Trailer
Also Read: Brittany Furlan Splits with her fiance, who is she Dating Currently? Know her love Affairs
Harry Styles's Past Relationships and Affairs
The One-D star, Harry has a history of high-profile romances in the past. Back in 2010 while he was in the X-Factor, he had a relationship with the presenter of Xtra Factor at that time, Caroline Flack. There was a controversy over their age gap as his ex-girlfriend, Caroline was 14 years older than Harry.
Image: Harry Styles with his ex-girlfriend Caroline Flack
Source: DailyMail
Styles also had a fling with the pop star Taylor Swift. Their relationship only lasted for over three months from October 2012 to January 2013.
Image: Harry Styles with his ex-girlfriend Taylor Swift
Source: Her Campus
The pop artist also had an affair with the supermodel Kendall Jenner. Their relationship also didn't last long.
Image: Harry Styles with his ex-girlfriend Kendall Jenner
Source: Celebuzz
Harry stayed single for an extended period as we mentioned, he was busy working on his new solo album and film. Anyways, Harry and his new girlfriend, Tess make a lovely couple, and surely they look great together.
Stay tuned for more updates and exciting news about the celebrities.