The famous 19-year old teen Delilah Belle Hamlin is a rising supermodel who has flamed the fashion industry with her charisma. The beautiful blonde has become a new sensation, and she has begun her journey of success in such early age. Delilah is the daughter of renowned actor Harry Hamlin, and she has been getting strong support from her father for every step in her life.
Delilah's career and her net worth are sure to rise steadily. For someone whose parents belongs to the same root in which she is trying to fit it, we don't believe it is a hard job. Find out more about the rising star and some interesting facts about her.
Delilah Belle Hamlin says Gigi Hadid is her mentor
She rose to fame as she is the daughter of actors Harry Hamlin and Lisa Rinna. Her mother, Lisa is one of the Housewives of Beverly Hills TV show, and Delilah even appeared on that show with her mother along with Gigi Hadid.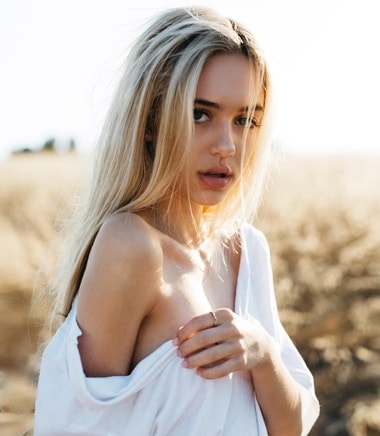 Delilah Belle Hamlin
Source: Listal
She has a dream to walk in Victoria's Secret runway just like her mentor, Gigi. Delilah says that it was Gigi Hadid who taught her how to walk on runways.
Also, read about Zayn Malik's relationship with supermodel Gigi Hadid.
Delilah Belle Hamlin signed by Elite Model Management agency
Elite Model Management signed the 19-year-old beauty in the summer of 2016. After that, her career took a whole new turn. Till date, she has walked on the runways of many fashion shows including Milan Fashion Week.
Delilah Belle Hamlin on the runway
Source: The brief
Moreover, she has done several photo shoots and appeared in many fashion magazines like Vogue.
Delilah Belle Hamlin fame on social media
Just like her career, Delilah's social networking profile is on the rise as well. She has over 350k followers on her Instagram. Well, reports say that she could be the next Gigi Hadid. However, it is not just Gigi that Delilah is compared with. Her relationship with her sister Amelia is over related to the Jenner sisters, Kylie and Kendall.
Read more about how rich is Kendall Jenner.
Delilah seems to be organized and happy with her life as she is managing both her modeling career and her studies as well. Delilah has gotten into a school in New York and she seems to be really determined about her ambition. We know she can do it.
Delilah Belle Hamlin affair with boyfriend Aidan Reilly
Since July 2014, Delilah has been in a relationship with her her high-school sweetheart, Aidan Reilly, who is a water polo player. Their dating life appears to be going well as they seem happy in love with each other. There are no rumors about their split or any other gossips.
Crimped Hairstyle tutorial from Teen Vogue as see on Delilah Belle Hamlin:
The pretty blonde daughter of the famous parent seems to be having the time of her life by growing as a successful model along with her strong willpower to achieve her dreams. Our best wishes are with her.
For more updates keep in touch with Frostsnow.