The Vine superstar who has more than 950,000 followers on the 6-second video platform, Hannah Stocking, has been flaunting her singles' life on her online profiles. She is also an Instagram celebrity with over 14 million followers on her Instagram.
A social media phenomenon, this model has over 2 million followers on her Facebook page.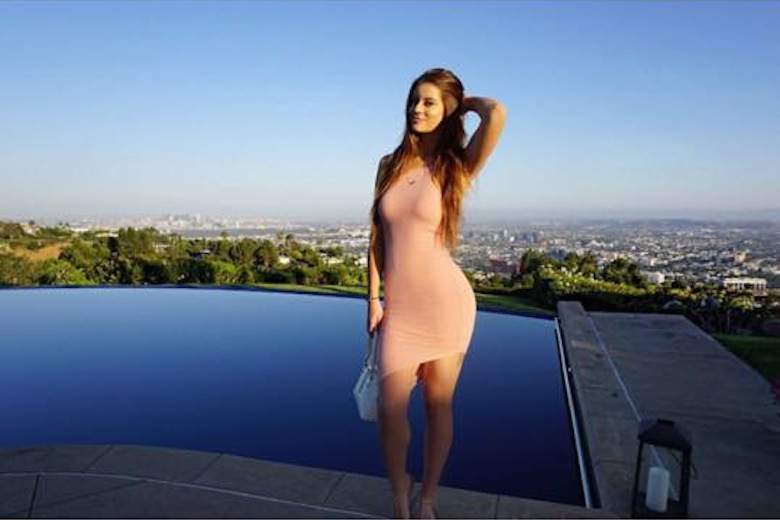 YouTube star Hannah Stocking
Source: Pinterest
The YouTube star, after ending her affair with her boyfriend last year, has been spotted with several men partying and enjoying herself. Having never been married and divorced, the 26 years' old Stocking seems to be in no mood to lament over her break up with the Golden State Warriors ex-boyfriend Klay Thompson, who allegedly cheated on her.
YouTube Star Hannah Stocking' Love Life: After Breakup with Boyfriend Klay Thompson
Since October 2014, Klay Thompson and girlfriend Hannah Stocking had been spotted together here and there and on social media.
Also, see: Basketball Player Klay Thompson Says He Is A fan Of Watching Golden State's Games
When the couple met, Stocking was at the beginning of her modeling career. On the other hand, Thompson had just signed a four-year max contract extension worth $70 million with the Golden State Warriors. Next, to Thompson's contract extension, he also signed endorsement deals with Body Armor Sports Drink and Anta.
Also, see: Instagram Model Abigail Ratchford Opens Up about her new Basketball Player Boyfriend Klay Thompson
This alluring model had also been sponsored by various companies selling fitness and beauty products. In several of her Instagram photos, she endorses products called the Slender Blender and Fat Melter capsules by Protein World. In addition, Stocking has endorsement deals with FitTea, HiSmile Whitening, LaserAway, Uber, NailGarden, and Fashionova with advertisements featured on her social media profile.
Hannah Stocking with her ex-boyfriend Klay Thompson
Source: Frostsnow
Before this Golden State Warriors star, Stocking was linked to Kyrie Irving of the Cleveland Cavaliers. In August 2014, photos of Irving and Stocking hanging out together surfaced online.
Also, see: Karrueche Tran Rumored To Be Dating Quavo, True or Not? She Previously Dated Chris Brown
It became a huge and hot topic when Irving and Thompson were set to square off against each other in the 2015 NBA Finals. In response to these reports, Stocking posted on Twitter, appearing to deny the rumors that she and Irving had been together, saying
Just because you know someone that is well known, doesn't mean you dated them.
Stocking has been scorching the screens of her fans and followers with her hot and provocative photos, which are mostly either from her modeling gigs or her personal selfie gallery.