Italian professional footballer Graziano Pelle is a former Southampton forward who now plays as a striker for Chinese club Shandong Luneng. Because of his immense talent and skills, Pelle has been successful in gaining a huge mass of fans. Moreover, he has won the heart of many ladies because of his charm and good looks. If you are one among them, then here's an advice— you shouldn't raise your hope of getting him as Pelle is crazily in love with his supermodel girlfriend Viktoria Varga.
Pelle and Vara's pair looks like a match made in heaven. So, how did the pair meet and fell in love? How is their relationship going? Let's find out.
Who is Graziano Pelle's girlfriend Viktoria Varga
Pelle, who has been in the field of football for long, won a lot of heart after he moved to the south coast in 2014. His debut with 12 Premier League goals only gave him a moderate success. He had rather amazing start after giving five goals on eight matches in 2014-2015.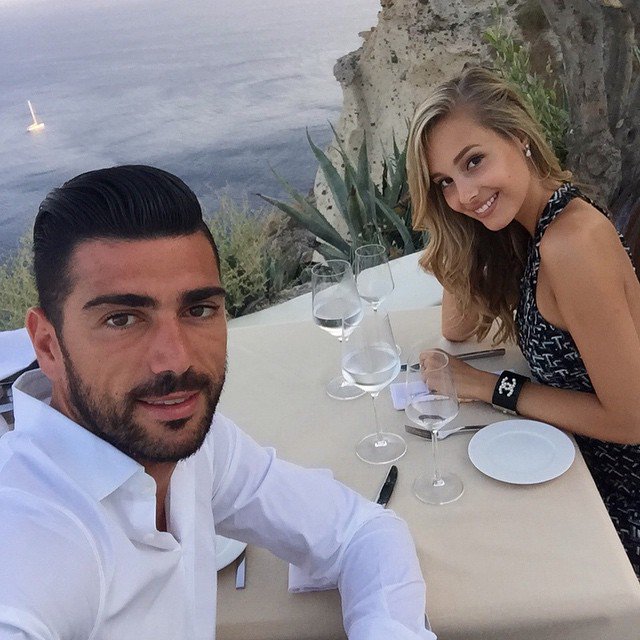 Graziano Pelle and his girlfriend Viktoria Varga
Source: Twitter
This amazingly talented man is in a relationship with model Viktoria Varga. 5 feet and 9 inches tall Varga belongs to Gyor, Hungary. She works with a Budapest modeling company named 'Attractive Models'.
How did Graziano Pelle meet his supermodel girlfriend Viktoria Varga?
Varga and Pelle have been dating for more than 4 years. If you're wondering how the Italian and Hungarian fell in love, then the answer is through Facebook.
Graziano Pelle and Viktoria Varga photos
Yes, you read it right. Pelle sent multiple texts to Varga on Facebook. The pair met in a hotel room in Gyor for the first time and that is when Pelle romantically greeted Varga with 100 roses.
Graziano Pelle valentine gift
It seems like Pelle's perfect gift idea are roses as he even gifted his girlfriend a huge bouquet of roses on valentine's day. Varga thanked Pelle through her Instagram.
Pelle along with being a fierce striker also seems a very romantic guy. Don't you think so? We bet you do. Not only he presents Varga with gifts but also spends quality time with Varga. The couple takes a vacation together time and often. Let us show you how.
Graziano Pelle and Viktoria Varga vacation photos
Pelle and his spouse seem to spend a lot of time together. They are all over each other's Instagram. The pair appears to be on a vacation right now as Varga has posted multiple photos on her Instagram.
This tells us that the pair was in Dubai 5 days ago and in Beijing 4 days ago. At this point, you realize how romantic this guy can get.
They also visited Bangkok and Brazil a few weeks ago. We wonder in which country they are now. Going for a world tour?
Although Pelle is enriched with good looks, there are no hints of his past affairs. It seems like he was too busy building his career before he met Varga. Varga and Pelle's relationship appears to be strong with no hints of a breakup. We hope they are planning to get married soon. Best of luck to this lovely couple.