We're sure that a lot of you people's mind was blown by Sophie Turner's beauty when she appeared as 'Sansa Stark' in HBO's successful series "Game of Thrones". But the one who seems to win Turner's heart is singer Joe Jonas.
The pair who were just rumored to be dating seems to have confirmed their relationship in a passive way as they are mostly seen going everywhere together without letting go each other's hand. Looking at Turner and Jonas' bond, we can say that the pair is definitely growing strong in their relationship as there's no hint of a breakup between them.
Sophie Turner and Joe Jonas dating publicly
Turner and Jonas celebrated the 2016's Halloween together. After that, a lot of their fans spotted them at various locations in London. Moreover, they also appeared together during the MTV European Music Awards in Rotterdam, Netherlands on November 6.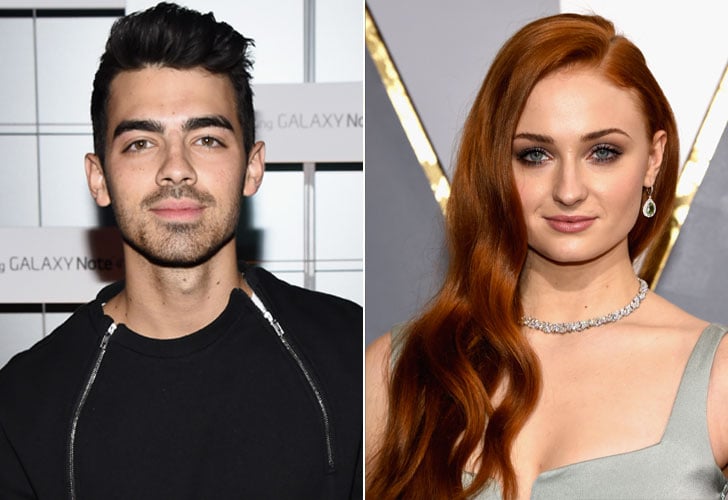 Image: Sophie Turner and Joe Jonas
Source: Pop Sugar
Sophie Turner and Joe Jonas gym date
When we said that the pair literally goes everywhere together, we weren't kidding. In January, Turner was seen coming out of the gym with Jonas. The pair looked inseparable in their gym attire. Turner was holding her phone in one hand and her boyfriend's hand on the other. It seemed like she was holding him rather tight.
Image: Sophie Turner and Joe Jonas outside their gym
Source: Daily Mail
Sophie Turner and Joe Jonas NYC date
On 4th March, they were again seen hanging out in New York City. Turner was avoiding the cameras while she walked behind Jonas. She kept things casual with a jeans, t-shirt, brown jacket and sneakers.
Image: Sophie Turner and Joe Jonas in NYC
Source: Daily Mail
Also read, Joe Jonas accepts to be dating.
Sophie Turner and Joe Jonas airport date
Similarly, on 6th March, Turner and Jonas were seen holding hands and walking in the Charles de Gaulle Airport. An eyewitness revealed that the pair looked like they were in so much love.
The pair were all over each other while they attended the Golden Globes after-party in January. A source revealed that Turner was loving how her man was always holding her hand or had his hands all over her.
Image: Sophie Turner and Joe Jonas in Charles de Gaulle Airport?
Source: Hawt celebs
Sophie Turner and Joe Jonas have met each other parents
You might be unaware that Turner invited Jonas to lunch in London where she introduced him to her parents. Reports also say that Turner has already met Jonas' parents while they attended a friend's wedding in Malibu.
Even though the pair hasn't said anything about their relationship, the way they are appearing in public and media makes us understand that their love affair is no longer a secret. They look really amused and happy while they spend time with one another.
Watch out a video when they were asked if they were getting married.
So, is this it for the DNCE frontman and GOT beauty? Are they planning something more serious? Well, for now all we just have to do is just wait for the pair to come out and speak up about their affair.