The Spanish-born young actress who appears along with her Martian features, Oona Chaplin has never failed to leave her mark in the films with her stunning look and outfit performance.
The 31-year-old actress who is best known for appearing in the famous American fantasy drama Game of Thrones has never been surrounded by the paparazzi of dating any guy. Does this mean she is single and doesn't have any affair?
Let's find the answer. Just stay with us.
Oona Chaplin Is Onscreen Wife Of Husband Richard Madden: Is She Married or Has Any Boyfriend In Real Life?
Actress Oona Chaplin always shows us her passionate and romantic side through her onscreen appearance in the Game of Thrones. In the series, Oona plays the role of Talisa Maegyr, the on-screen wife of Richard Madden character, Robb Stark.
On the show, the on-screen married couple also appeared sharing their kisses. Oona Chaplin revealed her kissing experience claiming Richard to be the best kisser filled with skills but in real life, the actress has completely under cast the idea of dating Richard Madden beyond the screen. Here's that video, check it out.
In addition, Richard Madden is currently in a romantic relationship with actress Suki Waterhouse, hence, there is no point that Richard and Oona have any kind of emotional attachments.
Despite being surrounded by several men in her life, in an interview with the metro.co.uk in 2013, Oona straightly denied of having any boyfriend till date. She said:
I've never dated in my life. I've spent lots of time with men, though it's not the same thing, is it? Oh God, that makes me sound like a harlot.
Game of Thrones actress Oona Chaplin
Source: Alchetron
The Dates star further revealed about going through online dating portals to exactly fit in with her character in the movie Dates. She expressed her experiences like:
I did go on an internet dating site to see how it worked. I put together a real portfolio but I didn't date anybody.
Furthermore, Oona accepted the fact of falling in love with every random man she meets. She claimed;
I fall in love on a daily basis. Can that possibly be true?. The background to that is easy it's feeling relaxed, feeling Cuban, where I was brought up. But it's so uptight here in Britain. I have no qualms saying "I love you" to a guy I've just met. But if you do that to a British man, trust me, he'll run a mile. There's a fear of love here.
However, Oona Chaplin was once rumored to be in a relationship with the Ben Kaplan in Spooks co-star Alex Lanipekun in 2011 but no concrete evidence was obtained regarding their relationship as both of them were silent on this matter.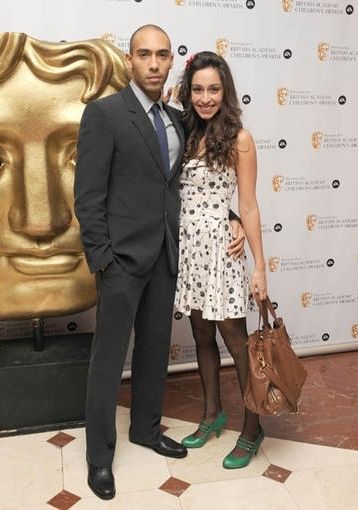 Rumored boyfriend and girlfriend: Alex Lanipekun and Oona Chaplin
Source: whosdatedwho
Scrolling down the Instagram of Oona Chaplin we can find an adorable moment she shared with a baby, which admittedly acknowledges her interest towards children. Have a look.
We wish her all the very best for her future and we hope she soon meets her soul mate and starts a new family with him. For more updates, keep in touch with Frostsnow.