Marriages among celebrities don't usually end well. Most of the marriages fall apart within a few years. However, this is not the case with everyone. Gabriele Corcos and Debi Mazar are one of a few couples who has been leading a harmonious relationship despite all the odds. They have been leading a healthy marriage life.
To know more about the marriage life of Gabriele Corcos and Debi Mazar and their children, read the article.
Short Bio of Gabriele Corcos and Debi Mazar
Gabriele Corcos was born on 7th October 1972, in Fiesole, Italy. However, he spent a major part of his childhood in Tuscany. He was also in the military academy for several years. He is also a television personality and an entrepreneur. Moreover, Gabriele has also been a host and producer of the show named Extra Virgin and has also written a cookbook of the same name.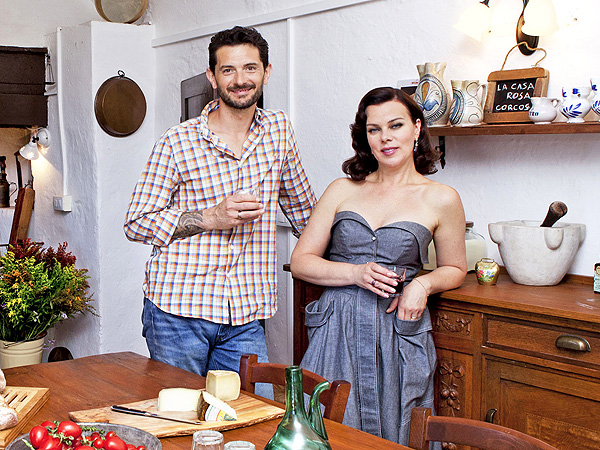 Gabriele Corcos and Debi Mazar in their cooking show
Source: Time INC
Likewise, Debi Mazar is an American Actress and was born on 13th August 1964, in Jamaica, Queens, New York. She belongs to mixed ethnicity. She was formerly a make-up artist. However, she eventually started playing small roles and then later appeared in movies like Batman Forever, The Women, and many others.
Gabriele Corcos and Debi Mazar's Marriage and Affairs
Most of the celebrities like to keep the details regarding their personal life to themselves. But unlike others, Gabriele Corcos loves to share his life with his fans. Gabriele and Debi started dating around the year 2000. They dated for a couple of years before getting married.
Gabriele Corcos and Debi Mazar looking happy together
Source: Pinimg
The couple tied the knot in 2002. They have been living happily together since then. The marriage ceremony was officiated by Ellen Burstyn, who is an ordained Sufi high priest.
Debi Mazar with Paul Reuben
Source: Pinimg
Apart from his wife, Gabriele has not been linked with any names. However, in the case of Debi, she dated Paul Reuben in the past. He is an actor, and they started dating in 1993.
Gabriele Corcos and Debi Mazar's Children
Gabriele and Debi have been married for 15 years. They have two children. Their first child, Evelina Maria, was born in 2002. Just after 4 years, in 2006, they welcomed a baby girl. The couple named their second daughter Giulia Isabel.
The couple has been living together and is doing well in both their professional and personal life.
Did you know that the net worth of American actress, Debi Mazar, is $7.5 million?
Video: Gabriele Corcos and Debi Mazar with their Children
Not many celebrity couples can maintain their personal and professional life together. However, Gabriele and Debi have been leading a happily married life for a long time. We hope for their better days.