The Tank Girl Lori Petty started her acting career in the year 1980s and till now she is able to collect the net worth of $5 million. We will soon get to the details about her net worth, but before that let's know the journey of this amazing actress from sex symbol to a crazy lady.
Lori Petty ruled the 90s'. You might say that Petty was in Point Break at the 80s as well. You are not wrong but we would like to say that by that time the 80s was nearly over. We can still see Lori's outstanding acting and now she is giving her best in the series Orange is the new Black.
What! is she the same girl of the 90s? Ya, she is the same pioneer of the 90s' who introduced the tomboy look for all those picture perfect supermodels of 90s.
Lori Petty Past
Lori Petty presented herself as a hot girl when she came into the cinemas. If we see Petty then, she was the perfect girl fit for the roles of Point Break, A League of Their Own, In the Army Now, Tank Girl (All her movies as a teen) which needed a character who is rough, sexy, sensitive, but immune to fall in love or we can also say a tough girl with the perfect amount of girlishness. She was a sex symbol back in the time.
Lori Petty the tank girl
Source: tumblr.com
But Lori didn't get a chance to be noticed that much previously since she got roles in small budget movies that not many people saw. It was the typical case of male dominated industry which she also explained by saying
I was thirty-something and I hadn't married my agent, married any guy co-stars, or gotten fake titties or Botox. I never wanted to be a bombshell; I wanted to be an actor. I would much prefer to be a woman than a man, but if I was a dude, maybe I'd have Johnny Depp's island because women in this industry after a certain age definitely don't get to do Pirates of the Caribbean. Poor Keira (Knightley), they even airbrushed huge tits on her on the poster, and she's flawless! I was trying to play football with a baseball, and you can't really do that."
Don't miss a post by Lori Petty in Instagram where you can see what she thinks about helping people.
Lori started direction after learning from successful directors such as Kathryn Bigelow and Penny Marshall while working on Point Break and A League of Their Own. After that, she started her own project based on her life, Poker House which was not a commercial success.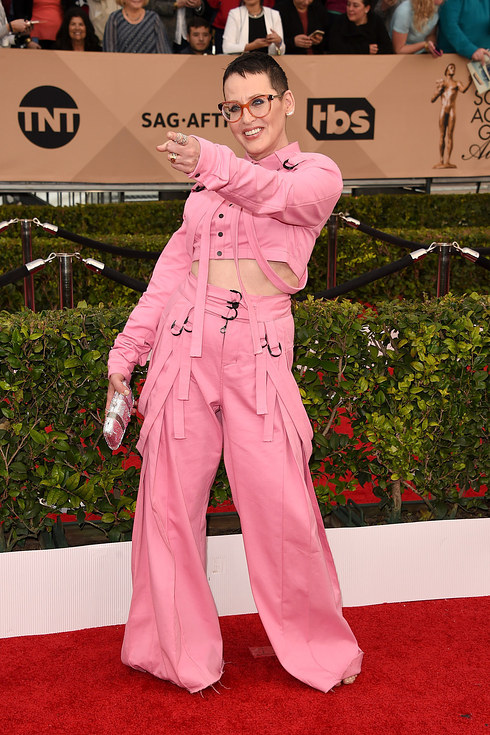 Lori Petty
Source: buzzfeed.com
But it was noticed by a person who could make a difference in her life and that person was filmmaker Debra Granik and this guy got Lori in his new project Winter Bones, which was about a young girl who was made to grow too fast. From this movie, Lori was again back to fame.
You can also follow her on Twitter. Here's a Tweet from Lori Petty where she is being kissed by the seals, which she calls the big smelly sea monsters.
Even though the role that Lori Petty plays has changed, she is still the same old TomBoy Tank Girl. This is something that Lori has earned from her hard work and passion. She has become a very versatile actor and now is able to play any kind of roles. Ain't she amazing? Now, let's get to know about her aforementioned net worth.
Lori Petty Net Worth
Lori Petty has the net worth of $5 million which she has earned from as an actor and director. As we mentioned earlier, we can see that she had many ups and downs in her career and later recovered when she stepped her foot in direction. Her first directorial debut was Poker House from which she climbed up in her career as a director. Currently, she is seen in the Orange is The New Black as an actress. She portrays the role of a crazy lady in the series.
You can't miss out the video of Lori Petty from Orange Is The New Black. Watch for yourself.
After all those ups and downs in her career, she has managed to rise again. From this, we can learn a tremendous lesson to never give up and be true to your work and someday you will surely achieve what you crave for. We wish her the best of luck in her career and hope she enjoys what she does like she always does.