The Fox News anchor Martha MacCallum lost the bet after her favored team Patriots got defeated by the Eagles. The winner of the bet was her colleague Jesse Watters and according to the deal, Martha wore an Eagles jersey on air to pay off her bet.
As she wore the jersey during the broadcast of the Fox News hosted by her, Watters teased MacCallum mentioning how good she looks in green. MacCallum also tweeted about her bet with Watters and informed her followers about herself wearing an Eagles jersey on air.
Now talking about MacCallum's net worth, it is estimated to be around $8 million as in 2017. Well, in the same year, she was also announced as the host of the new show on Fox News Channel, The First 100 Days which later reformed to her own show, The Story with Martha MacCallum.
Martha MacCallum Net Worth: Salary, Career
The 54 years old tv host has been working for the Fox News since 2004. She has also covered the presidential elections in 2004, 2008, 2012 and 2016. She had an income of $200K in the early years of her career which escalated to $500K in 2012. Also, her net worth in 2016 was around $3.5 million.
MacCallum was also the co-anchor during the visit of Pope Francis to the United States on September 2015. That year, Martha's salary was over $600K, and she had a net worth of $6 million. Besides, she has also interviewed US President Barack Obama, New Jersey Governor Chris Christie, and Laura Bush.
MacCallum previously worked as a business news correspondent at Wall Street Journal Television in 1991 for 5 years. Later, she served as a reporter for the NBC/CNBC and appeared in The News with Brian Williams, Todays Show, BC affiliates and also featured on an evening show, Checkpoint.
Video: Martha MacCallum makes good on her bet with Jesse Watters
Later in 2017, she came up with a self-titled show on the Fox News Channel. By this time, her earnings had also highly increased. Well, at present, she earns over $800,000 and net worth is around $8 million.
Also Read: With a net worth of $40 million and a high salary, Brian Williams one of the richest news anchors
Martha MacCallum: House
MacCallum, who is married to her husband Dan Gregory, lives in Chatham, Massachusetts, in her Cape Cod house. The house was built in the 1960s and was remodeled by MacCallum with the help of the designer Michael Mayer. The house features five, bathrooms and has an outer pond view.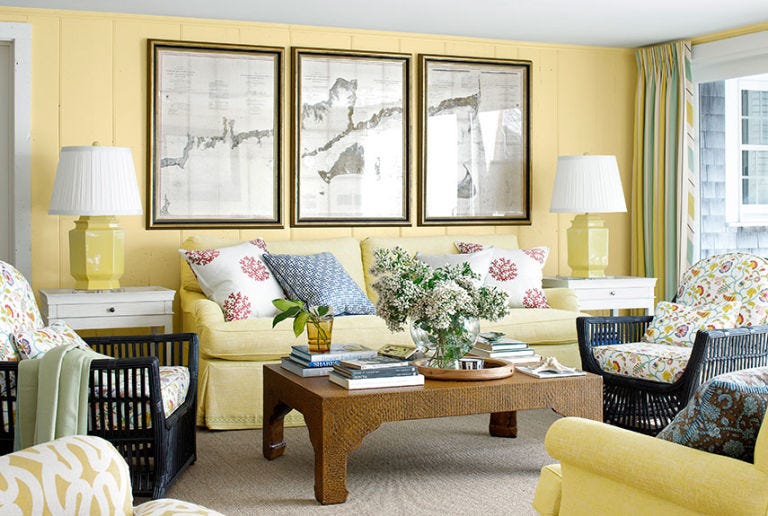 Martha MacCallum house: living room
Source: Country Living
Martha modified the master bedroom; she painted Patriotic White on the walls with a blue theme as she mentioned that she likes the color of nature and loves yellow, white, blue and green. She gave her living room a yellow theme and painted her staircase white.