Eric Bolling is a conservative American television personality and also an author who specializes in financial news and political commentary. Apart from that, Eric is also a co-host of Fox News Channel's early evening talk show The Five. In 2016 he published his first literary work Wake Up America and it became a New York Times bestseller. Eric was involved in controversies when he made some racist comments on former President Obama.
Well, we know Eric is very successful in professional life and has a jaw-dropping net worth of $15 million. But, how much do you guys know about his personal life? Don't worry even if you don't know, we are here to update you with some information.
Click here to know about his book.
Eric is happily married to wife Adrienne since 1997
Eric tied the knot with Adrienne in the year 1997 and they have been living a very successful married life. It has been 19 years now and the couple is still going strong. Even with his busy schedule, Eric turns out to be a loyal family guy and always gives his family the first priority.
Caption: Eric and wife Adrienne.
Source: articlebio.com
In a Q\A with Fox News when asked about his family, Eric said,
"Yes I do, I adore my family. I've been married to my beautiful (inside and out) wife Adrienne for 16 years. And we have an awesome son Eric Chase, a great student and also a fine baseball player. He plays left field for the local HS team."
This fantastic couple hasn't shared much about how their relationship began but, we do know that Eric and Adrienne met through Eric's best friend Gretchen Carlson. And you know what the interesting thing is? Both Eric and Gretchen got married on the same date, but with different people. Well, that definitely is a friendship goal achieved.
However, there is not much information about the beautiful Adrienne. She was recognized only after she got married to Eric and she was later widely known as Eric's wife. The main thing that matters is if you are happy together or not and they are lucky in this matter. The couple truly loves each other and are happy together. We are not just saying it but the picture Eric has shared in his Twitter account paints a clear image of their happiness.
Eric and wife Adrienne is blessed with a handsome son
They gave birth to their first and only child after a year of their marriage. The couple's handsome son Eric Chase was born in 1998. The young Eric added joy is Eric's and Adrienne's life. Both of them have been very supportive parents and have raised him very well.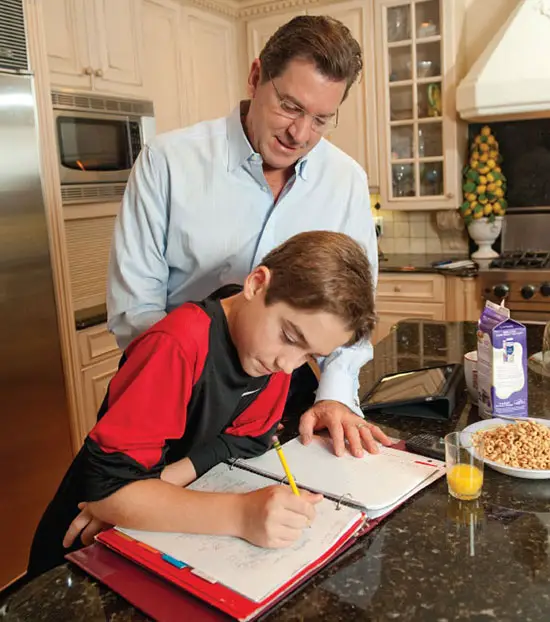 Caption: Eric helping out his son.
Source: pinterest
In an old picture, Eric is seen helping out his son with his assignments. It looks like Eric has managed very well to handle his professional life and his duty as a father. Eric has also shared a photo of a family vacation and looked like everyone was having a good time.
Well, a small family is a happy family and Eric's family is a proof of that. We would like to wish them all the happiness and hope for their bright future ahead.
To know more about click here.
Want to wish the couple too? Please, leave your opinions in the comment box below.