The gorgeous and beautiful Fox News host Andrea Tantaros seems to be having a great love life. This couple has been dating for a long time and it looks like they have been planning to be each other forever. Andrea Tantaros and boyfriend Dave Navarro's affair has been catching the phase as there is a rumour of this dating couple tying the knot soon. Dave Navarro who is an American guitarist, singer-songwriter and actor prior to being with Andrea was married to Carmen Electra who is a model, actress, television personality, singer and dancer. They stayed as a married couple for three years and got divorced.
So do think Dave can keep Andrea forever? Will this couple get married? After their married life do you think they will be a never splitting husband and wife?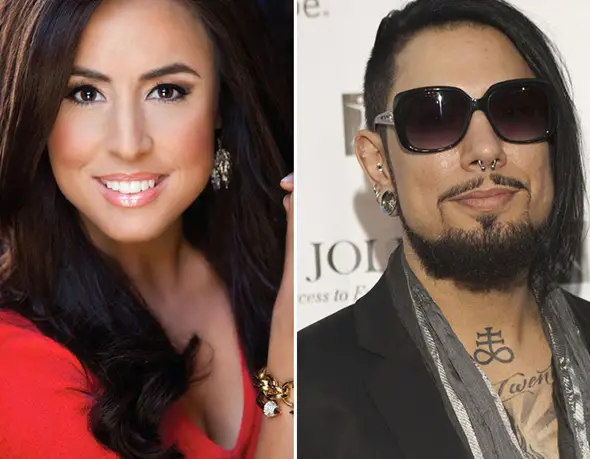 Andrea Tantaros and Dave Navarro
Relation between Andrea Tantaros and Dave Navarro
Dave Navarro after getting separated from his wife Carmen was in relation with many other women but the love couldn't last longer. However, Dave and Andrea's relationship seems to be stronger than other affairs Dave had. This duo has been together since 2015 and having a good go. Andrea wasn't quite open about their relationship at the beginning. She even tried to keep the news away from the public but the relationship news was out and roar up the internet.
"Even though they seem like opposites, they have a lot in common. They both have a wicked sense of humour and share a love of politics and dark eyeliner"….. U.S Weekly.
The journalist Andrea Tantaros and the rocker Dave Navarro was also spotted kissing around New York City. It looks like the gorgeous Andrea has fallen deeply in love with this bad boy Dave Navarro. They met through mutual friends and after the intro part this duo got closer and finally in a relationship.
Dave Navarro hasn't only got married to Carmen Electra but his wedding with Andrea will be his fifth one. Dave was first married to Tania Goddard got separated soon. Later in the year 1994 he met Rhian Gittins and married her too. After some years Carmen Electra and Dave got married, this ex-married couple stayed together as husband and wife for three years from 2003 to 2006.
According to Who Dated Who, Dave Navarro till now has been in forty relationships altogether. Though the relationship of Dave with Andera seems to be lasting longer as they are together since April 2015. The founding member of an alternative band and former member of Red Hot Chili Peppers may have thought about long term relationship with the American conservative political analyst and commentator Andrea.
It may be hard to say if Dave truly loves Andrea with all of his heart yet at the end, the question arises, Will Dave Navarro be loyal to Andrea Tantaros? Looking at his dating history it hard to say so.