Who wouldn't be excited to get married to the one they are in love with? One of the most renowned News anchor and TV journalist, best known for working at Fox News Channel, Anna Kooiman falls in the same league of lovers.
Nowadays, this blond beauty has considerably gained a wide attention and curiosity regarding her personal life as she recently got married to her long-time boyfriend Tim Stuckey whom she was dating for long.
Is this really true? Who is that lucky guy? Let's dig deeper the personal life of this Fox news anchor to get all the details regarding her private pieces of stuff. Just stay with us.
Must read - All about Anna Kooiman- Her salary, net worth, career, and family life
Anna Kooiman got married to her long-time boyfriend Tim Stuckey after dating for over three years
First of all, let's talk when and how this amazing love story began. The blond beauty Anna Kooiman first met the executive general manager of marketing and sales, Tim Stuckey during Superstorm Sandy in 2012.
The duo met while Tim had been there to meet one of his friends in New York. It seems as if it was love at first sight as the couple began their affairs just after a couple of dates.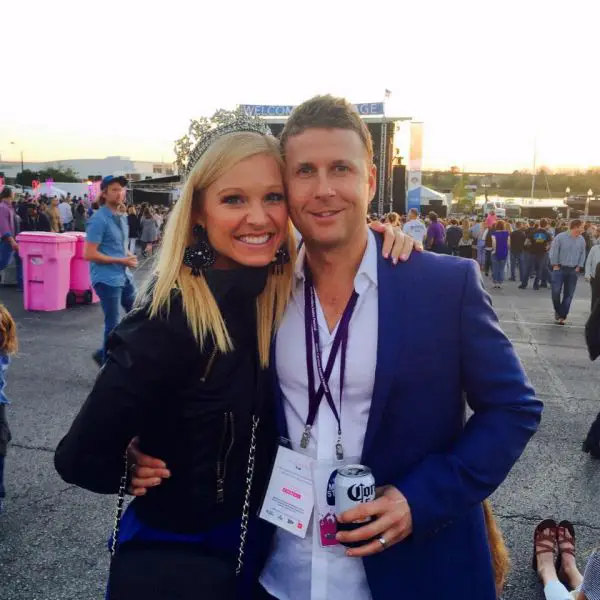 Fox anchor Anna Kooiman with her boyfriend Tim Stuckey
Source: Facebook
They had a really strong bonding with each other and were dating each other for about three years. They were in a long distance relationship because of their works.
Later, when they met in February 2015, Tim Stuckey proposed his girlfriend for marriage in Australia while watching the sunrise over the Sydney Harbor and Anna totally agreed on it.
Anna shared that cute moment of how Tim proposed her on her twitter mentioning that how she laughed and cried simultaneously when it all happened.
Doesn't this sound romantic? Just after four months of that event, on 31 July 2015, the blond beauty Anna Kooiman got married to her husband Tim Stuckey in Central Park's Loeb Boathouse, New York.
As you can see in the above tweet, the Fox News anchor Anna Kooiman has posted a lot of her wedding pictures along with her beloved husband Tim Stuckey on her Twitter account.
Furthermore, Kooiman and Stuckey does not have any children of their own. As per the report, this amazing couple wants to spend some time with each other as a husband and wife before being a parent.
But Kooiman seems to like children very much as we can see in the above picture posted by Anna herself on her Instagram in which she seems to be enjoying her time with the children. Hope the couple soon get blessed with a baby.
It has already been over a year of their togetherness as a happily married couple and their love and passion for each other are still same as it was in the beginning of their relationship.
Tim and his wife Kooiman has also celebrated their one year anniversary last August. Thus we can't find any rumor of their divorce, not even a controversy regarding their married relationship.
The couple is leading their life happily maintaining both their personal and professional life. Let's wait till any further news comes regarding this amazing husband and wife's personal life. Wish them all the best for their future. For more updates keep in touch with Frostsnow.