Monica Novotny is a former news anchor for MSNBC. She married Michael Christopher Foley on May 16 of 2004. Foley is an investment banker. The wedding took place at the Roman Catholic Church of St. Ignatius Loyola in New York.
On November 21, 2006, edition of Countdown with Keith Olbermann, it was announced that she had given birth to a son with her husband. This happy couple seemed joyous with their expanding family.
Even after marriage, this 44-year-old anchor kept her name for professional use and her husband seemed more than satisfied with this decision. Foley, 53, is a consultant relations director at Alliance Capital Management in New York.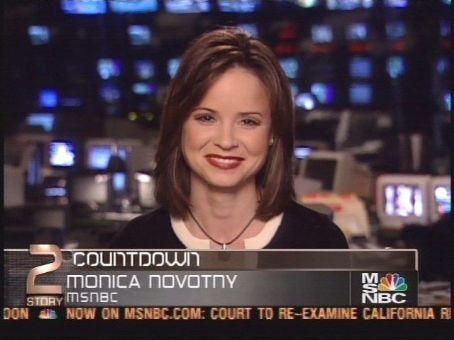 Novotny earned a Bachelor of Arts majoring in Mass communications from the University of California, Los Angeles.
Novotny joined MSNBC as an Internet reporter for HomePage. Prior to that, she had worked for four years as a reporter and anchor at the Channel One network, in which her work was seen daily by some 8 million teenagers and their teachers. She is now a news anchor for Wake Up With Al on the Weather Channel. She also provides news updates for CNBC, and substitute anchors MSNBC Live.
She has covered major stories both in the States and abroad. Some of her notable works include the 1999 Turkey earthquake, Kosovo conflict, King Hussein of Jordan funeral, and the explosion of a deadly volcano on the island of Montserrat.
In the U.S., she reported on President Clinton's impeachment, the risks of a chemical weapons incinerator in Utah, Election Night 1996 in Little Rock and the Clinton-Dole debate. Prior to joining Channel One News, she was an intern with KNBC.
For her contributions, she has been awarded Golden Apple Award in 1998 for "The Long Road to Freedom," and a Telly Award in 1996 for a report on "Life on Mars."
In 2000, she even won Gracie Award for a series of reports chronicling the Women's suffrage movement through six generations of Elizabeth Cady Stanton's family.
With the success in the career of his wife, Foley seems to be very supportive of her and their son. Even after 12 years of marriage, no rumors of divorce have come up between them. So, all seems well in that matter.