American Football has earned many players a lot of fame and fortune. Today, we are going to talk about the American Football quarterback Jay Cutler, who recently made a comeback in his playing career signing a deal of $10 million with Miami Dolphins. The 34-year-old footballer, Cutler is married to his wife Kristin Cavallari since 2013 and is also the father of 2 sons and a daughter.
Well, Jay Cutler, along with his successful career and happy family, is also enjoying the estimated net worth of $30 million. Jay, after his retirement, worked as a sportscaster for NFL on Fox's television broadcasts. He earned the salary of approximately $450,000 but has not spoken anything regarding his playing career with Dolphins after the end of the season.
American Football player Jay Cutler and his wife, Kristin Cavallari
Source: Pro Player
An article without a detail is like a Football game without a ball, right? Well, here, we will provide you with all the information about Jay Cutler's net worth, salary, his endorsements, house and cars along with his career and awards.
Net Worth of American Footballer Jay Cutler
Jay Culter is blessed with success in his love life and career as well. He approximately owns a net worth of $30 million as in 2017. A major source of his income is his gameplay and bonuses. However, his net worth of 2018 is yet to be revealed.
Seems like Jay Cutler's income gets a supportive hand with the income of his wife, who is a fashion designer. Even though no detail of Culter's wife Cavallari's income is out; we do have the details of Jay Culter's earnings.
Career Earnings of Jay Cutler
Jay Cutler became a professional footballer in 2006 after he signed a 6-year contract worth $48 million with Denver Broncos which also included $11 million in bonuses. Culter played for the Broncos with a base salary of $275,000 accompanied by his roster bonus of $1.275 million in 2006.
With the increase in productivity, Cutler's base salary increased to $4.73 million in 2009. Later in 2009, he was transferred to Chicago Bears. Cutler signed a 5-year deal with Chicago Bears worth $50.37 million extensions through 2013.
American Footballer Jay Cutler playing for the Chicago Bears
Source: ESPN
After playing for the Bears with his average annual salary of $7.7 million, Cutler renewed his contract with Bears on January 2, 2014. The extended contract of 7-years with the total amount of $126.7 million paid him an annual salary of $16 million till his release from the team in 2017.
With his release, Culter was provided a $2 million buyout clause and got a clearance of his $14 million cap value. And later in May 2017, Jay Cutler announced his retirement and was hired by FOX Sports to be a commentator. But after Miami Dolphins' quarterback, Ryan Tannehill suffered a potentially season-ending injury, Dolphins signed a one-year $10 million contract with Jay Cutler.
Have a look at Cutler's wife's Instagram post expressing her pride of being his wife.
Talking about Jay Cuter's endorsements, unlike other NFL players, he seems not to be interested in signing the endorsements deals as he wants to keep his family in his first priority. Here is the statement of the footballer:
I think you all know my salary. I get paid enough to play football and with kids and everything else, you gotta factor that in. You free time is your free time. You can't get any more free time. You can't buy it. You can't find it on the street. So my time, I take that seriously and I use it the way I use it.played in the comedy show The League
Really, a lovely father and husband ahead of being a successful player. Alongside being lovely, Jay also seems to be a fun loving person as he also played on the comedy show The League. Probably, it also earned him some memories and earnings.
Jay Culter's house and cars
Jay Cutler currently lives in his house in Nashville with his wife and 3 children. The couple moved to Nashville from Chicago after listing their Lake Forest mansion in Chicago for sale. Kristin, the lovely wife of Cutler announced that they were moving soon on her Instagram post.
Well, the couple sold the mansion for $3.6 million taking a loss of $65,000 in 2017. The
11,000-square-foot mansion which featured seven bedrooms was built in 2013. Jay and his wife had bought the mansion paying $4.25 million in 2014.
Have a look at the house.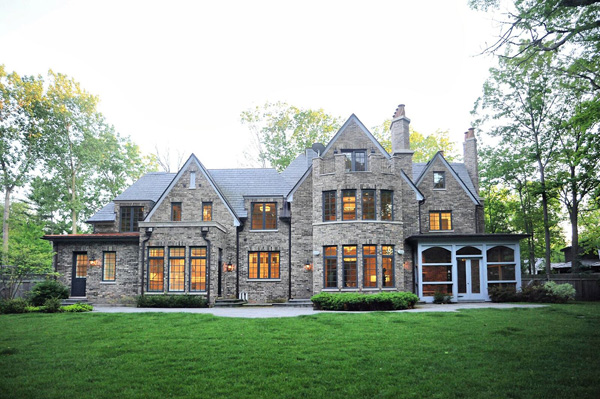 Jay Cutler's Lake Forest mansion in Chicago
Source: ABC 7
After six years, the couple bought their house in the music city and finally moved in there permanently. However, the worth of the house is undisclosed, but as reported the couple rented the house for $10,000 a month while living in Chicago.
Jay Cutler's Philanthropy
Jay Cutler, well known for his incredible gameplay, is also a volunteer worker. He has been actively working for the improvement of the young people with developmental disabilities through Vanderbilt's "Best Buddies" program.
Jay Cutler uses his off-time properly; he started the Jay Cutler Foundation, which partnered with Mile High United Way's Youth Success Initiative in his 2007 offseason. It aims to help at-risk youth overcome obstacles and graduate from high school.
Jay Cutler holds a $25,000 check for the new Jay Cutler Foundation with Michael Durkin
Source: Getty Images
Jay, who once was diagnosed with Type 1 diabetes, with the joint effort with Eli Lilly and Company donated $1000 to send a child to diabetes camp for his every touchdown during 2009 season.
Great applause for your kindness Jay!
Now it's time to know about his career and awards.
Jay Cutler, Career and Awards
Jay Cutler, born in Sana Claus, Indiana, started playing for his college Vanderbilt Commodores football team as a teenager. The fan of Chicago Bears, Jay Cutler before being drafted by the Denver Broncos became The Sporting News third-team freshman All-American in 2002 with his record of 59 touchdown passes and 76 combined touchdowns.
After being selected by the Denver Broncos in the first round with the 11th pick in the draft, Jay Cutler signed a 6-year contract with the team. After being announced as the replacement of Jake Plummer, Cutler made his first NFL snap on December 3, 2006. After playing for 3 seasons for Broncos, Jay was transferred to Chicago Bears, where his dreams came true.
Jay Cutler after the win against Kanas City while in Broncos
Source: Zimbio
Jay Cutler became the AFC passing yards leader in 2008. While in Chicago Bears, until the end of 2016 season, Cutler recorded the pass attempts (3,271), passing yards(23,443), passing TDs(154) and passer rating (85.2. With the record of highest passer rating of 88.5 in 2017, Jay Cutler announced his retirement in May 2017.
Soon after his retirement, Cutler worked as the sports commentator for the Fox Sports. However, after Dolphins offered him to play a season as the replacement for Dolphins quarterback Ryan Tannehill, Jay Cutler agreed his comeback from retirement on August 7, 2017. He was paid $10 million for a season's gameplay.
Have a look at his career highlights.
Well, Cutler has not given any recent news about resuming his playing career. Let's see what the future and Jay's decision has to offer.
Till then, we wish him best and stay tuned for updates.