If the name 'Broderick Stephen "Steve" Harvey ' doesn't ring you any bell then let me remind you of the guy who inadvertently announced the wrong winner in 2015 Miss Universe pageant. Yes, it's him and today we are talking about American comedian, television personality and an author Steve Harvey and his wife Marjorie Bridges-Woods.
61-year-old Steve Harvey, known for hosting The Steve Harvey Morning Show is married three times and is currently living with his third wife Marjorie Bridges. The couple is the parents of 7 children. Want to know all about Steve's married life, relationship and children? Stick tight.
Steve And Marjorie Bridges' Marriage
Anchor Steve married his third wife Marjorie on June 25, 2007. Steve's wife is a fashion aficionado who created the blog 'The Lady Loves Couture'.
According to Steve, Marjorie is the woman who made him a better person by changing his life. Since then, the couple's relationship has been going very strong with no rumors about external marital affairs or divorce.
Must Read: Steve Harvey: 'I was once homeless, living out of his car and showering in gas stations'
As reported, the couple met in a club. Steve was the host of the Memphis Comedy Club and as he watched Marjorie walk into the club he was playing, it was the love at first sight and he let his feelings be known right then and there.
Steve stood on stage and announced to Marjorie,
I don't know who you are but I'm going to marry you.

Marjorie Harvey and Steve Harvey in their wedding dress
Source: Pinterest
Eventually, Steve Harvey's statement came true and even after 11 years of marriage, they are living together happily.
We wish them best for further.
Steve and Marjorie children
Steve and Marjorie have altogether 7 children. Steve has 4 biological children with his previous relationship while Marjorie is the mother of 3 from her past affairs.
Steve is the father of son Wynton and twin daughters, Karli and Brandi from Steve's first marriage with Marcia Harvey and a son Broderick Steve Jr. from Steve's second wife Mary Shackelford.
As reported, Marjorie was the mother of 3 children before her marriage to Steve. Her children are Morgan, Jason, and Lori from her previous husband.
Though they are not Steve's biological children, he has raised them as his own children with love and care.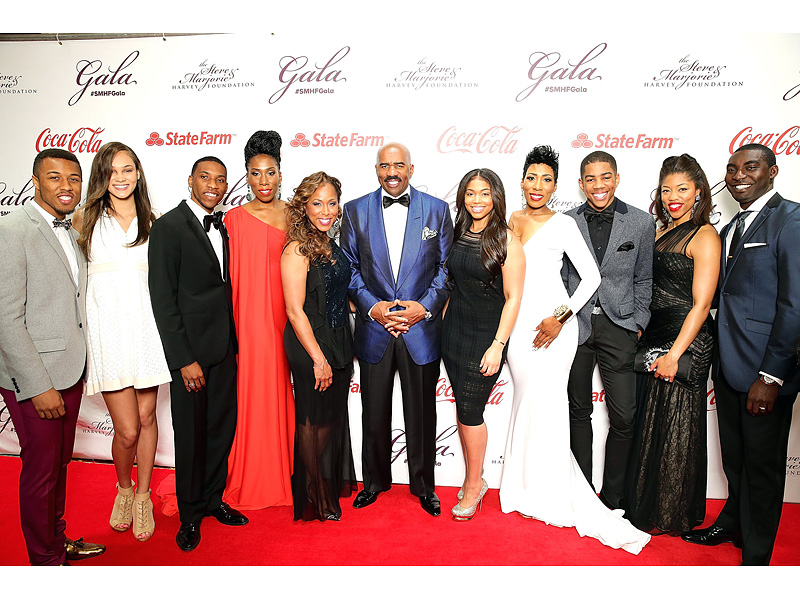 Steve and his third wife Marjorie along with their seven children. Happy family
Source: Img2
No matter what, the bond and the love of family is immeasurable.
We wish the happy family with lots of love.
Steve and Marjorie married life and struggle
Steve and Marjorie's relationship wasn't easy in the beginning. They did not just meet each other, fell in love and got married; they dated for many years, drifted apart for a while and then got back together.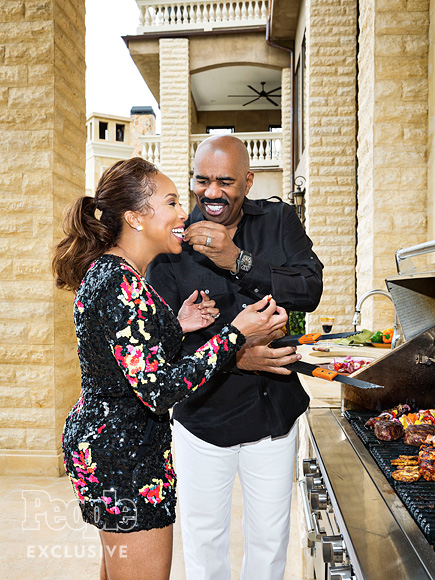 Steve and Marjorie seems very happy together
During an interview, Steve said about marrying Marjorie:
It was like being reborn. I messed up so many times in my life. She made all the difference. When you're happy at home, you can make a lot of things happen.
There were lots of up and down during their dating phase, but as it is said true love follows everywhere and the couple went to tie the holy knot. We wish them best in their life ahead.
For more information, keep tunning to Frostsnow.