The most awaited day for the NFL players and associates, the 'NFL Honors' was held on this Saturday night (4 February 2017) in Wortham Theater Center Houston, Texas. The 6th edition of the award ceremony was hosted by Keegan-Michael Key and it was aired on Fox network.
The award function was presented by the National Football League which honored its best players from the 2016 NFL season. The award was presented in more than 20 categories. Let's see who won the most awards and who became the most valuable player of the year? Stay with us.
6th Annual NFL Honors highlights
In the 6th annual NFL honor, Atlanta Falcons' quarterbacks Matt Ryan collected the Most Valuable Player award for the very first time. Besides the MVP award, Matt also took the Offensive player of the year and FedEx Air Player of the Year award.
Caption: Matt Ryan won the MVP
Source: Ajc
Oakland Raiders' left back Khalil Mack claimed the Defensive player of the year award. He beat Von Miller by just one vote. On the other hand, the memorable Hall of Fame Class 2017 was also announced which included LaDainian, Tomlinson, Morten Andersen and other more.
Similarly, Dallas Cowboys' coach Jason Garrett won the Coach of the Year and Atlanta Falcons' Kyle Shanahan took the Assistant Coach of the Year. Dallas Cowboys' quarterback Dak Prescott claimed the Rookie Player and Offensive Rookie of the Year.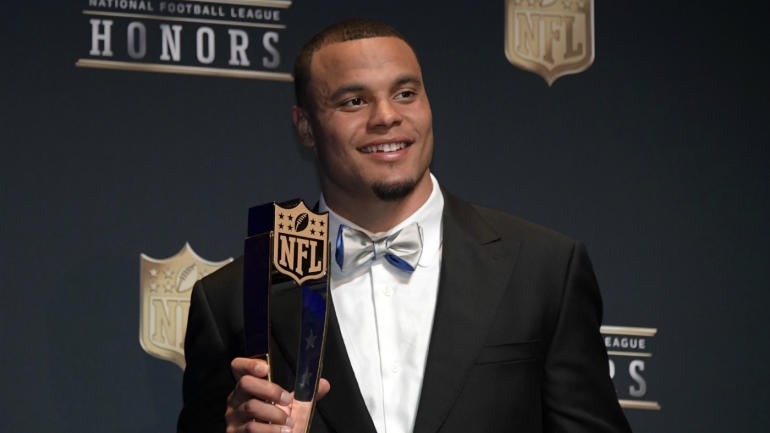 Caption: Dak Prescott receiving NFL Rookie Player
Source: Trends Reader
San Diego Chargers' defensive end Joy Bosa was awarded the Defensive Rookie of the Year whereas, Green Day Packers wide receiver Jordy Nelson won Comeback Player of the Year. Arizona Cardinals' running back David Johnson took the Fantasy Player of the Year award.
Video: Here we are presenting you a video clip from the Award ceremony of 6th Annual NFL Honor
The other players winning the awards are: Dallas Cowboys' RB Ezekiel Elliott who won Ground Player of the Year. Tampa Bay Buccaneers' quarterback Jamies Winston and wide receiver Mike Evans were awarded the Bridgestone Performance Play of the Year. Atlanta Falcons' HC Dan Quinn took the Salute to Service award while LB Vic Beasley Jr. won the Deacon Jones Award.
Super bowl LI
Super Bowl LI is going to be held on Sunday, February 5, 2017, which will be the 51st Super Bowl. It is going to be held at NRG Stadium in Houston, Texas which will be the second Super Bowl played at NRG Stadium.
The Super Bowl LI is fixed to be played between the Atlanta Falcons and New England Patriots which is bound to be very interesting and competitive.