Dakota Mayi Johnson is an American actress and model. She is the daughter of actors Melanie Griffith and Don Johnson. She had her screen debut alongside her mother in the comedy-drama Crazy in Alabama. Besides, she was also named Miss Golden Globe in 2006.
The actress is also known for her role in Fifty Shades Of Grey and Fifty Shades Darker where she played the lead character, Anastasia Steele. Dakota Johnson is open about her love life and to this date, she has been in three different relationships. Aren't you all curious to know who those lucky dudes are? Let's find out in detail!
Dakota Johnson was in a relationship with Jordan Masterson
The gorgeous and beautiful Dakota was in a relationship with Jordan Masterson in 2011 while she was filming for the movie Fifty Shades Of Grey.
via GIPHY
Jordan is an American actor who is best known his role as Mark in the 2005 film The 40-Year-Old Virgin and his recurring role as Dumptruck in ABC Family comedy-drama series Greek.
They were often spotted together in the public places. Here is one where they were caught on a lunch date in Vancouver, Canada.
Jordan Masterson dated Dakota Johnson in 2011
Source: NY Daily News
The couple had a long-term relationship for about three years. Afterward, they drifted apart and now they are no more together.
According to the reports, Dakota was the first girl on Jordan's girlfriend list.
Dakota had a love affair with Benedict Cumberbatch
Dakota and Benedict Cumberbatch were rumored to be dating in 2013.
Benedict is one of the most in-demand actors in Hollywood, balancing a film schedule with his TV series Sherlock.
Dakota Johnson dated Benedict Cumberbatch
Source: Pinterest
The couple was often spotted together at different hotels and restaurants spending their time together.
But the affair between these two was never confirmed by them and the rumors eventually faded away
Also Read, Sophie Hunter and Benedict Cumberbatch enjoy a romantic sunset as they spend a quality time.
Dakota dated Matthew Hitt
It was one day before Dakota's film Fifty Shades Of Grey was released that she was spotted with Matthew Hitt holding hands and sharing a passionate kiss as they strolled on the street of New York.
The pair's romance sparked and their relationship officially began in 2014.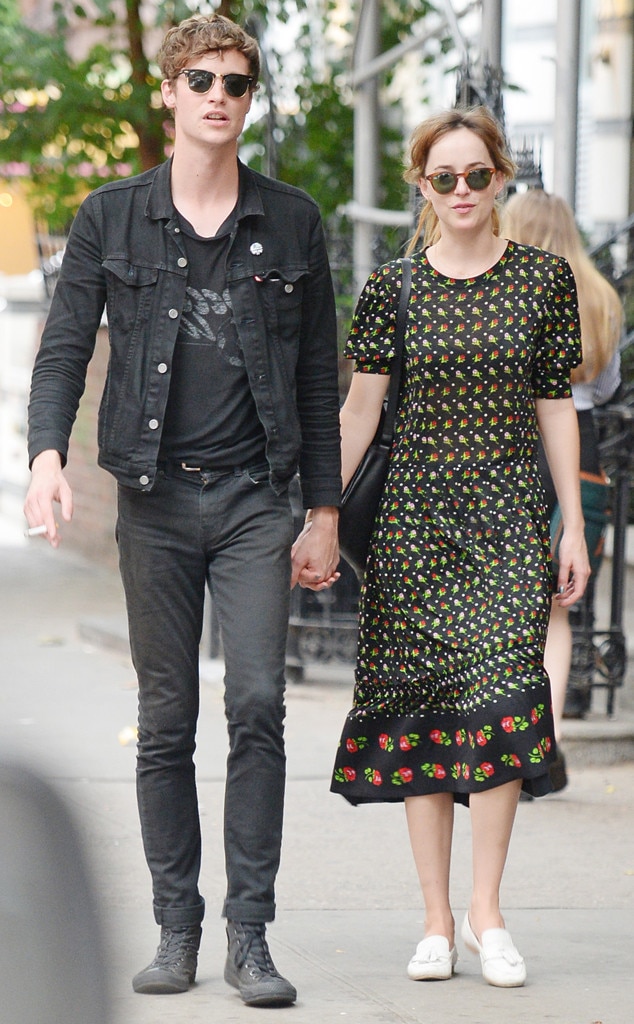 Dakota Johnson dated Matthew Hitt in 2013
Source: Pinterest
However, their relationship lasted just for two years and they split up in 2016.
According to the reports, Dakota is possibly single at the moment.
via GIPHY
After dating a number of guys, is she currently in a relationship or not? Let's find out.
Dakota Johnson: Current Relationship Status
Dakota and musician Chris Martin are reportedly getting well. The pair was spotted having some quality time while celebrating Ellen DeGeneres 60th birthday in February 2018.
Video: Dakota Johnson, Chris Martina, and other A-listers attend Ellen's 60 the birthday party
The two were first gossiped dating each other after they were spotted on a mid-October sushi date in Los Angeles. A source told People,
They were cozy, laughing and affectionate.
Best Wishes to the stunning actress. Stay updated with Frostsnow.com.