Are you a car lover? Yes? Then, undoubtedly, we can say that the Discovery's show Fast N' Loud is one of your favorite shows and the two halves of the show Richard Rawlings and Aaron Kaufman is your favorite pair. Unfortunately, now Aaron is no longer on the show.
This news has shattered the heart of millions of fans of the show. Kaufman is now no longer a part of the Gas Monkey Garage and he has started his own show Shifting Gears with Aaron Kaufman. There are different reasons people are giving for Aaron's exit from the show and garage.
But what's the real cause behind Aaron's such huge decision? Also, get to know about his relationship and affairs. Come on.
Why Aaron quit Fast N' Loud show and the Gas Monkey Garage?
During one of the final episodes of Fast N' Loud, Aaron talked to Richard about his permanent vacation from Gas Monkey Garage. Aaron looked as if he was fed up with the fact that the Gas Monkey Garage is losing its fame.
Because of unbelievable deadlines and six-week pressure, the pair had to build so much in such little time.
CAPTION: Aaron Kaufman
SOURCE: Monsters and Critics
All these things made Aaron too much busy and consumed all of his time, and he wanted some private time for his solo career. He even said;
I don't feel the need to deliver cars in each couple of weeks but I want to do that at my own pace.
Here's a video in which he is about to say goodbye to the GMG. Check it out.
According to Art of gears, Aaron has plans to return to television with his own show, but without Richard. Aaron has his own project in his hand with Arclight company which constructs the parts for restoring Ford F-100 trucks.
He is also now preparing to host another show with the Discovery channel. He had been preparing to take on a new challenge with his new show Shifting Gears with Aaron Kaufman. The show was released on the 5th of March, 2018.
Aaron Kaufman plans after leaving the show
He was also busy in his own career his own company called the Arclight Fabrication. This company of his supplies spare parts and accessories of the Ford F-100 Pickup Trucks. He sells such materials from his own company site.
Now, you must be clear why Aaron left the show and the Gas Monkey Garage.
It's now time to talk a little bit about the personal life of Aaron.
Aaron Dating Lauren Moore Knob, Past Affairs, Girlfriends
Aaron is not married yet, however, he and his girlfriend, Lauren Moore Knob are dating since 2013. The couple first appeared together as a guest on one of the 2014's episodes of Fast N' Loud.
Reportedly, they are in a live-in relationship and even more, the rumors of their marriage plans are striking all over the internet.
Before his relationship with Lauren, Aaron was previously in a relationship with his now ex-girlfriend, Lindsay J.
Aaron's positive attitude and charming personality must have won the heart of Lindsay that the pair had an affair for almost three and a half years.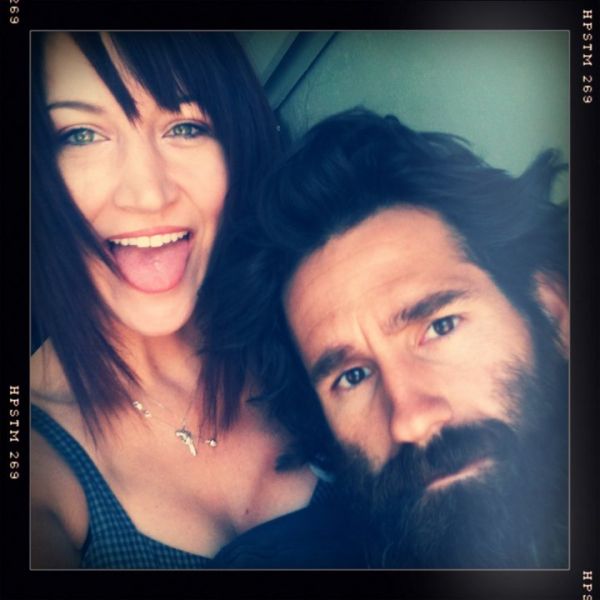 Former boyfriend and girlfriend couple; Aaron Kaufman and Lindsay J.
Source: Frostsnow
But no one knows why the couple later broke up. None of them ever talked about the reason behind their separation.
Whatever would be the reason, the good news is that Aaron is happy to get Lauren. We wish them all the very best for their future, and we hope we could see them as a husband and wife soon.
For more updates, don't forget to visit Frostsnow.com.
Quick Facts:
Who is Aaron Kaufman wife?
Aaron is not married yet, but his present girlfriend Lauren Moore is often misunderstood as his wife.