As we all know that break-ups and a hook-ups in Hollywood are very common, whenever a celebrity gets separated with someone, they subsequently start dating the other one. However, we also see few couples who reunited after some years of separation.
Today we have a similar story of a celebrity couple Ethan Embry and Sunny Mabrey who had been divorced for three years and then reconciled. This news has attracted more people towards the duo's personal life.
So, come on, let's discuss their on-off marital relationship in detail. Let's discuss their relationship from today's column. So, stay with us.
Ethan Embry and Sunny Mabrey are now reunited and engaged after three years of their divorce
Let's start with the beginning, the handsome actor Ethan Embry tied his knot with Sunny Mabrey in July 2005. The couple was reportedly dating each other before getting married. However, we don't find any authentic proof regarding this statement.
Once divorced husband and wife couple: Ethan Embry and Sunny Mabrey
Source: People
After living together for seven years in a marital relationship, the couple got divorced in 2012. The divorce was filed by Ethan's wife Sunny in L.A. County Superior Court citing irreconcilable differences.
Despite seven years of their togetherness, the couple was never blessed with a child. In addition, Ethan was found sharing some gay related posts on twitter. These things once created a rumor regarding his sexual orientation as well, which might have created the differences between them.
Here are the series of tweets shared by Ethen in support to Gay Community
However, Ethan already had a child; a son named Cogeian Sky from his previous marriage to Amelinda Smith. The couple was together for four years from 1998 to 2002.
Even after Ethan's divorce with Amelinda, Sunny maintained the relationship with Ethan's sixteen years aged son Cogeian.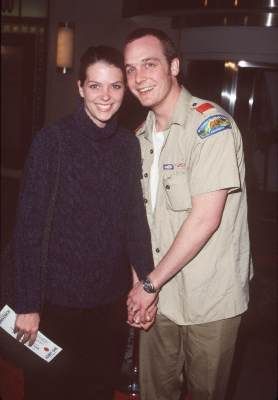 Former husband and wife couple; Ethan Embery and Amelinda Smith
Source: whosdatedwho
Now, let's get back to the topic. After three years of separation, the couple gave a second chance to their relationship and thus got engaged back in 2015.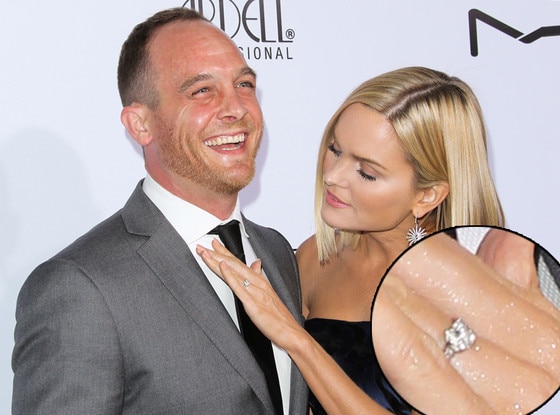 Ethan Embry got engaged to ex-wife Sunny Mabrey
Source: Eonline
While talking about their engagement at the Makeup Artists and Hair Stylists Guild Awards in Los Angeles on 14 February. Sunny said;
It's the same one (engagement ring) I had from way back in the day. M I just couldn't [get rid of it], it was too painful. I couldn't imagine letting that go. It just meant too much, and I guess there was maybe a little bit of hope there!
Ethan then added;
She maintained a relationship with my son. He's 15 now, but she would hang out with him once a week you know. So she was always right there and I called her up one day and I said 'The arms distance thing, it's just not working.' She came and picked up my son. She drove over to pick up my son, and I came out to say hello and she's wearing my old shirt, my favorite f--king shirt! And it's this vintage Levis plaid number, and she had tied it at the titties."
"It has a happy ending. It wasn't so sweet a year ago. It's sweet now.
Ethan even took his Twitter to give a hint about their engagement. Check it out.
Earlier in 2013, Ethan revealed regarding he is having an affair with his ex-wife. He said;
We're divorced but when we're out in public...It's just fun to introduce certain people as "This is my ex-wife so…" We both realized that the past two and a half years without each other was…far more difficult than anything we experienced when we were together."
"It's great though because she takes me out to dinner, like I give her alimony, and then she takes me out to dinner with it. It's amazing, It's great.
Now, we wish the couple all the very best for their future and we really hope that they get married as soon as possible. For more updates, stay tuned with Frostsnow.