Jaymee Sire is a famous sportscaster for ESPN. She had also hosted NFL Live, NFL Insiders and Fantasy Football Now previously. She also contributed to NFL's MLB and Little League World Series on-site coverage but she is mostly known for her career with ESPN.
The ESPN sportscaster is said to be dating her fellow colleague from ESPN, Phil Dauria, a photo editor. The couple has been dating for a long time and amidst their relationship, there have been rumors of their marriage which have recently started to surface in the media.
Jaymee Sire and Phil Dauria dating
On recent news, this tantalizing TV personality from ESPN, Jaymee Sire has been head over heels in love with her boyfriend Philip Dauria. Dauria is the associate photo editor for the same network. This news broke when it was revealed by Jaymee Sire's friends on Instagram that this duo was dating.
Sire had posted a photo on her Instagram where she referred to Dauria as BIL, which means "Baby In Love". In internet slang, BIL means an adult, resembling a baby by face or body, who has fallen in love. So it was only natural that the rumors of the couple getting married would be all around the web.
With such a successful ongoing career at the age of 36, Jaymee Sire was only left out to further try out her luck in the relationship department. Now that she has had achievements in that (seemingly Phil Dauria is quite a catch), Sire can probably start planning for a grand wedding ceremony, in which she will be married to the husband of her dreams.
It would be imprudent to think of divorce even before their announcement but fans sure pray for the longevity of their relationship.
Jaymee Sire obtained her bachelor's degree in communications from Washington State University in 2002 and is a member of Kappa Delta sorority, where she served as president from 2000-2001.
A self-proclaimed foodie, Jaymee Sire owns her very own food blog and has famously named a sandwich after her- the Jaymee Sirewich.
Prior to joining ESPN, Sire worked as an anchor for SportsNet Central at Comcast SportsNet Bay Arena, along with Jackie Redmond, whose personal life is also a matter of interest. While working there, she was nominated for three regional Emmy awards.
Jaymee Sire won one of those prestigious awards. She also received a San Francisco/Northern California Emmy Award for the All A's: A's in Japan show.
Jaymee Sire's career with ESPN
Her journalistic career began in the year 2002 as a news reporter as well as sports anchor/reporter at the KRTV (CBS), which is located in her hometown of Great Falls, Montana, working with news anchors like Charlie Rose, Jane Pauley, and Katie Couric.
She then went on and joined as the sideline reporter for the KFMB's San Diego Chargers pre-season broadcasts in 2005 and continues for a year there. Then in 2008, she was hired as a sports reporter by the KFMB-TV in San Diego.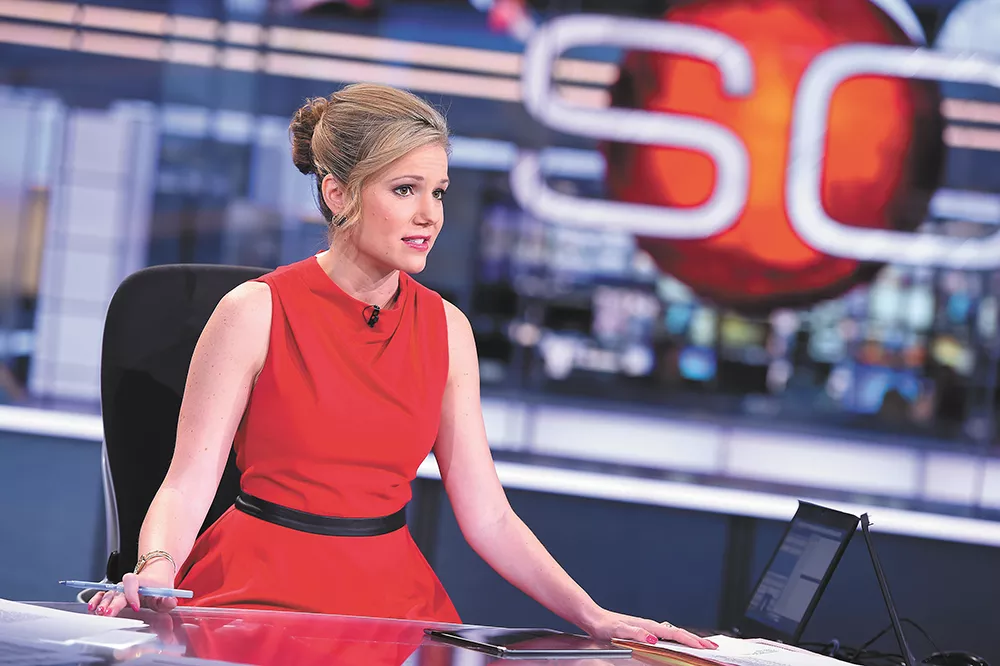 Then she again went on to join a network she had previously worked for- the Comcast Sports Net Bay Area. Though, now it was like a promotion for her. She primarily served as anchor/reporter for the Sports Net Central as well as a reporter for the Giants Pre-Game live and the Giants Post Game Live.
Jaymee Sire left the CSN in early 2013 and joined her current network, ESPN, where work famous news anchors like Chris Berman, Keith Olbermann, and Kevin Corke. Her debut stint as an anchor for ESPN was on 11th April of 2013 for the program called Highlight Express on ESPN news.