American professional wrestler Enzo Amore is possibly single, but there are rumors of him being in a romantic relationship with girlfriend Nia Jax since 4th of December 2017. Nia is a professional wrestler as well and performs on the Raw brand. Previously, she was in a relationship with NXT star Josh Woods, a former National Wrestling Champion.
The real name of the two-time WWE Cruiserweight Champion is Eric Arndt. Due to Amore's involvement in sexual harassment and sexual assault, he violated the WWE's zero-tolerance policy hence, he was suspended from WWE on January 22, 2018.
To find out more about Enzo Amore's current relationship and past affairs, continue to read below.
Enzo Amore's relationships
The 31-year-old wrestler is rumored to be dating girlfriend Savelina Fanene, popularly known by her ring name Nia Jax. The rumors have been afloat in the media since December 4, 2017, after the two were seen having a friendly conversation. But none of them have spoken out about the topic at hand.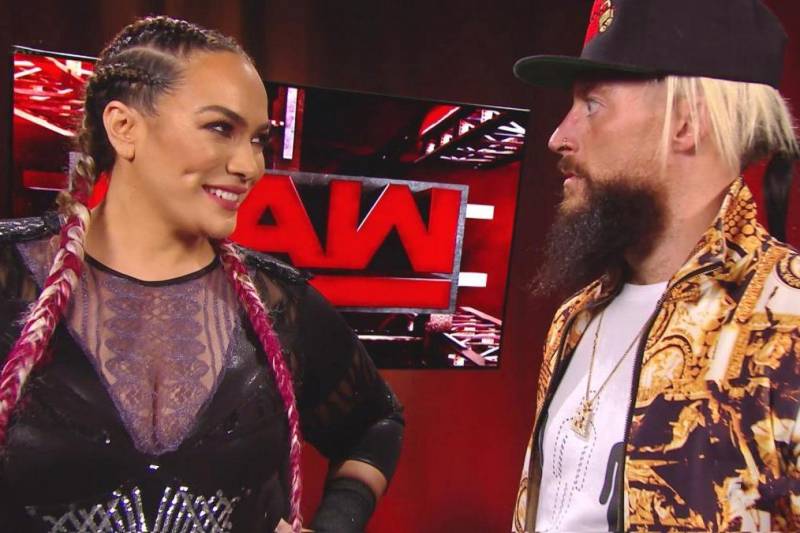 Enzo and Nia together
source: bleacherreport.com
Prior to the alleged rumor, Enzo dated another WWE wrestler Gionna Daddio, famous by her ring name Liv Morgan. The two were together also when both them were performing for NXT.
She publically announced her relationship status as a single via her Twitter account in September 2017 and afterward, she took down all the photos of her with former boyfriend Enzo which she had posted on her social media accounts.
While the rumors of Nia dating Liv's ex-boyfriend Amore were heating up, Liv tweeted as "Uhhhh Nia, I actually think YOU want MY scraps."
The tweet was a response to Nia's comments about her best friend Alexa Bliss Twitter post.
Enzo Amore's Professional Life, Career
In 2012, Amore was signed by WWE and trained with Joe DeFranco at the DeFranco's Training Systems gym. He made his NXT television debut on May 22, 2013, with a match against Mason Ryan.
In 2016, Amore with his tag team partner Colin Cassady defeated The Ascension and became the No. 1 contenders for the WWE Tag Team Championship.
In 2017, Amore debuted in the cruiserweight division and challenged Cruiserweight Champion Neville on the episode of 205 Live and got the chance to fight him at No Mercy. Amore defeated the champion and claimed his first title win.
At the beginning of 2018, a woman named Philomena Sheahan accused him of sexual assault and sexual harassment which had him suspended from WWE. On January 23 he was released from WWE contract and the title was vacated.
Hope his legal issues get settled soon. We wish him best in his future endeavors.