Jennifer Lopez, the famed named in the music industry known as J.Lo, is the recording artist of the official song Ole Ola of the 2014 FIFA World Cup along with Pitbull and Claudia Leitte. The American singer, dancer, actress and fashion designer, Lopez is married thrice in her life and is preparing for her fourth marriage with her boyfriend.
J.Lo with her previous relationship with her ex-husband Marc Anthony shares the twin children, raising them under her custody after her divorce. Lopez in deep love with her daughter, Emme Maribel Muniz of the age 9, is making everyone curious to know detail about her relationship with her children and her current love, Alex Rodriguez, a retired professional baseball player. Today on Frostsnow let's know about her love affairs and her lovely children.
Are Jennifer and her boyfriend Alex Marrying
Jennifer and Alex seem to have traveled on the same boat regarding their relationship as both are divorced and shares their lovely children with previous affairs. Jennifer after her divorce in 2014 got in a relationship with Alex after their first date in January 2017 at Hotel Bel Air.
The meeting of the couple was not the first time in January as they already got a chance to meet 12 years earlier when J.Lo with her former husband Marc pitched in New York Mets game. Here is the photo of them together.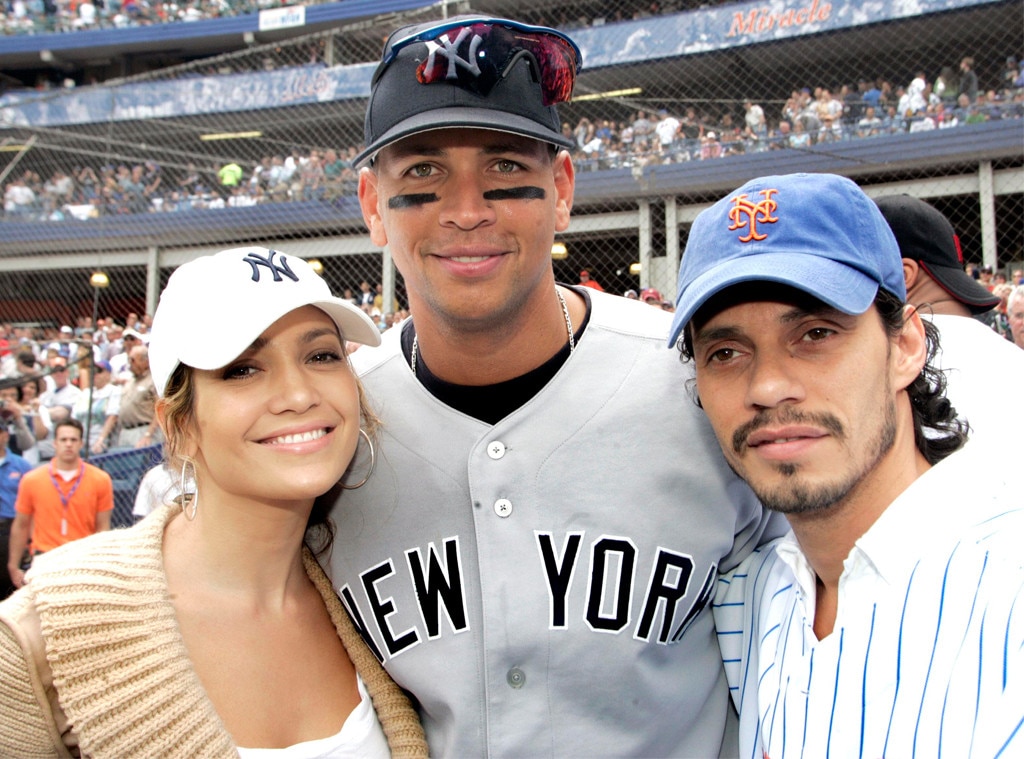 Jennifer Lopez and Marc Anthony with Alex Rodriguez(middle) in 2005
Source: Eonline
Surprising but funny though!
The couple made their red carpet debut in 2017 Met Gala and is near achieving the relationship goals with a report of freedom from the mishaps, unlike the past affairs.
Jennifer Lopez and Alex Rodriguez in Met Gala 2017
Souce: Latina
Well, the relationship of the Jennifer and Alex grew with the passage of time and the couple shares the lovely moments together. Jennifer shared her tweet with Alex mentioning him as her Macho Bello. Have a look at the cute lovers.
So, everyone was assuming that the couple will get married anytime soon. So are they married??
As per E! News, when Alex was asked about his marriage issue with Lopez, on September 21, 2017, on Shark Tank event, regarding the rumors of their engagement, he nervously dodged the question with his answer as:
Jennifer's amazing. It's nice, it's nice. You're goonna make me blush now! Now I am sweating. No she's an amazing girl.
Probably they are not married. Even if they haven't given the clear reports about their marriage, maybe in soon in future the happy news will hit the highlights. With a waiting for the lovely day to arrive, let's wish them best and know about their children.
Children of Jennifer Lopez and Alex Rodriguez
Well, Jennifer and Alex with their strong love are yet to share the parenthood of their own children, however, they are parents from their previous marriages. J. Lo is the mother of her twin children, David Maximilian and her daughter, Emme Maribel.
She welcomed her children on February 22, 2008, and introduced them on March 11, 2008, on the contract of $6 million with People recording the highest paid celebrity picture.
Jennifer and Marc with their twin children
Source: Elciudadano
Jennifer making herself a supermom shares the moment with her children, despite her busy schedule. J.Lo with her daughter, Emma shares the blissful Insta and Snapchat moments together which is really cute. Have look at some of her posts.
Jennifer is so proud of her lovely twin babies as they got in the 4th grade. She even shared the photo of her children, Max and Emme congratulating them.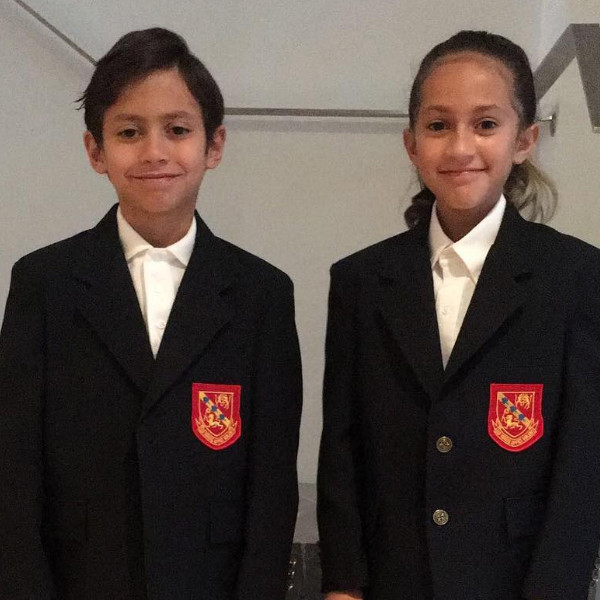 Max and Emme, twin children of Jennifer
Source: Eonline
Not only with her own children, she is also in the good terms with the children of Alex. Rodriguez on his interview with the People revealed that his daughters, Ella, 9 and Natasha, 12, were in good terms with Lopez. He also added:
When they're in Las Vegas, I don't think they leave Jennifer's side. My girls essentially hit the lottery. What 12-year-old and 9-year-old wouldn't feel like, 'Oh my God, I'm the luckiest human being on the planet?' They're super thrilled!
Jennifer also shares the lovely moments with her love and children. Have a look here.
Really a happy family!!
We wish happiness for the lovely family.
Past Affairs and Controversies of Lopez
As you have known. Lopez was in a married relationship with Marc Anthony, she got married to him on June 2004, but after sharing the children the couple got divorced which got finalized on June 16, 2014, after 2 years of filing.
Prior to him, she was married to Cuban waiter Ojani Noa, but the married relation from February 22, 1997, ended in January 1998. Well, the reason for the divorce is not clear yet but the legal trouble didn't end here as she sued Noa from publishing the book regarding their marriage and compensated with a worth of $545,000.
Jennifer and Ojani Noa
Source: The Sun
Later, J.Lo married former backup dancer, Cris Judd on September 29, 2001, but the relationship couldn't last long as she divorced him in June 2002. It was reported that the reason for the divorce was the vast differences in their interest.
J.Lo and Cris Judd
Source: Time magazine
Soon after her second divorce, she commenced a relationship with Ben Affleck who was in the highlights for gifting 11 Carat diamond to Jennifer Garner. Lopez and Affleck became engaged in November 2002 and making them as the prominent super couple got the name of Bennifer all over the media, but some are not meant for each other. The couple called off to their engagement in January 2004.
Jennifer Lopez and Ben Affleck
Source: Daily Mail
Then after that, she got Alex followed by her romance with Anthony.
Really, J.Lo is choosy regarding her relationship and now the history is history against her happy life.
Jennifer and Alex Celebrated Thanksgiving with their children
Jennifer and Alex, busy with their working schedule on November 24, 2017, spend their rustic Thanksgiving in the country. The couple brought up their respective children, Ella and Natasha of Alex's and twin of the Jennifer to enjoy in a different environment than that of the house.
J.Lo on November 22 gave the information about her Thanksgiving on her Instagram, later she shared the photo of enjoyment after the Thanksgiving celebration. Have a look.
Children of Jennifer and Alex in Thanksgiving celebration
Source: Just Jared
Also, the lovely couple shared their photo on a bicycle in the country yard posing with a smile. J.Lo with her appearance in white sweatpants and a grey sweatshirt with neon green sneakers and Alex on black ensemble with light grey sneakers.
Jennifer and Alex
Source: People
Lovely moments for the couple and their children. Stay tuned for more updates!!