31-year-old former Bachelorette Emily Maynard Johnson has now become a mother again with her husband Tyler Johnson. Emily, who is known for her appearance in the popular ABC series ( involving a handsome guy and a gaggle of girls) which has also featured celebrities like Kaitlyn Bristowe and Jordan Rodgers, is also the bestselling author of the book I Said Yes: My Story of Heartbreak, Redemption, and True Love.
Tyler and Emily are now parents of four children: Josephine Riddick Hendrick, Gibson Kyle Johnson, Jennings Tyler Johnson, and Gatlin Avery Johnson. Let's know more about the celebrity couple, their relationships, affairs, and children.
Emily Johnson's affairs, marriage, children
Emily and Tyler got married back in 2014. However, Emily's story is not all fairytale that one sees on her Instagram posts. Before having an affair with Tyler, Emily was in a relationship with Joseph Riddick "Ricky" Hendrick IV, popularly known as Ricky Hendrick, an American NASCAR driver and partial owner of the Hendrick Motorsports team, founded by his father Rick Hendrick.
Also read: Cristiano Ronaldo's girlfriend Georgina Rodriguez gives birth to the fourth child
Emily and Tyler, the couple pregnant with their new baby
Source: usweekly
In fact, Emily and Ricky were so close to each other that they had taken a step towards getting married. Emily started dating Ricky Hendrick from 1999 and they both got engaged in April 2004. Sadly, Ricky had an untimely death on October 24, 2004, in a plane crash, six months after they had been engaged with each other.
Have a look at the Instagram post, Emily shared her newborn baby.
Shortly after the incident, Emily found out that she was pregnant with his child. She subsequently gave birth to the little one and named her Josephine Riddick Hendrick, after her father.
Below: Emily shares a family photo on her social media site where Ricki is holding her small brother.
Children of Emily and Tyler
Emily and Tyler are the parents of 4 children. However, Tyler has fathered only 3 of them. After Ricky, Emily had an engagement with another Bachelor star Brad Womack, while season 8 Bachelorette winner Jeff Holm dated Tyler, a professional basketball player. Emily has said in an interview that she wants to add at least one more member to her family.
Tyler with his wife, Emily, and daughter, Ricki
Source: parade
Later, after their marriage, Tyler and Emily welcomed their first son, Jennings Tyler, on July 16, 2015, and following one year late, they welcomed their second son, Gibson on September 16, 2016.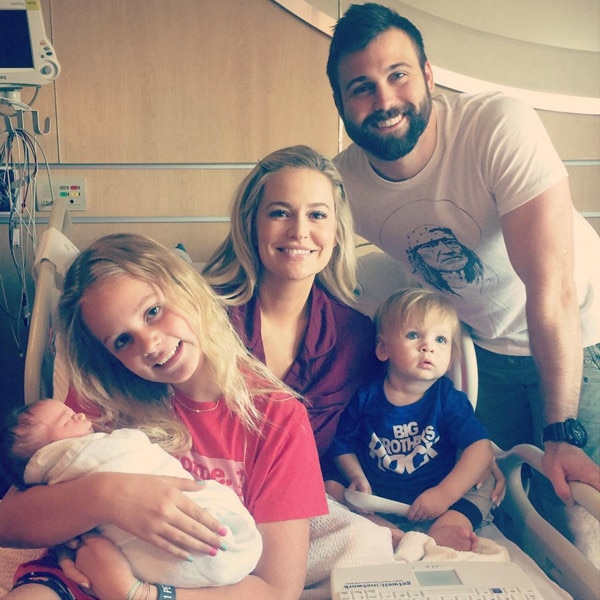 Emily with her husband and children before mothering the fourth time
Source: eonline
Well, a happy family indeed, and love grows more and more between them with every passing day. Emily has been through a lot in her life, from the heartbreak of losing her partner and soon-to-be husband, to seeing her second engagement break off, and has always come up stronger and more beautiful.
No doubt, she deserves all the happiness in the world and many more.