Lucky are those whose professional field matches with their life-partners. You get to work with the one you love, what more can you ask for. We didn't say this out of the blue, but because of actress Emily Blunt's words regarding how she felt while working with her husband John Krasinski. The pair worked together in animated movie 'Animal Crackers' where they provided their voice.
Emily and John have been married since 2010 and are already a parent of two children. Despite being together for so long, the duo's love life is going pretty amazing. Even today, we barely hear any disputes in Emily and Blunt's relationship. Let's find out about it in detail:
Emily Blunt feels lucky to work with her husband John Krasinski
Emily Blunt revealed that recording their respective parts in the movie 'Animal Crackers' made her and her husband's family life easier. She also added that it was super fun. She feels lucky to have shared the sound booth with her spouse which rarely happens between them.
Emily Blunt and her spouse John Krasinski
Source: InStyle
If you are thinking that it was a coincidence, then you are wrong. The couple had made special demands to arrange the things in that way so that they could manage their working schedules easily. Emily said that the couple found comfort in driving to the study and improvising together.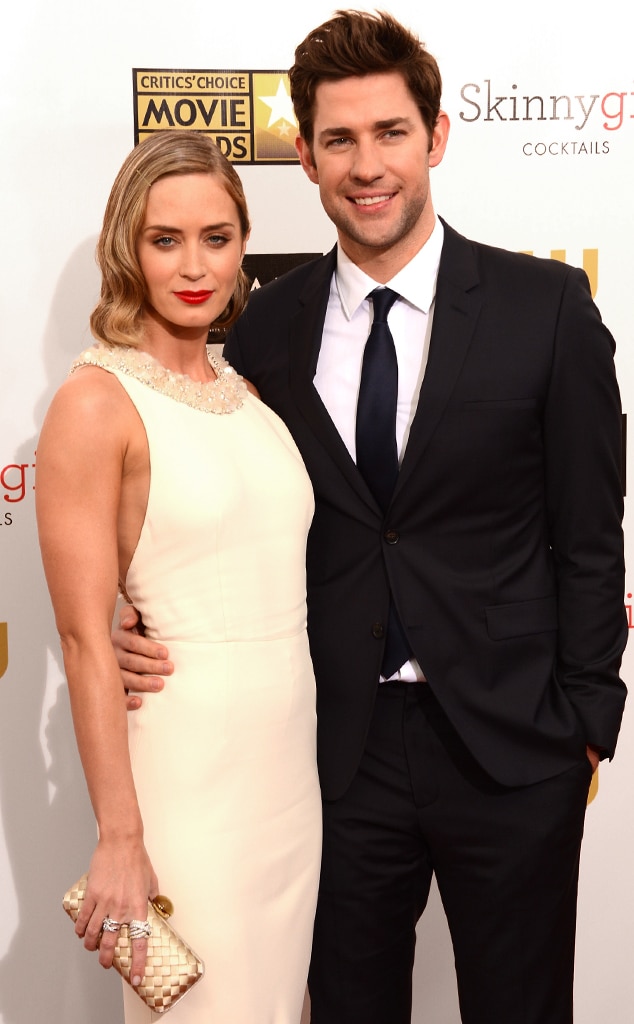 Emily Blunt and her spouse John Krasinski
Source: E! online
It seems like Blunt really felt the right reel chemistry with her husband as she has revealed her desire to work in another movie with her beau when they find the right one. She said:
"It's sometimes hard to find a good project where you feel you would both be right for it. But we would love to do a film together one day if it's something very good."
Emily Blunt and John Krasinski's married life and children
John began dating 'The Girl in the Train' actress in November 2008. Within a year of being together, the couple got engaged.
Emily Blunt and her husband John Krasinski on their wedding
Source: Starcasm
The loving duo transformed their affair into a beautiful wedding on 10th July 2010. They tied the knot in Como, Italy. The couple from their relationship has two children. Their elder daughters, Hazel was born in 2014 and Violet, their younger daughter was born in 2016.
In an interview with OK! Magazine, Emily revealed the secret to her long-lasting relationship. She said:
"We try to support each other in everything we do. It's not always easy to lead a Hollywood career when you're raising two young children, but we are very supportive of each other and have a strong bond between us."
John Krasinski's Obsession With Wife Emily Blunt:
We cannot even doubt a little bit to the fact that the pair who gets along so well in real life will find no difficulty in working together professionally as well. We hope Emily Blunt and her husband John Krasinski find more happiness in coming days.
For updates, be in touch with Frostsnow.com