People often wonder if Love is a matter of choice or not, when it comes to the relationship in between the same sex; And one is totally free to choose who they want to choose to love. And two of the gorgeous girls, Ellen DeGeneres an American actress/TV star, and comedian and her girlfriend Portia de Rossi an American and Australian actress/model and philanthropist is an example of internet sensation couple for their kindness and chemistry.
The winner of Presidential Medal of Freedom 2016, Ellen and her husband, Portia once became the hot potato in 2008 for their marriage and recently are back again in the headlines with their romantic relationship. The gorgeous couple caught the lime light on the occasion of their 9th marriage anniversary.
Ellen DeGeneres with the love of her life/husband Portia de Rossi
Source: People
Ellen shared some sweet messages to her husband, Portia on the occasion of their anniversary and the messages are so heart warming. You will fall in love with the couple after checking out on the messages.
Ellen DeGeneres Shares Sweet Messages with her Husband Portia de Rossi on their 9 Marriage Anniversary
Ellen and her husband Portia are celebrating the greatest day in their love life, their marriage anniversary!
The host of the Ellen DeGeneres Show couldn't help herself from showing the affection and love to her husband on the day of their nine-year wedding anniversary. Ellen took it to her Instagram a day prior to their anniversary, 16 August, to share a special picture of her and her leading lady back from the best day of their life, their wedding.
She shared a special message of love in her caption,
"@PortiadeRossi and I got married 9 years ago today. Being her wife is the greatest thing I am."
Fans went crazy on the day of their 9th wedding anniversary and there was nothing but a flood of best wishes for the couple. Within 10 hours, more than 1.4 million people reacted with love on the picture.
After few hours, Ellen shared another picture of the couple enjoying a romantic dinner date with the caption,
"I love my wife.
#Repost @portiaderossi ···
We've been together so long that not only do we look like kids in this picture, but it was taken with a camera! Happy 9th, Thing."
The couple is totally smitten in love with each other.
After the years of marital relationship, the affection in between the couple looks like the same as it was on the day of their wedding.
The American singer/songwriter Joshua Radin who sang at the couple's wedding, too, sent Ellen and Portia a sweet anniversary message. Ellen shared the picture on her Instagram which Joshua shared with the couple with the following caption
"#Repost @joshuaradin
···
Nine years ago today, these two incredible women got married and asked me to sing some of my songs to them while they were celebrating their most special day. It's still one of the most fun things I've ever done. Happy anniversary @theellenshow and @portiaderossi"
We would like to congratulate the couple on nine long successful years of marital relationship.
Ellen and her husband Portia tied the know in winter 2008 and ever since the love life of the couple has been in the warmth of affection. To know more about the couple's marital relationship, be with us for a while.
Ellen DeGeneres and her Husband Portia de Rossi
Ellen and Portia tied the knot on August 16, 2008, in front of their family members and 30 of close friends. The wedding ceremony became a lavishing one which was lead by the American philosopher/motivational speaker Wayne Dyer.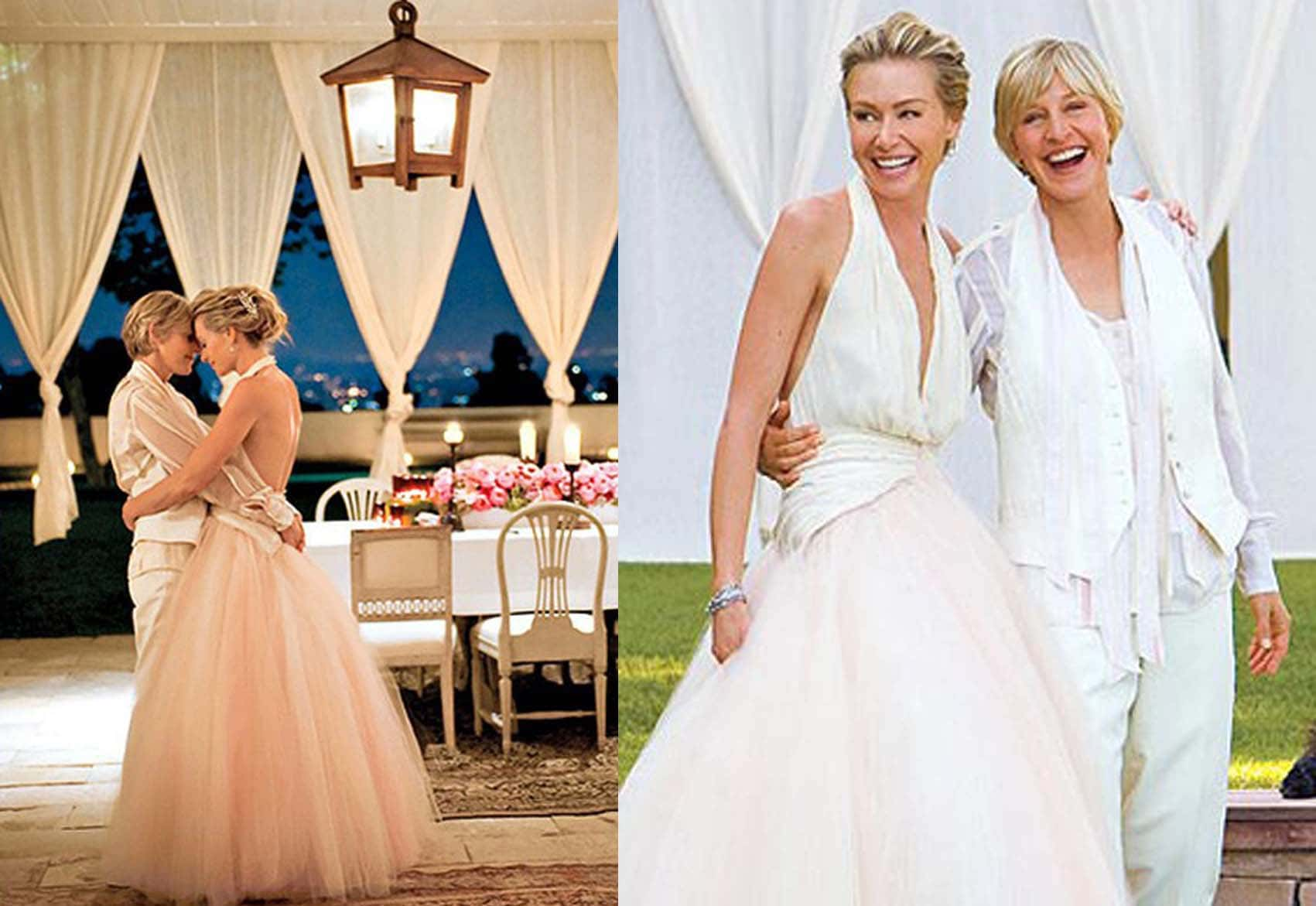 Be with me forever! Ellen and her husband tied the knot in a lavishing wedding on August 16, 2008
Source: Gloriousa
The couple's wedding ceremony was shown on the Ellen DeGeneres Show on Tuesday, September 9, 2008. Check out the couple's wedding video below.
Having actress/model Portia, DeGeneres, 58, admits that she has learned never to take a relationship for granted. Ellen said,
Portia and I constantly say to each other, 'We are so lucky.' Sometimes it's lying in bed at night before I go to sleep, and I just say thank you to whatever, whoever is out there,
She further added,
I've gotten to a place where I really am just settled. Really. I know that I'm not going anywhere. She's not going anywhere. I'm not saying the relationship took a while; I'm saying in my life, it took a while to find this.
Ellen and her husband Portia
Source: People
Living in Los Angeles together, the couple is doing their best to give each other enough time despite the busy schedules. Ellen told the PEOPLE,
Our priorities are each other too,
And, while she was questioned about children, Ellen said,
If we had kids, then I'm sure they would be, but we are. And that's important.?
Also Read: Portia De Rossi desperately wants to be a mother and she is willing to take drastic measures.