Elena Lyon, a 45-year-old American actress is native to Madrid, Spain. She made her acting debut on television in 1993 on Saved by the Bell: The College Years. In 2004, she was ranked No. 76 on the Hot 100 list created by Maxim Magazine. The Sunstorm actress is currently married to Grant Cardone and has two daughters.
Grant Cardone is an American author. He is also a motivational speaker, real estate investor and sales trainer. He is famous for his practical and solution-oriented approach to life, and his infectious energy lets him automatically connect with his audience during the talk shows. Various entrepreneurs, non-profit organizations, and companies apply Grant's method for enhancing their market value.
Life of the millionaire is well documented by different media units. Because of his multi-talents and constant multi-investments, the records on Grant's life always need to be updated. Let's know about his current net worth and his career.
Grant Cardone's Net Worth
The real estate investor has an amazing net worth of $350 million. The degree in Accounting was surely a plus point to boost his net worth. Even though he hated being a salesperson in the early stage, he later became a renowned entrepreneur. He is one of the richest industrialists. He owns Cardone Acquisitions, Cardone Enterprises, and The Cardone Group.
The millionaire motivational speaker, real estate investor Grant Cardone
source: Actionable Books
Cardone is also a famous author. The five books: "Sell to Survive (2008)", "The Closer's Survival Guide" (2009), "If You're Not First, You're Last" (2010), "The 10X Rule" (2011) and "Sell or be Sold" (2012) which Cardone has authorized are the best selling ones. Other than these, his book "If You're Not First, You're Last" is rated on the top of Nobles, Barnes and Amazon. These famous books had added a large sum to his account.
The self-made millionaire does not believe that buying real estate is an assent or an investment and that's why he is the owner of only one house which he had bought in his thirties. But he does own almost 4,500 apartments and is constantly buying new ones. In the early 90s, he had bought his first apartment worth $1.9 million with down payment of $350,000.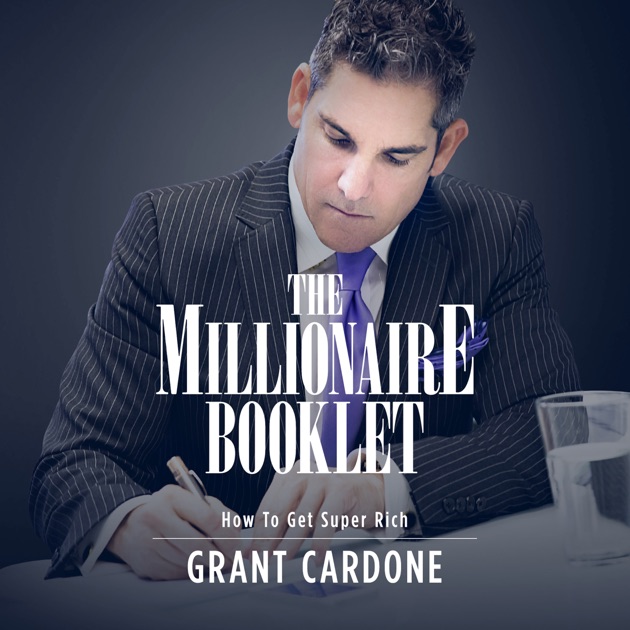 Booklet cover featuring the author Cardone
source: iTunes - Apple
The international sales expert is also the one who had launched the app CloseTheSale, only available on the App Store for iOS devices. The app 10XMOJI for Grant Cardone is also owned by Grant.
Grant Cardone's Career and Awards
The 60-year-old Cardone is graduate in Bachelor of Science in Accounting from McNeese State University. For his outstanding graduates, he was awarded McNeese State University Distinguished Alumnus Award. After his graduation, he moved to Chicago from Louisiana. Chicago became the place where he started his career. There he worked for a sales training company. His first sales job was in a clothing store. He then entered into car sales and was appointed as CEO of Freedom Motorsports Group Inc for a short period.
In late 2010, he stepped into show business. He worked with Atlas Media Corp. to produce a reality TV series called Turnaround King for the National Geographic Channel. Currently, he operates several companies like Cardone Acquisitions, Cardone Enterprises, and The Cardone Group.
Grant Cardone with Dr. Jason Worrall in Grant Cardone TV
source: Grant Cardone TV
The motivational speaker provides training to young salesperson through Cardone Training Technologies, Inc. and also shares his knowledge and experiences by appearing on CNBC, CNN, the Wall Street Journal, Entrepreneur.com and over 600 radio shows nationwide.
Grant is the guy, who made $3000 to $6000 a month in his commission-based job and later on became a millionaire when he was just 30. Despite being a drug addict in early age, he was able to completely turn over his age. His life sure is an inspirational one.