The one coded with the tag of "celebrity" is quite ahead in making headlines and always are the center of gossips and rumors. And literally we have witnessed the fact, haven't us? Their huge fan following is one to praise above all. And indeed "fans" are the one who makes them what they are, isn't it?
This young singer-songwriter, Dua Lipa who is yet to turn 22 on following August is making headlines recently in regards to her dynamic love angle. And with millions of fans willing to know about Lipa's love life, today we will guide you in your way fulfilling your queries on the love life of this gorgeous singer.
Be with us.
Dua Lipa in Relationship with Calvin Harris after break up with Isaac Carew?
This rising pop superstar Dua Lipa was in a relationship with Isaac Carew, 31, her boyfriend for almost 2-year. After she broke up with him, she reportedly is falling for Calvin Harris who is single at present. Let's find out the chemistry between Dua Lipa and Calvin Harris.
Also Read: Engaged Taylor Swift and Boyfriend Calvin Harris
Dua Lipa and American singer Calvin Harris
Source: The Sun
On the January of 2017, Dua performed a mash-up of "Ronnling" by Calvin Harris featuring Future and Khalid.
Check out the video here.
Did the professional collaboration that they made in January follow them in the personal page too?
Let's find the answers.
Soon after Dua Lipa and Calvin Harris collaborated in January, the British singer was said to have grown close to the superstar DJ Calvin Harris after admitting she is "a big fan." And when the young star was asked with which of her the fellow performers she would like to work, Dua said;
Calvin Harris. Mate, give me a song.
Dua's statement is somehow enough to find out what's in her mind regarding Calvin Harris. What do you guys think? Admirer or Lover?
On the March of 2017 Dua Lipa revealed to "The Sun" during a visit to Bizarre HQ that;
I am off to LA, where Calvin is based, to work on a project " specific song in mind for a specific person."
She further added,
My goal is to create a relaionship with the crew first.
With Lipa mentioning her goal to develop a relationship with the crew as her first priority, we can assume that Dua isn't in a hurry. And it will be interesting for all of her fans to see if anything comes from their collaboration, especially out of the studio.
So, it's quite clear that the singer/songwriter is falling close to DJ Calvin Harris, but there's still something untold. And that's the relationship between Dua and Isaac. So, what could be the reason for the separation of the two love birds? Find it out here.
Dua Lipa's Past; Ex-Boyfriend Isaac Carew
Dua was in a relationship with her ex-boyfriend Isaac a British model and chef well known for his website "The Dirty Dishes."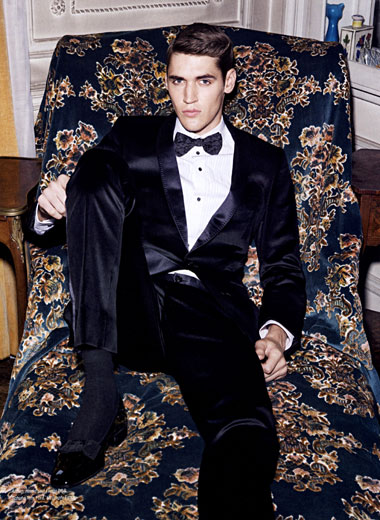 British model and "The Dirty Dishes" star Isaac Carew
Source: CLIENT MAGZINE
Well, we feel sorry to inform their fans that we really don't have any info on how Dua and Isaac met. But as per reports the ex-couple dated each other for almost 18 months.
Dua Lipa with her ex-boyfriend Isaac Carew
Source: The Sun
Things turned out off the track for Isaac when Dua and Calvin performed at the Jingle Bell Ball station on the December of 2016. Since then, Dua hit the success on her professional career and on social medias too.
Also Read; Scottish DJ Calvin Harris releases a sneak peek of his upcoming song featuring Rihanna
With 725,000 Instagram followers, five Top 30 hits and more than 195M views on her YouTube channel, Dua praised Calvin in the Capital FM interview on the very month of December. Soon after the interview, Dua was reported to grow close to Calvin Harris.
Later a strong source said;
Dua Lipa and Isaac Carew went separte ways and she's moving on.
Well, who would like to see their partner getting close to someone else? Obviously, we wouldn't. And the same seems to be the case with Isaac.
After having a volatile relationship with Isaac, Dua is reportedly interested in superstar DJ Calvin Harris. But there aren't any official statements from the rumored couple. And we hope they will reveal soon if there's something going on between them.
To know further more on this rumored couple keep on visiting Frostsnow.