Theresa Elizabeth Polo professionally known as Teri Polo is the actress from Meet the Parents Trilogy where she played Pam Byrnes-Focker opposite Ben Stiller and Robert De Niro. 49-year-old Teri was married to her ex-husband Anthony Moore however divorced after 8 years of marriage.
Teri Polo despite her successful career came to experience loss in love relationship as her wish to second marriage to her boyfriend never came true. The Fosters (2013–2018) actress is the mother of 2 children. Want to know more about her relationships, affairs, and children? Stick tight.
Is Teri Polo Dating Currently? Her Boyfriend?
After experiencing 2 tragic trauma in love affairs, Teri Polo has kept her relationship issues quite low. Since 2013, Teri Polo's name is not linked with any other, also no information on her other boyfriends came out after her break-up with (former) boyfriend Jamie Wollam.
As of 2018, Teri Polo is alleged to be single and it's safe to assume that she is not dating meanwhile. She seems to be busy raising her 2 children, each from her previous relationship.
Teri Polo also seems to have moved on and can be seen giving her amplest acceleration to her career. Polo will be featured in the 2019 family drama TV series Good Trouble.
But we can't deny that the future is full of miracles always, so let's wait and see. Best wishes to Teri Polo.
Teri Polo's Relationship with Ex-Husband Anthony Moore: Their Children
Teri Polo was married to photographer Anthony Moore. The couple met in 1996 and after dating for a year, they eloped and ultimately got married in Vegas on 20th April 1997.
But, their relationship didn't stand the test of time and the couple got divorced in 2005 after being together for more than 8 years.
Video: 5 Unknown Facts About Teri Polo
As we have mentioned earlier, Teri and Anthony have a son together, Griffin. He was born in 2002 whom Teri claims to be the best part of their marriage.
Caption: Pregnant Teri Polo and husband Anthony Moore at the screening of Spiderman
Source:zimbio.com
In an interview with The People in 2007, Teri talked about her marriage to Anthony and her son Griffin.
She said:
I ran off to Vegas to get married and now I'm divorced but I have the most beautiful child in the entire universe who I would never, ever trade. I would live every part of my marriage and my subsequent, and very hard, divorce again to have my son. It was a roundabout way to happiness.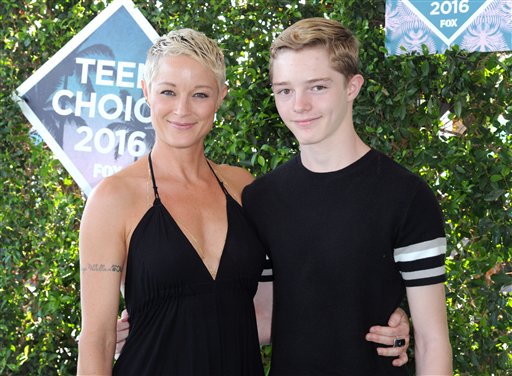 Caption: Teri Polo, Griffin Moore in Teen Choice Awards 2016
Source: aceshowbiz.com
Griffin is currently living with her mother and can be seen at many events with his mother.
Something good out of something so unfortunate!
Teri Polo's Affair with Ex-Boyfriend
After an unfortunate divorce, it takes someone very special to make you believe in love again. In 2006 while shooting for a video, Teri Polo met drummer Jamie Wollam on the set.
Jamie Wollam is a drummer of the bands Avion, Venice and recently Drake Bell. Though they were in touch they didn't date until 2007 and even were rumored to be engaged.
Caption: Teri Polo and Jamie Wollam at Polo's 40th birthday party on June 20, 2009, in Las Vegas, Nev.
Source:americansuperstarmag.com
Teri and Drake in their living-together relationship also shared a daughter named Bailey, born in 2007.
As reported, both of them had children from their previous affairs, as Polo was the mother of Griffin with Anthony while Wollam had a son named Carter with his ex.
'
Caption: Actress Teri Polo and daughter Bayley Wollam attend the premiere of Disney Pixar's 'Monsters University' on June 17, 2013, in Hollywood, California.
Source:zimbio.com
However, after dating for 5 years, the couple broke up in 2012.
And the wish of Teri's second marriage collapsed.
Currently, she lives with her son and daughter and shares her family moments on her social media.