Marriage is considered as an essential part of a person's life. We often hear news about engagements, marriages, and weddings. Even though it is considered to be unnecessary by some people, others seriously believe in it. In fact, some people even get married more than once. Well, today we won't be talking about multiple marriages but about the first marriage of a renowned Canadian DJ.
If you are guessing its DJ Deadmau5 then you are absolutely right. Deadmau5 has transformed his love affair with his girlfriend, Kelly Fedoni, into a marriage. This might be sad news for all the ladies who had a crush on him, but the couple is extremely happy and in cloud9. Read more to get the details about their wedding and their relationship:
DJ Deadmau5 and Kelly Fedoni's lavish wedding
DJ Deadmau5 has changed his girlfriend Kelly Fedoni from 'Miss' to 'Mrs' as the couple has tied the knot a few days ago. The 36-year-old DJ posted a series of photos on his Instagram with his bride.
He also posted photos of his groomsmen who looked up to the point. He also cracked a little joke in his caption as he wrote,
All the best men. Calm before the storm.
DJ Deadmau5 also posted a photo of his lover Kelly Fedoni before they exchanged the vows. She looked pretty while she waited for her makeup. His caption read,
So before I go... here's the last shot of non-married grill. Here we go.
His wedding ceremony appeared to be lavish. We can't deny the fact that both the bride and her groom looked extremely gorgeous.
The couple's ceremony was a bit non-traditional with a touch of some extravagant settings like fire beside the pool.
Even though it looked scary, DJ Deamau5 mentioned that 'Everything is fine' on his Insta's caption.
DJ Deadmau5 and Kelly Fedoni's relationship history
DJ Deadmau5 and his wife Kelly Fedoni have been together in a loving relationship for some time now.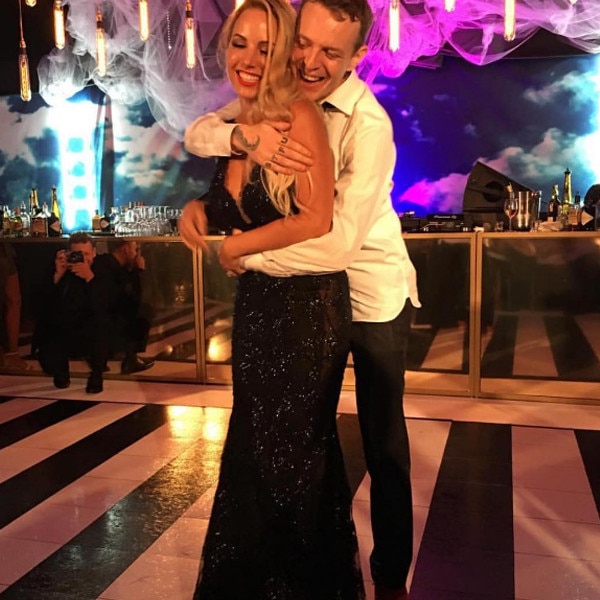 DJ Deadmau5 with wife Kelly Fedoni
Source: E!
They got engaged in 2016 after the Ghosts 'n' Stuff hitmaker asked the big question while they were vacationing in the Maldives.
DJ Deadmau5 other affairs and relationship
If you are thinking that this is DJ Deadmau5's first marriage, then you are correct. Yet, he has been engaged to tattoo queen Kat Von D in the past. They got engaged in December 2012 but called it quits in June 2013.
The tattoo artist was also in a relationship with stuntman cum actor Steve O.
Watch Deadmau5 & Kat Von D Break-Up Tweets:
Besides, DJ Deadmau5 has also been in an affair with Elle Evans from 2010 to 2011.
DJ Deadmau5 with wife Kelly Fedoni
Source: Guetta pens
No matter how the past was, it is good to know that Deadmau5 has finally tied the knot with the love of his life. We would like to congratulate Deadmau5 and his life partner for their moment of nuptial bliss. We hope that they never get a divorce, unlike other celebs.
Quick Facts about DJ Deadmau5:
What is the name of DJ Deadmau5's girlfriend?
DJ Deadmau5's girlfriend's name is Kelly Fedoni.
When did DJ Deadmau5 and Kelly Fedoni get married?
DJ Deadmau5 and Kelly Fedoni got married on 12th August 2017.
Who is DJ Deadmau5's ex-girlfriend?
Kat Von D is DJ Deadmau5's former girlfriend.