No celebrity from Hollywood is safe from rumor attacks. Moreover, if you are a child star from Nick or Disney, then there's obviously no way out. Just a while ago, rumors about Disney star Daniella Monet wedding was flying around. Monet is in a relationship with her boyfriend Andrew Gardner for 7 amazing years.
Although Monet and Gardner are together for so long the rumor about wedding appears to be false. Want to know more about the awesome pair? Read the full article:
Daniella Monet wedding rumor with boyfriend Andrew Gardner
The 'Victorious' star Monet is dating Gardener, creator of 'Gafton' branded clothing line, since 2011. Although the fact that the pair is in a live-in relationship is true, the rumors about their marriage aren't true.
Monet came out to address the rumors and said that it's a fun rumor but it isn't true. She thinks that people assume too much because they have been together for a long time.
Image: Daniella Monet with long-term boyfriend Andrew Gardner
Source: J-14
Monet and boyfriend Gardner bought their first home
Monet and Gardner bought their first dream home in 2015. Monet took to Instagram to share her happiness on such a huge achievement. On the photo, she was seen with her lover and a black Labrador on the front step of their new home. Her caption read:
It's been one special week… With Christmas on the way, we have SO much to be grateful for – super excited to share that @gaftonguy and I moved into our FIRST NEW home together, which we are through the 'actual' roof excited about!! It's absolutely perfect for us.
She also mentioned that the very day was her dog's 3rd birthday. She appeared to be super-excited to celebrate so many things.
Also, read: Daniella Monet support for animal welfare.
Daniella relationship with boyfriend Andrew Gardner
Monet and Gardner have been together in a relationship for years and they show no signs of a breakup. It seems like the love between them is growing with each passing years. The pair is all on each other's Instagram. They seem to spend a lot of time with one another.
From vacations to doing yoga, they seem incomplete without one another.
Although the news about Monet and Gardner not getting married soon saddened us, we don't think they need to exchange vows to prove their relationship. They already have come a long way and we're pretty sure they still have a long way to go together and their engagement news has given hopes to their fans on their upcoming wedding.
Yes, the couple is engaged, find out about their engagement.
Daniella Monet and Andrew Gardner Engagement
Dating for over 7 years, Daniella and her boyfriend Andrew finally got engaged in December 2017. Daniella looked fragile to control her emotions when Andrew got on his knees to propose her. She shared some the pics back from the moment.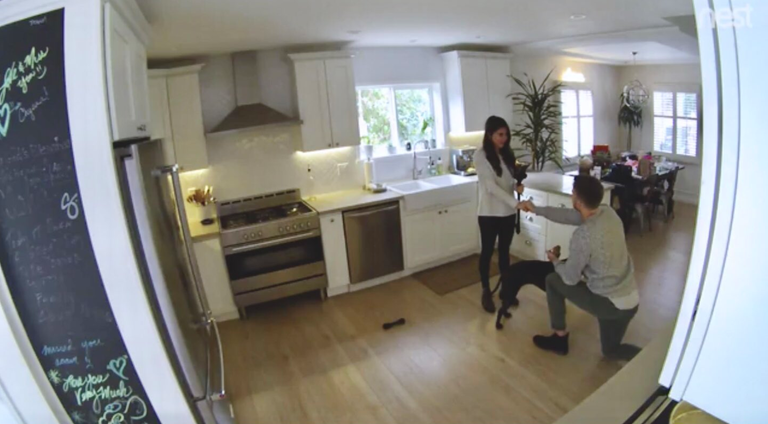 Andrew Gardner got on his knees to purpose his girlfriend Daniella Monet
Source: Seventeen
Daniella shared her engagement news on her Instagram on 26 December 2017. She captioned the post,
"Best day of my life."
Best wishes for this adorable pair.