Nils Allen Stewart Jr. popularly known as Booboo Stewart who is widely known for the role of Seth Clearwater, a werewolf in The Twilight Saga, is an American actor, host, dancer, model, and singer. The 22-year multi-talented actor is now playing Jay in his upcoming Disney TV movie Descendants 2.
The famed actor is all set for his new movie Descendants 2 which is a sequel to hit 2015 movie Descendants. The movie is set to release in the summer of 2017. So, who is Booboo Stewart? Who is Booboo Stewart current girlfriend? Let's have a look into his personal life and affairs.
Who is Booboo Stewart?
Booboo Stewart was born on January 21, 1994, in Beverly Hills, California to Nils Allen Stewart and Renee Stewart. His father is a professional stuntman and mother is Personal Trainer. His mother has Japanese, Chinese, and Korean ancestry while his father has Scottish, Russian and Blackfoot ancestry. So, the multi-talented actor is an American with a diverse descent. Booboo has 3 sisters.
Booboo Stewart started his acting career with Steve Harvey's Big Time Challenge and ER at the age of 10. In 2007 he worked as a stuntman for the movie Zoom and Beowulf. Earlier in his life Stewart featured in a band called Echoes of Angels. He was also a member of the musical group T-squad from 2006-2008. Later in his career, he bagged some great roles in movies including Logan, The Twilight Saga: Eclipse as shape shifter Seth Clearwater, White Frog and X-Men: Days of Future Past as Warpath.
Booboo Stewart Girlfriends, Affairs, and Rumors
There is no wonder young, talented, and handsome Booboo Stewart has millions of fan following (not to mention the zillions female fan followers, sssh). The young actor has been linked to various girls and there are some rumored affairs. The Descendants actor was rumored to have affair with Jodelle Ferland at the age of 15. Although there is no proof of this relation it is strongly believed that Jodelle was his girlfriend and that Booboo and Jodelle Ferland dated each other from 2010 to 2012.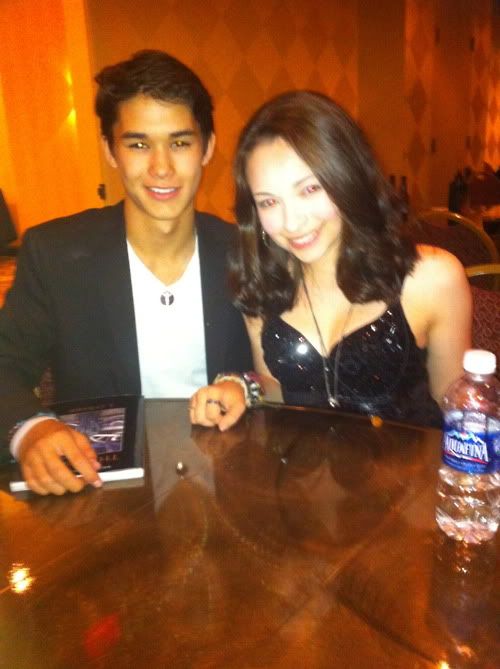 Booboo Stewart is said to have affair with co-star Sofia Carson. There is not any proof that these hot people were dating each other but Caron was allegedly thought as the girlfriend of Booboo. The alleged love affair rumor between the two was quickly dismissed.
People are confused if Booboo Stewart and Kristen Stewart are related and some even ask the question about if they are having an affair. Are Booboo and Kristen Stewart related to each other? Well, the answer is no. Booboo and Kristen are not brother and sister; not boyfriend and girlfriend and seriously they are not married to each other, duh.
Currently, Booboo Stewart has no confirmed love affair and relationship. He is single and is all set for his movie promotion Descendents 2.