The Brazilian actress Debora Nascimento who has been in several Brazilian TV series is currently married to her husband Jose Loreto. Debora's husband Jose is also a Brazilian actor who was in 2012 TV series Brazil Avenue along with his wife.
Taking about Debora's acting career, she is known for her roles in the movies like The Incredible Hulk, Cerberus, and the 2012 tv series Brazil Avenue and also been in the advertising campaign for Loreal Paris. She appeared as the character Tessalia in Brasil Avenue, and she played the character Martina in the movie The Incredible Hulk, and a Marvel Comic character by Stan Lee.
Débora Nascimento and her husband José Loreto
Source: Pinterest
The 32-years-old native Brazilian has also been in the Victorias Secret fashion show and in the Universo Masculino magazine in 2009. It was in the same year, Jose Loreto's wife Debora was married to her ex-husband Arthur Rangel.
Debora Nascimento: Relationship with her husband Jose Loreto
Debora and her husband Jose Loreto got married in 2015. Recently in 2017, the couple revealed that they were expecting a child. Debora also posted a picture of her baby bump on Instagram.
The 33 years old Brazilian actor met his wife Debora on the sets of Brazil Avenue in 2012. They revealed the news about their relationship on the show, Domingão do Faustão. After dating for two years, the couple got married. As the baby is on its way, Debora and her husband are taking parenting classes.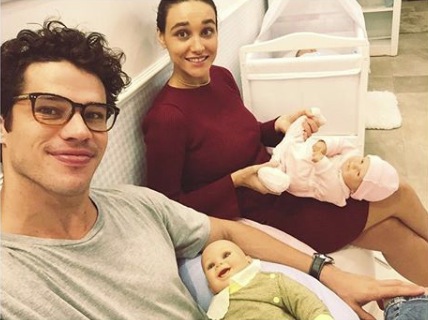 Debora and her husband Jose in parenting class
Source: RedeTv
Debora's husband Jose made his debut appearance in teen soap opera Malhacao in 2005. Before that, Jose moved to Hollywood and worked as a security guard when he was 20. Then in 2012, he got the role in the Brazil Avenue where he met his wife. He also starred as the villain in the Brazilian soap opera, Boogie Oogie.
In July 2017, there was a scandal relating to the leak of an intimate video of Debora's husband. He mentioned that his private pictures, videos, and other sensitive stuff were hacked and leaked on the internet including the intimate video that was 10 years old.
Also Read: CNN's Sunlen Serfaty Welcomes First Child With Husband Alexis Serfaty: Are They Happy Together?
Debora Nascimento and his ex-husband Arthur Rangel: Divorce
Before she met her husband Jose, Debora was married to her ex-husband Arthur Rangel, an entrepreneur. Debora and her ex-husband Arthur got married in 2009. However, after three years of marriage, the couple filed for a divorce as they separated in September 2012. None of them did mention anything about the reasons behind their divorce in the media.
Debora Nascimento and her ex-husband Arthur Rangel
Source: Extra Online
Arthur's ex-wife was spotted with the Brazilian Volleyballer Bruno Rezende after their divorce. Later the same year, she met her current husband Jose on the sets of Brazil Avenue. As we mentioned earlier, their love affair began during the show.
There were also rumors about Debora's relationship with the Brazilian actor Lázaro Ramos before she met her ex-husband, Arthur. The former couple was seen together a couple of times in 2007, but things faded away slowly as no updates came out regarding their relationship after that.
Also Read: 20-year-old Ariel Winter Earns In Millions: How Much Is Her Salary and Net Worth? Her Lifestyle