David Cronenberg's movie 'Maps to the Stars' was released on 21st May 2014. It was an amazing movie and was also critically acclaimed and the movie was successful in earning USD $347,648. Cronenberg himself is a very prosperous filmmaker and an amazing director.
Let's find out more.
'Maps to the Stars' gross earning
The 2014 movie, 'Maps to the Stars', starred some amazing actors such as Julianne Moore, Mia Wasikowska, John Cusack, Robert Pattinson, Olivia Williams, Sarah Gadon, and Evan Bird.
The movie was made under the estimated budget of $15,000,000. It was able to earn $143,422 in its opening weekend and its gross earning was $347,648. The movie was based on the novel 'Dead Stars' written by Bruce Wagner.
Image: David Cronenberg
Source: slate.com
'Maps to the Stars' plot
The movie revolves around the perception of child celebrity and the huge Hollywood showbiz. It also consists of an actress who speaks up about the entertainment industry's relationship with Western civilization. Overall, the movie delivers and executes the truth about the world of Hollywood.
Video: 'Maps to the Stars' trailer
David Cronenberg's direction
Cronenberg has done mind-blowing direction in the movie which is simple to experience but hard to explain. He has presented his character in a raw form that is mixed with agony, joy, haunted yet beautiful.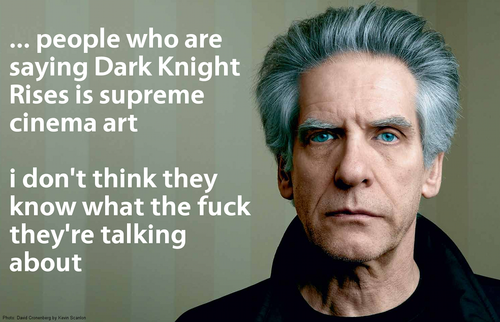 Image: David Cronenberg quotes about Dark Knight Rises
'Maps to the Stars' release
'Maps to the Stars' was premiered at the 2014 Cannes Film Festival during the Palme d'Or competition on 19th May 2014. In fact, the Best Actress Award was won by Maps to the Star's Julianne Moore. The movie was released on 21st May 2014 in the theater.
David Cronenberg career
Cronenberg is not just an amazing filmmaker, but also an actor and author. He is best known as visceral horror genre originator which refers to people's fear of bodily alteration and infection. His movies generally include physical and psychological entanglement.
Image: David Cronenberg
Source: blastr.com
David Cronenberg awards
Cronenberg's movies have received numerous prestigious awards. In fact, he himself has won many nominations and awards as well. He has been nominated for BAFTA Awards, Abu Dhabi Film Festival, Academy of Science Fiction, Fantasy & Horror Films, USA, Avoriaz Fantastic Film Festival, Awards Circuit Community Awards, Berlin International Film Festival etc.
He won a Silver Scream Award at the Amsterdam Fantastic Film Festival, Grand prize at Avoriaz Fantastic Film Festival, Silver Berlin Bear at the Berlin International Film Festival, Bodil Award, Best Science-Fiction Film at the Brussels International Festival of Fantasy Film (BIFFF), Golden Coach at the Cannes Film Festival, and many more.
Image: David Cronenberg
Source: theprovince.com
This is how amazing Cronenberg's career has been and we hope he continues to provide us with some mind boggling movies. Best of luck for the future David.