It's time to congratulate the beautiful couple, Danielle Lloyd and Michael O'Neill. You may ask why. Well, the pair is engaged to each other for a year and now they have added a new joy to their family. Yes, you read that right, guys!! They recently welcomed a baby boy.
This is the first child for Michael O'Neill, while Danielle Lloyd is already the mother of three sons from her past marriage with Jamie O'Hara. Let's learn the story in detail. Stay with us.
Danielle Lloyd Gave Birth To A Baby Boy: Engaged To Michael O'Neill
The 33-year-old gorgeous model gave birth to a baby boy which is her first child first child with fiancé Michael O'Neill. How do we know this?
Well, on September 13, Danielle's told OK Magazine:
Baby O'Neill was born this morning. Mum and baby are doing well. Michael and Danielle are in love with their baby boy. Her mum Jackie was also by her side. The family are completely overjoyed.
Danielle Lloyd with her boyfriend-turned-fiancee Michael O'Neill
Source: birminghammail
Though the couple has not shared the pictures of the newly born baby yet, on September 19, Danielle posted a picture that featured her holding her child's cloth and there were also some baby products.
Here's that Instagram post, guys, check it out.
The couple is overjoyed after the birth of their son. Welcome to the world baby O'Neill.
Besides, Danielle already had announced her pregnancy with a Beyoncé-inspired photo shoot with OK! Magazine. Check out the picture.
Pregnant Danielle Lloyd showing her baby bumps (OK Magazine)
Source: ok
Later, the glamour model also released a video to the media where Danielle is seen talking about the gender of the unborn baby. Check out the video.
Besides, Danielle already has three sons - 6-year-old Archie, 5-year-old Harry, and 3-year-old George with her ex-husband Jamie O'Hara.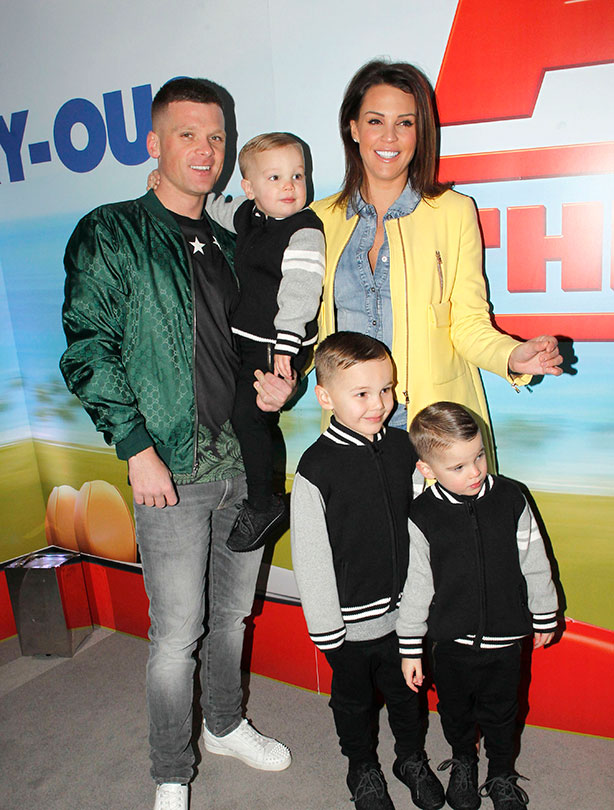 Danielle Lloyd With her boyfriend-turned fiancee Michael O'Neill and her three children with ex-husband Jamie O'Hara
Source: goodtoknow
Danielle and Jamie were married on 26 May 2012 and the wedding ceremony was conducted in the Great Hall of Syon House. Unfortunately, in December 2014, the pair divorced after Jamie. The reason behind their divorce was concluded to be Jamie's infidelity towards her.
Divorced husband and wife: Jamie O'Hara and Danielle Lloyd at their wedding
Source: blogspot
After the divorce, Danelle went on to date Michael in late 2015 and after six months of dating the pair was engaged on 2017 "Valentines Day" after Michael proposed her at lavish London hotel, Claridge's.
Danielle Lloyd and Michael O'Neill along with Danielle's three sons from her previous marriage with Jamie O'Hara
Source: toptenperfumes
The perfect family of six is living happily together. We wish them all the very best for their future.
For more updates, stay connected with Frostsnow.