Frostsnow
https://frostsnow.com/
Danielle Fishel To Marry Boyfriend Jensen Crap: Know About Her Past Affairs & Relationships
Danielle Fishel To Marry Boyfriend Jensen Crap: Know About Her Past Affairs & Relationships
An American actress and television celebrity for "Boys Meet the World," Danielle Fishel, after dating for 9 months, is now engaged to her boyfriend Jensen Crap, a film producer. The couple announced their engagement through Instagram in a posted message on March 23rd, 2018.
Well, this is not the only relationship Danielle has, so far, been in. Prior to this, she has dated a number of men that has made headlines numerous times. Thus, today in this section, all her love relationships are what we are going to talk about.
Danielle Fishel and Jensen Karp previous relationships
Like we mentioned, she has had affairs with different men. Firstly, she was married at age of 27 with her boyfriend Tim Belusko, on October 19, 2013, following a 17-month long engagement. They both met for the first time in her college days.
Danielle Fishel and Jensen Karp
Source: Dailymail
In their wedding, some of famous Hollywood stars like Ben Savage, Jonathan Taylor Thomas, Betsy Randle were also the attendees. Having got engaged in May 2012 and getting married on October 19, 2013, they couldn't take their relationship longer and end up their marriage on 17th March 2016.
Likewise, she also dated American singer Lance Bass in 1999, but they couldn't take continue their relationship and quit after a year. After Lance Bass, she was in a relationship with Canadian actor Devon Sawa but ended up after a year in 2001.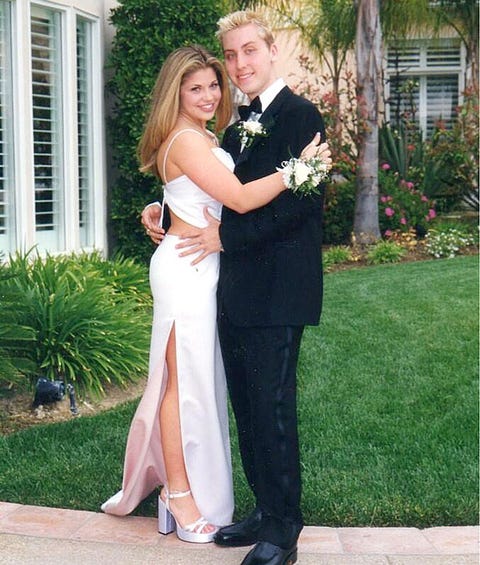 Former Boyfriend and Girlfriend Lance Bass and Danielle Fishel
Source: Cosmopolitian
Similarly, she was also in a short-term relationship with Tim Belusko but separated in 2016.
At present Danielle Fishel is dating Co-Producer Jensen Crap. They officially published their engagement via Instagram and seems both are going to exchange their rings soon in the future.
More About Danielle Fishel's Love Life & Career
As it is said "Couples are made in heaven," and to find a true partner is really tough task. Having seen her on-screen and off-screen love affairs, a lot of us might have presumed the future of their love life. So, will she be able to take her relationship with Jensen Crap in the best way in the future as well?
Well, the time has an answer to all the questions.
Danielle Fishel maximum Photoshoot

Beautiful Tv host Danielle Fishel started her career professionally at age of ten, she appeared as a TV guest artist in commercial shoots. She is known for her role as Topanga Lawrence in 1993 American sitcom Boy Meets World.
Likewise, she was also seen in Girls Meets World in 2014. She was voted as the hottest teen star at the age of 21, even was ranked 69 as hottest star of 2014.
We wish her further success, Best of luck.